Thursday, 23 February 2017
The FCC Approves LTE-U Devices

The FCC has announced their approval of LTE-U, the U standing for the unlicensed spectrum this network will operate in. As carriers are battling it out to deliver the most reliable, and fastest networks, LTE-U is a big change to the way that current cellular networks function.




Utilizing unlicensed parts of the 5Ghz frequency band, the same area where WiFi networks operate, LTE-U will be able to deliver high a bandwidth to devices while improving network congestion. Both the WiFi and LTE industry have tested LTE-U and determined that there will be no interference between the two technologies, with LTE-U ramping down in more WiFi congested areas. T-Mobile will be the first carrier to deploy compatible devices with a target of spring 2017.




"Un-carrier is now deploying LTE-U technology in its LTE network, following today's FCC certification of equipment from strategic partners Ericsson and Nokia. This move paves the way for the Un-carrier to introduce new network capabilities and devices for consumers this spring… LTE-U constantly seeks the least utilized channels to maximize efficiency and performance for everyone. As demand on the Wi-Fi network increases, LTE-U backs off, and as Wi-Fi demand wanes, customers can tap into that unused capacity for LTE."


LTE-U support has also been announced by Verizon, though they do not have a target date yet. It is also important to note that LTE-U base stations are the only devices that have been approved so far, no phones have been released with support for this new band at this time.





Last Updated ( Thursday, 23 February 2017 )
Wednesday, 22 February 2017
3Gstore.com named American Express Card Member Favorite for 2017
3Gstore is  happy to announce that they have been named a 2017 Card Member Favorite. We see a lot of customers and thanks to American Express® Card Members—who continue to choose us again and again—our business has been recognized for being a preferred location to purchase 3G/4G products and services. We're proud of being a favorite so come find out why!

Thanks,

3Gstore.com

2017 American Express Card Member Favorite

#MemberFave
Wednesday, 22 February 2017
USB Tethering with Peplink and Pepwave Routers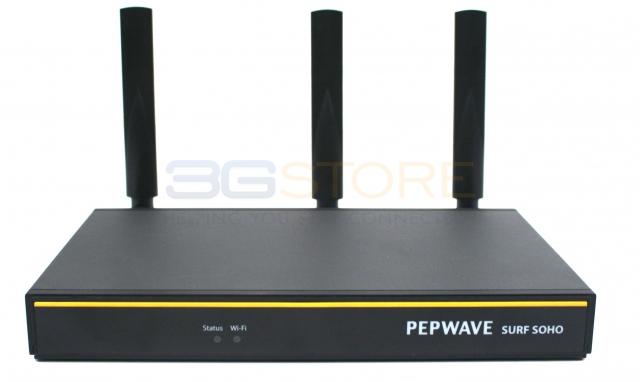 Routers like the Pepwave Surf SOHO and Balance One support various forms of internet connectivity. The SOHO has a wired WAN port (cable modem, satellite, point to point ISP), WiFi as WAN (using an existing wireless network as an internet connection for the router), as well as a USB port for cellular modems. The Balance One supports two wired WAN connections and a USB port. All of these options could be primary internet connections or backup connections. Routers like the SOHO and Balance One give the power home user or small business a simple and cost effective way to stay connected in the event of an internet outage.
Did you know... the USB ports on Peplink and Pepwave routers aren't just for USB data cards? You can USB tether many mobile hotspots and most Android phones as a primary or backup internet connection! With a cell phone in every pocket in the home or office, and the recent availability of unlimited and lower cost data plans, it is the perfect time to use that data for more than just Facebook and Words with Friends. By connecting a mobile hotspot or Android phone to the USB ports on Peplink and Pepwave routers, it takes just seconds to get a backup connection in place. The advantage to using a router like the SOHO that can handle multiple connections is that in the event of a backup the network doesn't change. Phones, printers, network storage, are all still accessible just like normal.
The other advantage of USB tethering is many providers do NOT count this against your mobile hotspot allowance. Sprint for example offers unlimited data plans, but limits mobile hotspot usage to 10GB without paying a hefty per GB overage fee. 10GB isn't a lot in a home or office when a wired connection goes offline. USB tethering though doesn't count towards that 10GB, and is still unlimited! Check with your provider and plan for more details as not all options are created equally.
There is a downside to USB tethering, and that is you need to have a phone plugged in at all times for the quickest failover, otherwise you have to plug a phone in as needed. If you aren't on site and the internet fails, you'll still be offline. USB tethering isnt perfect either. At the end of the day consumer hotspots and phones are exactly that, consumer devices. They may overheat, disconnect, or require hands on in order to keep working. For a business that requires an always on, 100% reliable primary or backup cellular connection, embedded routers are the best option. The new Pepwave MAX BR1 Mini has a built in cellular modem. Simply insert an active SIM card into the router and you'll have a cellular connection designed to run 24/7. This is also a ruggedized device for use in M2M environments like ATM machines, POS terminals, and digital signage, where a tethered phone is simply not an option.

For more information on the Surf SOHO or Balance One , or to find out if a Peplink deployment is right for you, contact the experts at 3Gstore or visit 3Gstore.com
Last Updated ( Wednesday, 22 February 2017 )
Thursday, 16 February 2017
The New Peplink SD Switch Hands On Review!

For years, Peplink has been in the business of creating innovative and reliable network hardware. With an impressive product line including routers that can combine the speeds of up to 13 WAN connections, enterprise grade access points, multicellular internet solutions, and InControl 2, a cloud based management tool, Peplink has had a solution for almost everybody. Now available at 3Gstore, the Peplink SD Switch is the latest addition to the Peplink Family.
Measuring in at 19"x16" in a 1U height, the switch is designed to be rack mounted. Because of this, all of the connections and indicators are on the face of the unit. From left to right you have a factory reset, status LEDs, management and console ports, a USB port, 24 ethernet ports, and 2 SFP+ ports. Around the back are two AC adapters and the case fans. As with all Peplink hardware, the Peplink SD Switch is designed to be reliable as well as keep the network up at all times. Inside the unit there are 3 power supplies to go along with the dual AC inputs. While running, power load balancing ensures longer life expectancy from the hardware, but also provides protection in the case of hardware failure. The Peplink SD Switch will stay powered even if 1 AC power source and 2 internal power supplies fail! The status LEDs show which AC inputs and power supplies are active for at a glance information right on the device.
All 24 ethernet ports are all PoE+ rated supporting standard 802.3at and 802.3af PoE powered devices. These 24 ports share a power budget of 850 watts making the Peplink SD Switch an incredible tool for connecting compatible devices. Many other 24 port PoE switches on the market have power budgets under 200 watts. If you were to attempt to use PoE with multiple high consumption power devices like IP cameras and a standard network switch, you could exceed the power budget causing devices to power down or even damage them or the switch. 850 watts on the Peplink provides plenty of capacity for even the most demanding of environments.
The Peplink SD Switch is also a powerful power management tool. Within the web interface and when connected to InControl 2, each ethernet port will show you its current PoE status and power consumption. The total power consumption for the switch is also displayed. As a power saving tool schedules can be applied to each port to power on and off as needed. A company using the SD Switch for connected IP phones can create a power schedule to turn the phones off after hours and power them back on when the business opens. Instead of keeping these phones powered 24 hours a day, the schedule can power them on just 12 hours a day when needed, cutting energy consumption in half! The scheduling can also be used to power on/off WiFi APs as needed. Guest WiFi can be disabled outside of work hours to prevent access to the network when it isn't beneficial to the company hosting it.
The 'SD' in Peplink SD Switch stands for 'Software Defined' so aside from its scheduling and power monitoring features, it can be fully configured for any networking environment. With support for 802.1q VLAN tagging the switch makes management of enterprise networks a breeze. Individual ports can be named, set as access or trunk, told which VLANs it can access, and ports can even be managed in groups to simplify set up. Admin and read only users can be created for various levels of network monitoring and management, access to the web administration page can be configured by VLAN or RADIUS authentication in larger networks, e-mail alerts can be sent out for critical events, and SNMP allows for integration with existing tools for network management.
There is a USB port on the front of the Peplink SD Switch meant for Out of Band Management. While not available yet, this feature is coming in a future firmware update. By connecting a USB cellular modem to the SD Switch directly, the switch could be managed and configured even if the primary internet connection of the router was to fail. There are also two 10G SFP+ ports for high bandwidth network connectivity. We were unable to test these ports as we don't have compatible networking equipment to connect.
By creating an InControl 2 account, configuring and managing one or multiple switches becomes simple. Add the device to IC2 by serial number, put it into a group, and in seconds the switch is being monitored through the cloud. You could assign a configuration file to a group to automatically push out to new switches in the field. Replacing an aging or unreliable switch with the Peplink SD Switch doesn't have to be a burden. InControl 2 allows for no touch configuration. Just drop the hardware in and let IC2 do the rest.
InControl 2 will also group your switches across your entire network, allowing you to search for a device. You can quickly identify and locate problem devices across multiple switches even if they are deployed on opposite ends of the world!
3Gstore received a Peplink SD Switch for the purposes of testing the hardware, but we liked it so much we decided to keep it and make it part of our network! Because of the capabilities of the SD Switch, we were able to replace 2 other network switches. A PoE switch that powers our camera system and VoIP phones along with a 16 port unmanaged switch were replaced with a single SD Switch. Now we have expanded the use of PoE throughout our offices and warehouse and have also broken our network into multiple VLANs for better management. We were on the verge of running out of network addresses, and having all of our systems on one network was a challenge to manage. Now using the VLAN tagging on the switch we have actually made the network much easier to configure and make changes as needed. Connected to our InControl 2 account we have historical power usage and alerts letting us know the exact state of the network at all times. Even when away from the warehouse, anybody with InControl access can perform IT work which is especially handy if an emergency situation was to arise. Perhaps the most impressive, though not unexpected thing we have found in our time with the Peplink SD Switch is its reliability. This has been running non stop for almost 180 days at the time of this writing and we have not seen a single failure of any kind. If we had one complaint about the switch it is that the switches fans are loud during power up and can get loud under heavy load. However this is a minor complaint since the switch will likely be installed in a server rack or cabinet and away from people and unless really pushed hard it's very quiet.
(3Gstore Balance 380, Peplink SD Switch, and MAX BR1 Cellular Backup)
For more information on the Peplink SD Switch, visit 3Gstore.com. Not sure if a Peplink deployment is right for you? Contact the experts at 3Gstore and we'll design a solution for your businesses unique needs.
Tech Specs
24x 802.3at (PoE+) GE Ports
2x 10G SFP+ Ports
2x 100V-240V Redundant AC Power
3x Redundant Power Supplies.
850W PoE+ Power Budget
InControl 2 Cloud Management (1 year free!)
88Gbps Switching Capacity
19.1x 15.7 x1.7 inches
17.6lbs
Last Updated ( Thursday, 16 February 2017 )
Monday, 13 February 2017
Peplink & Pepwave DNS Forwarding and DNS Proxy Settings

How to setup DNS Forwarding and DNS Proxy Settings on Peplink Balance, MAX, and SOHO routers. DNS Forwarding and Proxy can be used to send DNS requests from LAN, VPN, and PepVPN clients, directly to the router without having to update each device. A local intranet can or custom hostnames can be defined within the router.


Pages: 1

Download Peplink & Pepwave DNS Forwarding and DNS Proxy Setings (only available for 3Gstore customers who have purchased a supported product)






Last Updated ( Monday, 13 February 2017 )
Sunday, 12 February 2017
Verizon brings back Unlimited Data Plan
Verizon will bring back their unlimited data plan on Monday 2/13/2017.  It will offer unlimited data, talk time and texts for $80 per month for the first line (when you select automatic payments).  Additional lines can be added for $45 per month for each line (up 4 more lines).  The new plan is available for both new and existing customers.   The price is not an introductory plan that increases after the first year.
While the plan is called "unlimited", Verizon mentions that once a customer reaches 22GB of data usage, their data usage may be prioritized behind other customers in the event of network congestion.
Here is more info from Verizon:
On all Verizon Unlimited plans you get our fast LTE speeds. To ensure a quality experience for all customers, after 22 GB of data usage on a line during any billing cycle we may prioritize usage behind other customers in the event of network congestion. While we don't expect to do that very often, network management is a crucial tool that benefits all Verizon customers. If you're on Verizon Unlimited, you'll have the same coverage and reliability as everybody else.You can add a connected smart watch, GizmoPal, or other connected device for just $5 each month. Get TravelPass for $10 per day (500 MB/day limit; 2G speeds after that) while overseas. Mobile Hotspot with 10 GB of 4G LTE data is included at no charge (after 10 GB you'll get 3G data speeds).
Last Updated ( Sunday, 12 February 2017 )
Friday, 10 February 2017
Pepwave Surf SOHO MK3 WiFi as WAN Speed Test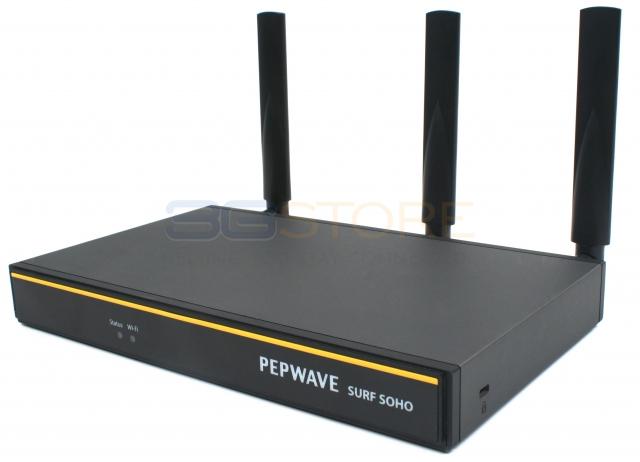 With the recent release of the new Pepwave Surf SOHO MK3, all eyes have been on its new WiFi radio. The upgrade to 802.11ac (wireless AC) gives the new SOHO additional range and higher throughput than its predecessor, but how does that translate to the WiFi as WAN feature?
WiFi as WAN, to put it simply, is the SOHO using an external WiFi network as the internet source instead of utilizing a wired connection like cable or DSL or a cellular connection like a 3G or 4G USB modem. If you were traveling in an RV and pulled into a campground that offered free WiFi, but you were out of range of that network or wanted to make your own network for convenience or security, WiFi as WAN can help! The SOHO would pick up the existing WiFi network, and then convert it to a new wireless and wired network. In a business, WiFi as WAN could be a backup connection. If the primary internet connection fails, the SOHO WiFi as WAN could latch onto a smartphone in hotspot mode. All of the devices on the network get to stay connected to the SOHO and most users would never know there wa an outage in the first place.
One concern with WiFi as WAN is there is a potential for speed loss. How much loss is network dependent but some things that can affect it are other WiFi networks in the area, physical obstructions between the SOHO and the network you want to connect to, and distance between the SOHO and other network as well. With the new hardware though it is time to put the SOHO through its paces.
In the video below you'll see two tests. The first test is a phone, connected wirelessly to the Surf SOHO, which is connected wirelessly to the warehouse WiFi network. The second test is the phone connected directly to the warehouse WiFi network. We're looking for any decrease in speeds or performance issues.
As you can see from this test, the new Surf SOHO MK3 performed exceptionally well with virtually no loss in download and upload speeds at all!
Last Updated ( Friday, 10 February 2017 )