Sprint Novatel MiFi 4082 3G/4G Hotspot First Impressions
Friday, 15 April 2011
Sprint Novatel MiFi 4082 3G/4G Hotspot First Impressions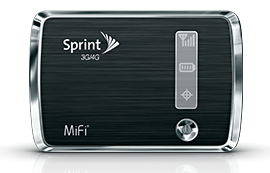 The long-awaited 3G/4G follow-up to Novatel's uber-popular MiFi has arrived at last: the MiFi 4082 is here! When the MiFi 2200 hit the market for both Sprint and Verizon back in 2009, it was an instant hit... and remained that way for almost two years. We anticipate that the new 3G/4G version will make a splash as well, as it offers all the same features that made its predecessor so popular as well as some new capabilities that make it stand out.
Obviously, the primary difference between the original MiFi and the new 4082 is the 4G-capability. The MiFi 4082 is 3G/4G capable, meaning it can connect to Sprint's super-fast 4G WiMAX network where available and fail back to the nationwide 3G network elsewhere (check Sprint's coverage map to see which network is available in your area). Other upgrades include an microSD card slot, which allows you to use the MiFi 4082 as a shared storage device, and a slightly improved WiFi range (30+ feet; the MiFi 2200 only provided about 20' of WiFi coverage).

Left: the 3G/4G MiFi 4082; right: the 3G-only MiFi 2200
Aesthetically, it's not too different from the 2200 - it's almost identical in size and shape ("pocket-sized" and "the most portable hotspot you'll find" come to mind!), with one major change: the 4082 features a convenient display right on the face of the unit that displays various icons related to the status of the device. This is a nice upgrade from the MiFi 2200, which forced you to log into the web admin to view any information about the device or connection!
the MiFi 4082 comes with the AC power supply, USB cable, battery, and battery door

If you own the MiFi 2200 and are considering upgrading to the 4082, a lot of your accessories will will work - both devices utilize micro USB as their connector, so accessories like car chargers or USB cables should work fine with the new version. However, the batteries are NOT interchangeable! The MiFi 4082 uses a different battery than the MiFi 2200, so you won't be able to use the super-popular extended battery we sell for the 2200. 3Gstore is working on getting an extended battery for the MiFi 4082 in stock - sign up here if you'd like to be notified when the MiFi 4082 extended battery is available!
We will be doing more testing in the coming days and will update this article with our results plus pictures of the web admin and more. Stay tuned!
---
Related links:






Last Updated ( Friday, 15 April 2011 )