Sprint Sierra Tri-Fi Hotspot (3G EVDO/4G WiMAX/4G LTE)
Friday, 01 June 2012
Sprint Sierra Tri-Fi Hotspot (3G EVDO/4G WiMAX/4G LTE)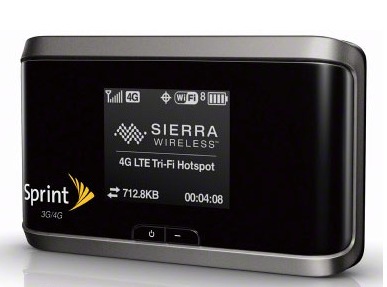 Coinciding with the recent launch of Sprint's 4G LTE network in Dallas this week comes the launch of Sprint's first tri-mode mobile broadband device, the Sierra Tri-Fi Hotspot. The Tri-Fi can connect to Sprint's nationwide 3G network, or the 4G WiMAX network (which is available in approximately 60 cities and will not be expanded elsewhere), and the brand new 4G LTE network, which is currently available only in Dallas but will be expanding rapidly in 2012 and 2013. 
The Tri-Fi will allow up to 8 WiFi-enabled devices to connect and is easy to set up and use. Like the Sierra Overdrive Pro, the Tri-Fi features connectors that can be used to connect to a "performance dock" (which will be available soon from Sierra) to improve 3G and 4G signal. Unfortunately, also like the Overdrive Pro, these ports are NOT traditional antenna ports - you CANNOT connect an external antenna to the Tri-Fi (we did extensive testing and confirmed that connecting an antenna to either - or both - ports does NOT result in any signal improvement). If you have a Tri-Fi and you need to boost the signal, you'll need use either the performance dock or a wireless repeater (view our "Will An Antenna Help Me?" page for more info).
You can easily view your signal strength for all available networks in the web admin:
The Tri-Fi will be available at 3Gstore on June 10th for $99.99 after a $50 mail-in rebate with a new 2-year contract.
Looks likea Tri-Fi Cradle will be available that keeps the battery charged and adds  3G/4G signal boost built-in as well, more info at: Sierra Wireless Tri-Fi Hotspot Desktop Cradle
Last Updated ( Monday, 04 June 2012 )