Lavaboom - A Truly Private Email
Wednesday, 23 April 2014
Lavaboom - A Truly Private Email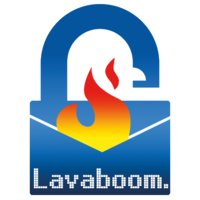 With all the security threats, credit card fraud, identify theft, etc. that we've been seeing more recently these past years, it's surprising many of us just haven't barricaded ourselves in a cave for protection. You've probably read all the articles on ways to better secure your files and protect your several accounts - whether it be your bank, credit card, or email. They say to change your password often, keep a different one for each account you maintain, and most importantly - DON'T to make it anything simple like 'password!' Make sure you log in from a secure location also (your home, office), even if you're using your own computer, and avoid managing private data at your local library or coffee shop. Don't forget to be careful on your mobile device too since there are people out there that can easily steal information from them without you even knowing it!
Now let's face it, with all the other countless responsibilities us humans deal with day to day, it can get quite difficult to keep up with all your passwords. You would think that your bank or phone/Internet provider might make their own sites more secure to assist their customers in keeping their information entirely secure AND private, right? Well, Lavaboom is taking another step in that direction in making a truly secure email server. Just to prove to people out there how serious they are, the very first sentence in their mission statement says, "Article 8 of the Human Rights Act: "Everyone has the right to respect for his private and family life, his home and his correspondence.""
Lavaboom, which was founded in January, is free to use for up to 250MB - that's around 1000 emails - they plan on upgrading this and bringing in a premium plan during beta. The highlight of the service is by far the security aspect. In their FAQ, they state, "We maintain your security with complete encryption, zero-knowledge privacy, and three-way authentication." Even with all the encryption they use to keep the 'zero-knowledge privacy' intact, they say users will have a faster connection than ever before - something they've worked on diligently during development after receiving several comments regarding it being too slow.
In additional feedback Lavaboom has received, they have been asked if they're connected to Lavabit. They've responded to those comments with the following statement:
We're not associated with Lavabit or Ladar Levinson. We're huge fans of Lavabit and were devastated when it shut down. Felix, Lavaboom's CEO, named Lavaboom in tribute to Lavabit and Ladar's stand against the US government's attack on the world's privacy. We are completely independent with no obligations to any other entity, third party, company or government organisation.
So, for those of you out there that take security and privacy as seriously as it should be, take it from 'just a few guys and girls from Germany who care about privacy' and check out Lavaboom for yourself. No more need to worry about your email being hacked or where you can access it if you're using an untrusted mobile 3G/4G connection or WiFi router from a public location. Your email, at least, will truly be private. In fact, Lavaboom is so confident, they say it's more secure than your bank account! The only downside - no mobile support just yet, but rest assured, it is coming!!
Last Updated ( Wednesday, 23 April 2014 )