Tuesday, 22 May 2018
Replace Your 3G Booster with a HiBoost 4G Amplifier and Save up to $100

With EVDO/CDMA networks winding down and LTE available in more places than ever, HiBoost is offering an incentive for users of older amplifiers/boosters to upgrade to the latest technology. From May 1 to June 30 2018, customers purchasing one of the below HiBoost 4G amplifiers as a replacement for an older 3G booster can receive a mail-in rebate of up to $100:
To claim the rebate, customers must fill out the rebate form and provide the serial number of their new amplifier as well as the serial number of the unit they are replacing. ALL older 3G boosters qualify, including ones from other manufacturers!
Download the HiBoost upgrade mail-in rebate form
It is the customer's responsibility to submit all necessary info to HiBoost by 9/10/2018.
Last Updated ( Tuesday, 22 May 2018 )
Friday, 27 April 2018
3Gstore SMS Power Switch - Remote Power and Control via Text Message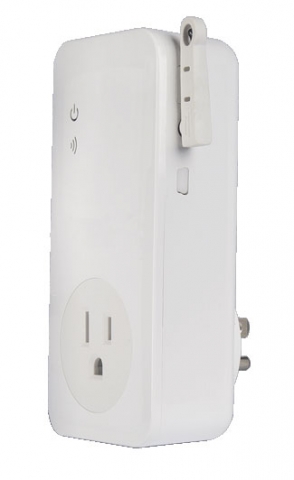 3Gstore.com has been carrying
Remote Power IP Switches
for several years. We've offered a number of different models with various features and management options (app-controlled, Google Hangouts, etc), but they all provide the same basic function: the ability to automatically power equipment on or off remotely.
The only downside to these devices for some users is that they require local internet connectivity - i.e. they must be connected to your router on-site for monitoring and remote access. Now, we've got a device that uses its own built-in cellular connection instead, making it perfect for users who can't add a switch to the local network (or simply prefer not to).
The
3Gstore SMS Power Switch
is the first remote power switch we've carried that does NOT have to be connected to your network - that means no router! In fact, it has no data, IP, or WiFi capabilities - it's controlled completely via SMS text messaging, which increases its level of security. After all, you can't hack what you can't access!
It takes less than 5 minutes to set this convenient little box up - just plug the SMS Switch into power and plug your equipment into the SMS Switch outlet. From there, you can start messaging your Switch from anywhere in the world you have cellular service and it will respond in seconds! Send specific text commands to turn the outlet on or off and the SMS Switch sends a text back confirming the action has been completed.
Real time power status and temperature alerts (if using the included sensor) are also available. When power is lost, or the temperature rises or falls outside your set threshold, a text notification will be sent automatically. The temperature sensor can also be used in conjunction with automated on/off schedules, for applications where a device needs to be powered on or off when the temperature reaches a certain threshold.
The SMS Power Switch is available now for $249.
Service is included for the first year (up to 20 text messages sent/received a month), and can be renewed for $25/year in the future. 
Last Updated ( Friday, 27 April 2018 )
Thursday, 08 March 2018
Cradlepoint Mail-In Rebates Availble to Customers Replacing Older Routers
With EVDO/CDMA networks winding down, Cradlepoint is offering an incentive for users of older routers to upgrade to the latest technology. Through the end of 2018, customers purchasing one of the below new NetCloud Solutions packages as a replacement for an older router can receive a mail-in rebate of up to $100:
To claim the rebate, customers must fill out the rebate form and provide the serial number of their new router as well as the model and serial number of the router they are replacing. ALL older CDMA-capable routers qualify (including 3G-only models and Cat 3 LTE models), including ones from other manufacturers!
Download the Cradlepoint upgrade mail-in rebate form
It is the customer's responsibility to submit all necessary info to Cradlepoint by 1/31/2019. Valid for US customers only.
Wednesday, 31 January 2018
New Single Outlet Remote Power Switch Now Available at 3Gstore.com  
The Remote Power IP Switches at 3Gstore have become very popular products for a wide range of our customers. These provide users an easy way to automatically reset and also manually control power for modems, routers, cameras or any other network attached devices, as well as things as simple as a light or a fan. Both the 2 Outlet and 1 Outlet models have even been within the top 3 of our top 10 products sold annually, the last 3 years running. Recently, the 1 Outlet model, ezOutlet (aka EZ-11B), was discontinued and replaced with the ezOutlet2 (aka EZ-22B). We're excited about this updated model as it still provides the same functionality of the original ezOutlet, but adds additional methods for remote access.
One major difference is that ezOutlet2 uses a new mobile application called ezDevice (available for Android or iOS devices). The manufacturer has also created a cloud management website for users to log into if using a mobile device is not ideal. This website, https://cloud4uis.com, gives the user more flexibility with management in that you can now provide the login to multiple users that can then access from anywhere in the world.
When you receive your ezOutlet2, setup and configuration should normally take under 10 minutes. Just create yourself a login for the app and Cloud4UIS site (same login credentials are used) and follow the setup guide for instructions (a quick start guide is also included from the manufacturer). Those who have familiarity with the original ezOutlet will see that the configuration options are the same. Firmware updates have not changed either, so if you plan on only using the website to access your device, be aware that you will still need the mobile app to perform firmware upgrades.
If you have trouble with your modem, router or other network attached devices that require a power reset to fix, be sure to check out the 3Gstore Remote Power IP Switches today!
Last Updated ( Wednesday, 31 January 2018 )
Monday, 22 January 2018
Digi International Acquires Accelerated Concepts, Inc.

MINNETONKA, Minn., Jan. 22, 2018 – Digi International®, (NASDAQ: DGII, www.digi.com), a leading global provider of Internet of Things (IoT) connectivity products and services today announced that it has acquired Accelerated Concepts, Inc., a provider of secure, enterprise-grade, cellular (LTE) networking equipment for primary and backup connectivity applications. Accelerated has demonstrated strong top line growth with a five year CAGR of more than 25 percent. Digi acquired Accelerated for upfront cash of approximately $17 million with a potential for future earn-out consideration based on top line performance. The transaction is expected to be accretive for Digi.
Founded in 2006, Accelerated provides cellular business continuity solutions to OEM and commercial customers. Accelerated's suite of secure, compact and affordable LTE routers and network appliances are easy to install and provide network managers with primary failover and out-of-band management solutions, while its AcceleratedView™ device management software provides customers with a centralized portal to provision, manage and upgrade devices remotely. The company is headquartered in Tampa, Florida, with offices in Chicago, Illinois, and Australia.
The acquisition of Accelerated significantly enhances Digi's existing cellular product lines and immediately extends the company's market reach with a line of commercial routers and network appliance products. These products provide a strong complement to Digi's industrial, M2M cellular routers and network server product lines to give customers the right product choice for their applications. Accelerated will continue to maintain its existing office locations with employees becoming part of the Digi team.
"The combination of our companies gives us a unique product mix, technology portfolio, and service capability in the IoT and enterprise connectivity marketplace," said Ron Konezny, President and CEO of Digi International. "Accelerated successfully uses the same ease-of-use and fast time-to-market modular architecture design principles as Digi, as well as enjoying strong and deep relationships with key customers. We are excited for our combined go-to-market and engineering teams to grow our cellular business."
"The Digi and Accelerated teams employ the same values of customer-centric service and product definition and we are excited to work together," said Accelerated CEO Tom Butts. "The combined breadth of our product lines provides our customers and partners with exceptional choice."
For more information visit Digi.com.
About Digi International 
Digi International (NASDAQ: DGII) is a leading global provider of business and mission-critical Internet of Things (IoT) and M2M products and services. We help our customers create next-generation connected products and deploy and manage critical communications infrastructures in demanding environments with high levels of security, relentless reliability and bulletproof performance. Founded in 1985, we've helped our customers connect over 100 million things, and growing. For more information, visit Digi's website at www.digi.com, or call 877-912-3444 (U.S.) or 952-912-3444 (International).
About Accelerated Concepts, Inc.
Accelerated is an enterprise-grade provider of cellular (LTE) networking equipment for primary or backup networking applications. Providing the backbone for failover, as well as M2M and IoT solutions, Accelerated delivers cellular business continuity and internet access to areas with limited broadband availability. Since the creation of its flagship product in 2006, Accelerated continues to innovate its product line to better meet the needs of customers ranging from retail to manufacturing in today's increasingly connected world.
Forward-Looking Statement
This press release contains forward-looking statements that are based on management's current expectations and assumptions. These statements often can be identified by the use of forward-looking terminology such as "anticipate," "believe," "estimate," "may," "will," "expect," "plan," "project," "should," or "continue" or the negative thereof or other variations thereon or similar terminology. Among other items, these statements relate to expectations about the future business performance of the business purchased in the above described acquisition as well as future actions, operations and performance of Digi following such acquisition. Such statements are not guarantees of future performance and involve certain risks, uncertainties and assumptions, including risks related to whether our business will perform as anticipated, our ability to integrate the acquired business effectively, the potential growth or entrance in the marketplace of competitors, some of whom may have significantly more resources than us, whether the intended target market for the products of the acquired business will adopt our offerings, whether we will be able to sell the products of the acquired business effectively into the marketplace, whether we will be able to leverage the product development and engineering resources of the acquired business effectively, rapid changes in technologies that may displace products and services we intend to sell, delays in product development efforts, uncertainty in user acceptance of our products and services, the ability to maintain key customer and vendor relationships of the acquired company, the ability to integrate our products and services with those of other parties in a commercially accepted manner, potential liabilities that can arise if any of our products have design or manufacturing defects, our ability to defend or settle satisfactorily any litigation, uncertainty in global economic conditions and economic conditions within particular regions of the world which could negatively affect product demand and the financial solvency of customers and suppliers, the impact of natural disasters and other events beyond our control that could negatively impact our supply chain and customers, our ability to attract and retain important employees, potential unintended consequences associated with restructuring or other similar business initiatives that may impact our ability to retain important employees and our ability to execute on the business to achieve the anticipated benefits and synergies associated with the transaction. These and other risks, uncertainties and assumptions identified from time to time in our filings with the United States Securities and Exchange Commission, including without limitation, our annual report on Form 10-K for the year ended September 30, 2017 and subsequent quarterly reports on Form 10-Q and other filings, could cause the company's future results to differ materially from those expressed in any forward-looking statements made by us or on our behalf. Many of such factors are beyond our ability to control or predict. These forward-looking statements speak only as of the date for which they are made. We disclaim any intent or obligation to update any forward-looking statements, whether as a result of new information, future events or otherwise.
Media Contact:
Joseph Rigoli
LEWIS
Office: +1 781-418-2400
Digi@teamlewis.com
Investor Contact:
Mike Goergen
Senior Vice President, Chief Financial Officer and Treasurer
Digi International
952-912-3737
mike.goergen@digi.com
 Below is a message that Accelerated Partners recieved this afternoon.
Dear Valued Accelerated Partner,

We are excited to announce that Accelerated is joining Digi International (www.digi.com) and will be part of its products group. Digi is a publicly traded company (NASDAQ: DGII) based in Minneapolis, Minnesota and has been a leader in securely connecting enterprise and industrial assets for more than 30 years.

Joining a larger company like Digi enables us to increase our investment in our product offerings. Digi also provides access to technical resources including product certification expertise, extensive equipment labs, and state-of-the-art testing facilities. Our combined entity will provide additional scale and synergies that yield supply-chain benefits.

With this move, Digi has enhanced its product offerings significantly and immediately extended its market reach. Accelerated's line of enterprise-ready cellular routers and network servers complements Digi's industrial routers and network server product lines. Through our discussions with Digi, it became clear that we share the same values of providing high-quality products and supporting them to extend product life. We are also both committed to strong and deep relationships with our partners. The Digi executive team has underscored the importance for us to remain very responsive and flexible in our engagements with partners.

The Accelerated staff will join Digi and remains available to serve our customers in the way they have come to expect. Thank you for your loyalty to Accelerated and your trust in our solutions. If you have any questions, please feel reach out to your Accelerated representative.

Sincerely,

Tom Butts
President & CEO
Accelerated Concepts Inc.
Last Updated ( Monday, 22 January 2018 )
Tuesday, 16 January 2018
Cradlepoint Announces NetCloud Solutions Packages, Combining Hardware and Service
Cradlepoint made a splash today, announcing the launch of new solution packages that combine hardware, support, and Cradlepoint's NetCloud software all in a single SKU. Beginning today, a variety of solutions targeting the branch, mobile, and IoT markets are available to allow users to identify and purchase an all-encompassing solution that delivers the hardware, functionality, and support they need.
Cradlepoint's new Essentials solutions packages include hardware, NetCloud Manager (Prime or Standard), NetCloud Perimeter, 24x7 support, and a limited lifetime warranty. Customers can also add an Advanced upgrade, which upgrades the NetCloud Manager level if additional features are required.
Solutions packages for the AER1600 series, CBA850 series, IBR900 series, IBR600B series, and IBR600C series are available immediately. Additionally, several new router models were also announced and will join the lineup available in February.
NetCloud Essentials for Branch:
Integrated high-speed (600Mbps) LTE modem with SIM-based Auto Carrier selection
Gigabit WiFi, Gigabit Ethernet (10 ports total) with 4 Power-over-Ethernet (PoE) ports
Support for the Extensibility Platform elements: Dual-modem slot, Router SDK, and NetCloud API
10 configurable 10/100/1000 LAN/WAN ports

Available with Cat 6, Cat4, Cat 3, or no embedded modem

5 configurable GbE LAN/WAN
Dual-band WiFi

Tri-radio 802.11ac Wave 2 2x2:2 MU-MIMO with speed up to 876 Mbps
Third 1x1 radio for dedicated RF and WIPS scanning
Band-Steering and Load Balancing
802.11r support for Fast Roaming
Controller-less, cloud-managed with Zero-Touch provisioning


Available with Cat 6, Cat4, or Cat 3 embedded modem
Two LAN 10/100/1000 Ethernet ports (default one NAT, one IP Passthrough)
RJ45 Serial Port for console access or out-of-band management

NetCloud Essentials for Mobile:
IBR1700 Mobile Router (Launching mid-February) - NEW!

Embedded LTE Advanced 600 Mbps modem
Dual-modem/active-active capable (field-upgradable)
3-radio concurrent with wave 2 ac WiFi 4x4 GHz + 2x2 5GHz + 2x2 2.4GHz
5 Gigabit Ethernet Ports, Gigabit WiFi
Enhanced location services with dead-reckoning
OBDII/J1939 Support (via supported adpater) for live vehicle diagnostic
Support for the Extensiblity Platform elements: second modem slot, Router SDK, and NetCloud API

Embedded LTE Advanced or Cat 3 modem
Dual-modem capable via extensibility dock
Two LAN/WAN switchable 10/100/1000 Gigabit Ethernet ports
Dual-band, dual-concurrent WiFi

NetCloud Essentials for IoT:
Cat 4 LTE modem with auto-carrier selection (Verizon, AT&T, T-Mobile)
Dual-modem capable with optional COR Extensibility Dock
Wider Voltage Input Range (9-33 V vs 9-18 V)
One 10/100/1000 Ethernet port (WAN or LAN), one 10/100 (WAN or LAN)


Integrated LPE Category 3 LTE Advanced LTE modem

Dual-modem capable with optional COR Extensibility Dock
Semi-ruggedized for industrial and in-vehicle applications
2×2 MIMO "N" 2.4 GHz WiFi; 802.11 b/g/n


IBR200 IoT Gateway (Launching mid-February) - NEW!

Category 1 LTE modem (10/5 Mbps; 1-3 Mbps) for Verizon or Category 1 LTE w/HSPA+ fallback for AT&T, T-Mobile and Canada
1x1 WiFi b/g/n, GPIO (like IBR600B), USB for IoT devices
Metal housing, and increased temp spec range (-20C to 60C)
IP Pass-through and passive GPS
Support for the Extensibility Platform elements: Router SDK and NetCloud API

Explore all Cradlepoint products at 3Gstore
Tuesday, 09 January 2018
Spectre & Meltdown NOT Impacting Cradlepoint Routers

Cradlepoint released a statement today alerting users that neither of the vulnerabilities reported on January 3rd are affecting Cradlepoint routers.
The first vulnerability, called Meltdown, affects only Intel CPU's and can be fixed with an operating system patch. The second, called Spectre, affects CPU's from AMD and ARM. It requires a CPU design change and cannot be fixed in software. Cradlepoint router owners do NOT need to worry about these vulnerabilities impacting their hardware.
Additionally, Cradlepoint's primary cloud provider has patched their servers to mitigate potential effects to NetCloud Manager (NCM) and NetCloud Perimeter (NCP).