Pantech PX-500 Windows XP Problem and Solution
Monday, 26 February 2007
Pantech PX-500 Sprint Connection Manager 3.02.021 Problem with Windows XP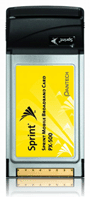 If you have a Pantech PX-500 and have been having problems getting the card recognized in your Windows XP laptop, Sprint is aware of the problem and has a workaround.
If you are getting "Error 1722" when trying to first install your PX-500, or after installing, the PX500 is not recognized by Windows XP, the problem may not be with your connection card, but rather with the version of the Sprint Connection Manager that you are running.
To fix the problem, visit the Sprint Download area and download Sprint Connection Manager 3.02.019, this is not the most current version, but will resolve the problem.
---
Related Articles:
Last Updated ( Monday, 26 February 2007 )