Thursday, 14 February 2008
LinkSys WRT54G3G-ST EVDO Router Firmware v2.01.12 Enables Support For Expresscards
The LinkSys WRT54G3G-ST Router has been a popular router for users of Sprint PCMCIA cards like the PX500, S720 and Aircard 595.
With the recent release of Firmware Version 2.01.12, the router now supports Sprint's Novatel EX720 and AirCard 597E Expresscards.
In order to use either expresscard with the Linksys WRT54G3G-ST EVDO Router, customers will need to purchase an expresscard-to-pcmcia adapter like the Novatel XCA-3 sold by 3Gstore.com.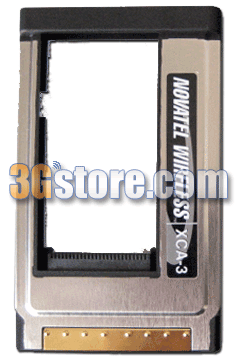 Here are some additional notes associated with the firmware release:
WRT54G3G-ST
Wireless-G Router for Mobile Broadband
Release Notes
Firmware Version 2.01.12

I. FILE DETAILS
File Name WRT54G3G-ST_2.01.12_US_code.bin
Firmware Version 2.01.12
Previous Firmware Version 2.00.9
Firmware Release Date January 31, 2008


II. NEW FEATURES AND IMPROVEMENT
1. New Data Card support. WRT54G3G-ST now supports the following new ex-
press data cards (with adaptor):
a. Sierra Wireless AC597E
b. Option Express EX720
2. Improve 3G uplink throughput. Update data card serial driver and modify
multi-buffer mechanism for uplink throughput. The EVDO uplink throughput
is no longer limited to approximately 300 kbps when the network is capable
for higher rate.
3. Update new daylight saving time for US and Canada. The start date for day-
light saving time is changed to start at second Sunday in March.
4. Add Modem backup. Enable modem backup feature as option. The 3G data
card can be the backup for the WAN connection. 3G IP can be connected
when the wired WAN connection is down.
---
Related Articles:
Last Updated ( Thursday, 14 February 2008 )