CradlePoint CBA250 Cellular BroadBand Adapter
Saturday, 01 November 2008
The successor to the CBA250, Cradlepoint's CBA750, is now available! Read more about the CBA750 here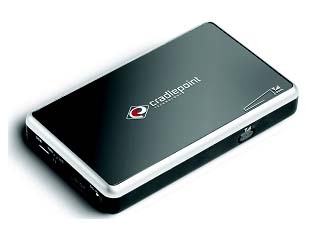 The CradlePoint CBA250 is the first "IP Pass-Through" product from CradlePoint.
CBA Features:
Provides a public IP address to the local LAN device (IP Pass Through)

Converts Ethernet to Cellular and Cellular to Ethernet
Plug n Play simplicity
"Drop in" solution to add cellular flexibility to any network
IP Pass-Through design provides seamless connection
Supports over 75 cellular modems and handsets
Platform independent with standard Ethernet connection
10/100 Ethernet port for LAN connection
CBA250 Specifications:
Model #: CBA250 Cellular Broadband Adapter
Network Connections: Ethernet (LAN), USB 2.0, ExpressCard (34) Slot
WAN/LAN Compatibility: IEEE 802.3u compliant. Cable & DSL modems with dynamic IP, static IP, PPPoE, PPTP, L2TP, or BigPond connection types
Cellular Modem Compatibility: 3G modems and handsets supporting EVDO, HSPA, UMTS, USB, ExpressCard 34, cellular handset (via USB) interfaces
Adapter Features: Device management via web browser, flash memory for firmware upgrade, save/restore configuration settings
Indicators: Power, Ethernet LAN, USB modem, ExpressCard modem, Signal Strength
Buttons:SGNL - signal strength display, Reset button
Web Browsers: Internet Explorer, Mozilla Firefox, Safari
Platform Compatibility: Windows 2000/XP/Vista, Mac OS X, Linux
Dimensions: 4.8" x 2.8" x 0.8"
Power: 5VDC, 2.5-3.0A; 100-240V AC/li>
Weight: 3.5 oz.
Certifications: FCC Part 15 Class B
Operating Temp: 0 C to 50 C
One year manufacturer's warranty
We expect the CBA250 to be available in December 2008. Think of the CBA250 as a CTR500 without WiFi BUT with IP Pass-through.
IP Pass Thru will be important for those running:
Kiosks
Point of Sale System
Backup for existing network
---
For more information see: CBA250 on 3Gstore.com or if you would like to be notified when the CBA250 is available (December 2008), just send an email to cba250@3Gstore.com







Last Updated ( Monday, 04 January 2010 )