Sprint Blackberry Curve 8350i - DirectConnect
Monday, 15 December 2008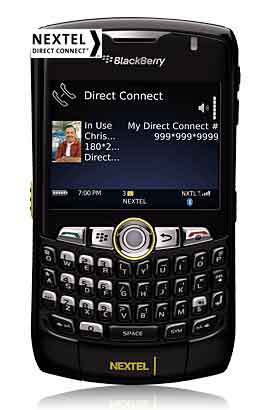 Available in Black and Red

Specs:
Dimensions: 4.4" x 2.4" x 0.7"
Weight: 4.7 oz.
Battery Information: 1400mAh
Talk Time: Up to 4.0 hours of continuous talk time
Nextel Direct Connect
Direct Connect service that instantly connects you to all other Nextel users - across town, across the nation. It's now available in up to five countries.
Full QWERTY Keyboard and Trackball Navigation
Faster and Easier typing and navigation.
BlackBerry push technology for email and messaging
Get all of your email in one place wirelessly. Receive emails from your corporate and personal email accounts.
Embedded Wi-Fi Capable
Connecting to a Wi-Fi network isn't complicated. With the Wi-Fi feature engaged, the device locates available networks. With the right one selected and correct password entered the connection is complete. Once a network is set up, the BlackBerry Curve 8350i smartphone can reconnect automatically whenever the device is in range.
Group Connect
Users can instantly connect a group of people nationwide - all at once - with the Group Connect service. Click here to learn more about this service.
Talk Group
A Blackberry smartphone user can make group calls using Push to Talk with the TalkGroup feature. To make or receive a group call, you must be a member of TalkGroup. All members of the TalkGroup can speak or listen during a group call, but only one member can speak at a time.
2.0 MP Camera
2.0 MP digital camera featuring a 5x digital zoom, flash and video recording.
Micro SD Card slot
1GB MicroSD card included give you the room you need for larger work files, presentations, reports, documents or fun files like photos and music.
Bluetooth 2.0 Technology
Fast and secure transmission without cables or wires
GPS capable
Allows you to view your geographic location and works with BlackBerry maps as well as other location-based services.
Media Player
Features a media player with stereo headset jack, so you can play video and music files you've downloaded.
Integrated Attachment Viewing
View attachments in popular file formats such as Microsoft Office Word, Excel and PowerPoint.
DataViz Documents to Go
Pre-loaded software makes it easy to edit documents, spreadsheets and presentations directly on the phone.
Full Messaging Capabilites
Instant Messaging and SMS Text Messaging.
Internal Antenna
Improves design appeal and durability.
Speakerphone
Enjoy easy, hands free communication with a speakerphone that lets you hear callers loud and clear.
Brilliant Color display
Vibrant TFT display with 65K colors and 320 x 240 resolution.
Virtual Preloads
Pocket Express, Sprint Software Store, Navigation, BIZ Apps, AIM, Google Talk, Yahoo IM, NFL Mobile, NASCAR Mobile.
Voice Command and Voice Activated Dialing
The Built-in speaker independent voice command lets you use your voice to look up contacts, place phone calls and get key information from your device.
1400 mAh Battery
Provides the exceptional batery life that BlackBerry smartphones are known for.
International Direct ConnectSM
International Direct Connect Calling lets you instantly connect from the U.S. to users in other eligible countries including Canada and Mexico. In addition, International Direct Connect Roaming lets you make and receive push-to-talk calls while traveling in those countries.
Included Accessories:
1400 mAh Standard Lithium Ion Battery
Battery Door
AC Travel Charger
Swivel Holster
Stereo Headset
1GB MicroSD Card installed
USB Sync Cable
Notes:
Cannot be used as a modem
Does not have an antenna port
---
Last Updated ( Friday, 06 November 2009 )