Sprint Samsung Exclaim (M550)
Thursday, 25 June 2009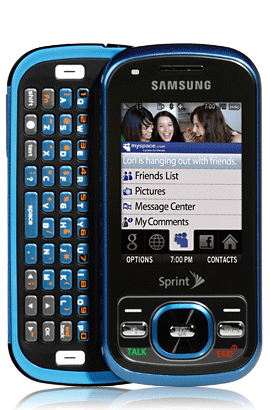 Available in Blueberry and Raspberry
Specs:
Dimensions: 2.1" x 4.4" x 0.7"
Weight: 4.69 oz.
Battery Information: Standard Li-Ion Battery (960 mAh)
Talk Time: up to 4.75 hours of continuous talk time
Features
Sprint One Click
Sprint One Click is a customizable home screen created to optimize your experience by giving you quick access to the things you use the most.
Social Zone
The Social Zone application is your gateway for keeping up with all your favorite social communities such as Photobucket, MySpace, and more. From the easy-to-use dashboard view, you can respond to friend requests, view and send messages, post comments and update your status or profiles, all from your phone. You can also use your phone's camera to take photos, then upload them straight to your networking sites without closing the application.
Sprint Mobile Email
Sprint Mobile Email provides customers with simplified access to their favorite consumer email services including AOL, Yahoo!, Gmail, and MSN/Windows Live Hotmail. Additionally, customers can access many other email providers through the software's support of POP3 & IMAP.
Sprint Mobile Email Work
Now access your work email directly from your phone. Receive email from Microsoft Exchange 2000, 2003, 2007 and Lotus Notes Domino versions 6.0, 6.5 and 7.0.
Sprint Mobile Email Work Calendar
Have instant access to your work calendar almost anywhere. The Sprint Mobile Email Work Calendar tool lets you sync directly with your work calendar in Microsoft Exchange or Lotus Notes. Enjoy one-click access to your calendar, plus the ability to add new events and get reminders when they come up. The best way to stay connected virtually wherever you go.
2.0 Megapixel Camera and Camcorder
Capture high-resolution images with the digital camera and zoom. Create your own video clips and easily share them with family and friends.
Bluetooth Enabled including Stereo BT profile
Enjoy the convenience of hands-free communication by using headsets, car-kits and other Bluetooth-compatible devices.* *Bluetooth wireless accessories are sold separately.
MicroSD Memory Card
Store data on the included 512MB removable memory card. Up to 32GB cards supported and available for purchase
Sprint TV Enabled
Watch live TV and video-on-demand with full-motion video and vivid sound. Catch the latest news, sports, weather, entertainment and movie trailers on the go.
Sprint Music Store Enabled
Download stereo-quality tracks instantly to your wireless phone or PC. Choose from thousands of artists in virtually every genre, and listen wherever you go.
Streaming Music
Listen to R&B, hip-hop, country and rock, and access Sirius, Vh-1 and MTV to see the latest headlines and video clips of your favorite artists.
One Touch Activation
Auto-activation connects you to Sprint service.
Picture Caller ID
Assign a photo or image to a contact which is displayed during incoming and outgoing calls.
Background music playing mode
Use the Sprint Music Store to listen to music while sending text messages, browsing the Web, or playing a downloaded game.
SMS Text Messaging
Instantly send and receive SMS text messages across the room or around the country.
GPS enabled
Receive audible and visual turn-by-turn driving directions, map your location, or conduct local searches direct from your handset.
T9 text input
Compose messages easier and faster. Predictive text input and the internal dictionary predicts text as you type, making it simpler to send messages.
Wireless Backup
If your phone is ever lost, stolen, damaged or replaced, you can use Wireless Backup to restore your contact information quickly and easily. Additional charges apply.
Speaker-Independent Voice Dialing
Say the name of any entry in your phone book and the number is dialed automatically without using the keypad. This feature is speaker-independent, so there is no need to train the phone to respond to any one person's voice. Receive an audible status report of your phone/s coverage, signal strength, and battery strength.
Text-to-Speech
The Text-to-Speech (TTS) feature comes installed and uses voice playback to guide you through phone menus and through placing and receiving calls.
TTY
Compatible with select TTY devices.
Included Accessories:
Standard Lithium Ion (Li-Ion) Battery
AC Charger
512MB MicroSD Memory Card
Notes:
Cannot be used as a modem
Does not have an antenna port

---
Last Updated ( Monday, 12 April 2010 )