Thursday, 25 June 2009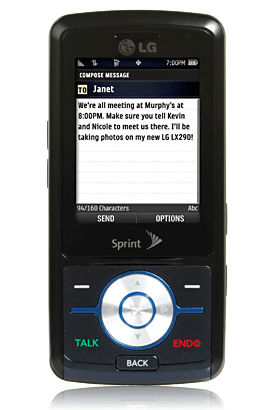 Specs:
Dimensions: 4.1" X 1.9" X 0.6"
Weight: 3.61 oz.
Battery Information: Standard Li-ion Battery (950 mAh)
Talk Time: Up to 6 hrs of continous talk time
Features
Sprint Mobile Email
Get easy access to your favorite home email services including AOL, Yahoo!, Gmail, and MSN/Windows Live Hotmail and more...
Picture sharing
Upload, share and store pictures with Photobucket, Facebook and more
Instant Messaging
Send and receive IM and email from your phone. Join a Web-based topic group or chat privately.
Text Messaging Enabled
Send and receive Text Messages across the room or across the country.
GPS enabled
Receive audible and visual turn-by-turn driving directions, map your location, or conduct local searches direct from your handset.
Wireless Backup
If your phone is ever lost, stolen, damaged or replaced, you can use Wireless Backup to restore your contact information quickly and easily. Additional charges apply.
Voice-Activated Dialing
Say the name of the person you want to call, and the phone dials the number automatically.
TTY Compatible
Compatible with select TTY devices.
Hearing Aid Compatible (HAC)
This handset has been certified as Hearing Aid Compatible in accordance with applicable industry standards. This handset has a HAC rating of M4 for hearing aids operating in the acoustic mode. This handset has a HAC rating of T4 for hearing aids operating with a telecoil mode.
Included Accessories:
Standard Li-ion Battery (950 mAh)
Battery cover
Charger
Notes:
Cannot be used as a modem
Antenna compatibility unknown

---
Last Updated ( Thursday, 05 November 2009 )