Tuesday, 01 September 2009
Sprint HTC Touch Pro2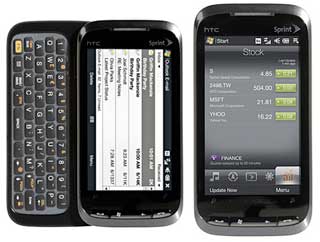 Features and Specs
Touchscreen and QWERTY Keyboard
Enjoy the large WVGA touchscreen (480 X 800 pixels) with adjustable tilt screen that easily switches from portrait to landscape, plus full sliding, 5-row QWERTY keyboard with well-spaced raised keys.
International Phone
Comes loaded with a SIM card for traveling abroad, expanding your mobile office outside the U.S.
Straight Talk Technology
Offers dual speakers and microphones, plus a dedicated mute button for superior quality conference calls wherever you go.
Windows Mobile 6.1 Software
With great productivity tools for mobile professionals, Windows Mobile 6.1 provides several features allowing you to stay connected to your business and personal data on the go. Windows Mobile 6 supports many forms of email including HTML, mobile versions of Microsoft Applications including editing capabilities, and the ability to easily transfer your digital multimedia from your Windows-based PC to your device. Version 6.1 adds several enhancements including threaded text messaging, zoom capability for Internet Explorer Mobile, and a Getting Started Center for easy set up of a new device.
Accelerometer & proximity sensor
The accelerometer automatically adjusts Web pages and photos to your perspective so you can view them in landscape or portrait mode. Plus, for a more enjoyable viewing experience you can watch videos in the wider landscape mode as well. The proximity sensor automatically disables the touchscreen and turns off the display whenever you put the phone up to your ear.
Facebook Integration
Seamlessly add your friends', family's and colleagues' contact information from Facebook. Stay up to date with what they are doing as well as update your own status on the fly without accessing Facebook directly.
EVDO Rev A
Where coverage is available, experience broadband-like download speeds using EVDO technology.
Stereo Bluetooth
Enjoy the convenience of hands-free communication by using headsets, car-kits and other Bluetooth-compatible devices.* Stereo Bluetooth lets you listen to your music on the go or listen to your music using compatible accessories without wires. *Bluetooth wireless accessories are sold separately.
3.2 Megapixel Camera and Camcorder
Capture high-resolution images with the digital camera and zoom. Create your own video clips and easily share them with family and friends.
Picture Sharing
Shoot, share and print high resolution digital photos instantly.
WiFi Enabled - 802.11 b/g
Utilize nearby Wi-Fi access points for high-speed data connection and internet access.
Sprint TV Enabled
Watch live TV and video-on-demand with full-motion video and vivid sound. Catch the latest news, sports, weather, entertainment and movie trailers on the go.
NASCAR Sprint Cup MobileSM
With NASCAR Sprint Cup Mobile, instantly connect to the NASCAR information you want, when you want it. Follow NASCAR action from practice to race day with real-time leaderboard and alerts. Get exclusive access to your favorite NASCAR Sprint Cup Series driver with real-time driver stats, breaking news and more. Live in-car audio, race radio, NASCAR on SPEED and other audio/video only available on select phones. Visit sprint.com/speed for details. How to Access: Text "NASCAR" to 7777* on your Sprint phone or visit the Sprint Digital LoungeSM to download NASCAR Sprint Cup Mobile. *Standard text messaging and data rates apply.
NFL Mobile Live Access
Listen to live audio broadcasts of every regular season game and watch the live broadcasts of all NFL Network games. Get real-time red zone alerts, scores, stats, live NFL Network 24/7 and more. Manage your fantasy football team like a pro with up-to-the-minute insights, analysis, stats and alerts. How to Access: Text "NFL" to 7777* on your Sprint phone to download a full version of the application or download NFL Mobile Live from Sprint Digital LoungeSM. *Standard text messaging and data rates apply.
Threaded SMS Text Messaging
With threaded SMS text messaging, you see the full conversation for each contact in a chat-like interface. Never send a reply to the wrong person again. Organized conversations make it easy to go back and see the history of any conversation.
Full Messaging Capabilities
Instant Messaging and SMS Text Messaging.
Sprint Music Store Enabled
Choose from hundreds of thousands of songs in virtually every music genre and download tracks wirelessly to your phone.
GPS Enabled
View your approximate location and use available applications to navigate roadways throughout the country.** **Sprint Navigation requires data plan plus monthly subscription.
Hearing Aid Compatible (HAC)
This handset has been certified as Hearing Aid Compatible in accordance with applicable industry standards. This handset has a HAC rating of M3 for hearing aids operating in the acoustic mode.
TTY Compatible
This phone connects to a TTY device, allowing anyone who is hearing impaired the ability to communicate.
Specifications
4.56" x 2.33" x 0.68"
Weight: 6.3 ounces
Battery Information: Standard Li-Ion Battery 1500 mAh
Talk Time: Up to 4 hours of continuous talk time
Included accessories
Standard Lithium Ion Battery
Standard Battery Door
USB Charging Cable

Additional Stylus

SIM Card

AC Charger
Notes
EVDO Rev-A
Tether-capable (+ $15/mo and requires Data Pack)
No antenna port

This phone REQUIRES a data plan
Last Updated ( Thursday, 17 December 2009 )