Tuesday, 01 September 2009
Sprint Samsung M240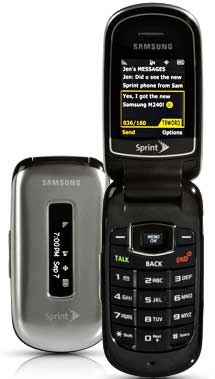 Features and Specs
Multiple Languages
Personalize your phone by choosing English or Spanish for all voice and text menu prompts.
SMS Text Messaging
Instantly send and receive SMS text messages across the room or around the country.
Web Browsing
Get high-speed access to your favorite websites with your Sprint phone.
T9 Text Input
Compose messages easier and faster. Predictive text input and the internal dictionary predicts text as you type, making it simpler to send messages.
Games
Download and play entertaining, interactive games that you'll want to play all the time. With hundreds of games to choose from, it's easy to find all your favorites.
Screen Savers
Download unique images to use as screen savers - or make it easy to tell who's calling by assigning specific images to numbers in your address book.
Wireless Backup
If your phone is ever lost, stolen, damaged or replaced, you can use Wireless Backup to restore your contact information quickly and easily. Additional charges apply.
Speaker-Independant Voice Dialing
Say the name of any entry in your phone book and the number is dialed automatically without using the keypad. This feature is speaker-independent, so there is no need to train the phone to respond to any one person's voice. Receive an audible status report of your phone/s coverage and signal strength.
TTY
Compatible with select TTY devices.
E911 Emergency location enabled
Features an embedded Global Positioning System (GPS). Chip necessary for utilizing the E911 emergency location services, where available.
Speakerphone
Enjoy easy, hands free communication with a speakerphone that lets you hear callers loud and clear.
Hearing Aid Compatible (HAC)
This handset has been certified as Hearing Aid Compatible in accordance with applicable industry standards. This handset has a HAC rating of M4 for hearing aids operating in the acoustic mode. This handset has a HAC rating of T4 for hearing aids operating with a telecoil mode.
External Display
Check caller ID and other information at a glance, even when your phone is closed, on a unique LCD screen.
Specifications
1.85" x 3.6" x 0.74"
Weight: 3.0 ounces
Battery Information: Standard Li-Ion Battery (960 mAh)
Talk Time: Up to 6.0 hours of continuous talk time

Included accessories
Standard Li-Ion Battery

AC Charger
Notes
Cannot be used as a modem

Antenna Compatibility Unknown
Last Updated ( Thursday, 05 November 2009 )