Cradlepoint MBR1200 Preview: USB, ExpressCard, PCMCIA 802.11N VPN Router
Monday, 28 September 2009
New Product Preview: Cradlepoint MBR1200 802.11N 3G/4G Router for USB, ExpressCard, and PCMCIA Modems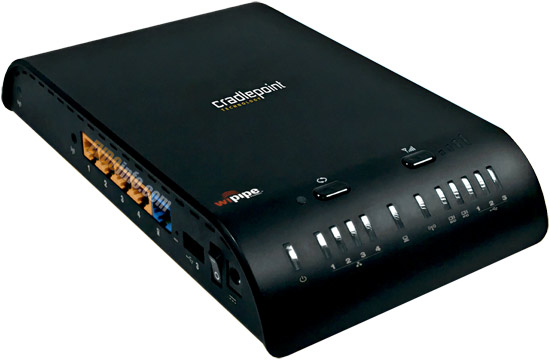 Cradlepoint's latest addition to their already impressive array of professional mobile broadband routers is the MBR1200, which combines many of the features of other Cradlepoint routers but also does something none of the other Cradlepoints can do: it supports USB, ExpressCard, and PCMCIA modems for both 3G and 4G mobile broadband!
The MBR1200 shares a lot in common with its brother, the uber-popular MBR1000, including a wireless "N" radio for a broad WiFi range and four Gigabit LAN ports as well as a WAN ethernet port. The MBR1200 is a bit more compact than the MBR1000 and it utilizes internal WiFi N antennas. External WiFi antennas are available as an option sold separately for folks who need a bit more wireless range. It also features more ports for modems/phones: three USB ports, an ExpressCard slot, and a PCMCIA card slot (more inputs than any other Cradlepoint router).
While the MBR1200 is certainly consumer-ready and is sure to be popular with home users, business and enterprise users will particularly be interested in it as it features a more robust set of VPN and security functions than the MBR1000. With the MBR1200 , users can create, manage, and terminate up to 5 IPSec VPN sessions in both Tunnel (default) and Transfer (aka Transport) modes, and the built-in firewall features Network Address Translation (NAT) and Stateful Packet Inspection (SPI) which prevents against DoS attacks. A unique optional security enclosure that snaps over the unit to enclose the router and all attached modems is ideal for folks deploying their MBR1200 in a public or unsecure environment.
There are several accessories available for the MBR1200:
---
The MBR1200 will be available October 2, 2009, with an MSRP of $299.99 (add the item to your cart at 3Gstore.com to view our low price; discounts are available when purchased along with a 2-yr Sprint/Verizon/AT&T activation).
Check back for a full in-depth review of the MBR1200 as soon as it is released!
---
The MBR1200 will be shipping 10/2/09 and is available for pre-order at 3Gstore now!
---
Related links:





Last Updated ( Tuesday, 29 September 2009 )