Sprint Samsung Intrepid (Ace II)
Tuesday, 06 October 2009
Sprint Samsung Intrepid (Ace II)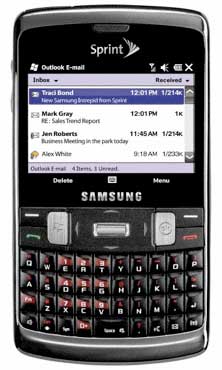 Features and Specs
Windows Mobile 6.5 Professional: Your daily life overlaps from home to work to play, and now your phone can, too, with amazing ease. With Windows Mobile 6.5 Professional, you get:
an improved user interface with customization options

easy access to third-party applications such as Facebook and Netflix®

Microsoft® Office Outlook® Mobile for a consistent experience across the PC, browser and phone

Tellme® application for voice-activated dialing, texting and searching the Web

access to Microsoft My Phone to back up and sync text messages, contacts, photos and more to the Web

Windows Marketplace for Mobile for direct-to-phone mobile application access

and much more Available programs, features, and functionality vary by: device, version of Windows Mobile software, mobile network provider, and availability of network connectivity and supporting technology (such as Exchange Server). See www.windowsmobile.com, your device reseller, and mobile network provider for more information.
International Phone
Comes loaded with a SIM card for traveling abroad, expanding your mobile office outside the U.S.
EVDO Rev A
Where coverage is available, experience broadband-like download speeds using EVDO technology.
Touchscreen and QWERTY Keypad
Enjoy the large WVGA touchscreen and QWERTY keyboard with well-spaced raised keys.
Dedicated Tellme App
Call and connect with friends, family and co-workers using the dedicated Tellme shortcut key. Let your voice be your guide when you can't use your hands. Tellme gives you voice-activated dialing and voice-to-text messaging. Additionally, use Tellme to get business listings, traffic, maps, driving directions, movies, weather instantly with the touch of a button and your voice.
Stereo Bluetooth Wireless Technology
Enjoy the convenience of hands-free communication by using headsets, car-kits and other Bluetooth-compatible devices.* Stereo Bluetooth lets you listen to your music on the go or listen to your music using compatible accessories without wires. *Bluetooth wireless accessories are sold separately.
3.0 MP Camera and Camcorder
Capture high-resolution images with the digital camera and zoom. Create your own video clips and easily share them with family and friends.
MP3 Player
Transfer music files from a PC or download from the Sprint® Music Store and listen to your songs via the speakerphone or a stereo headset accessory.
WiFi Enabled 802.11 b/g
Utilize nearby Wi-Fi access points for high-speed data connection and internet access.
Sprint TV Enabled
Watch live TV and video-on-demand with full-motion video and vivid sound. Catch the latest news, sports, weather, entertainment and movie trailers on the go.
NFL Mobile Live Access
Listen to live audio broadcasts of every regular season game and watch the live broadcasts of all NFL Network games. Get real-time red zone alerts, scores, stats, live NFL Network 24/7 and more. Manage your fantasy football team like a pro with up-to-the-minute insights, analysis, stats and alerts. How to Access: If NFL Mobile Live is not on the main menu, Text "NFL" to 7777* on your Sprint phone to download a full version of the application or download NFL Mobile Live from Sprint Digital LoungeSM. *Standard text messaging and data rates apply.
NASCAR Sprint Cup Mobile
With NASCAR Sprint Cup Mobile, instantly connect to the NASCAR information you want, when you want it. Follow NASCAR action from practice to race day with real-time leaderboard and alerts. Get exclusive access to your favorite NASCAR Sprint Cup Series driver with real-time driver stats, breaking news and more. Live in-car audio, race radio, NASCAR on SPEED and other audio/video only available on select phones. Visit sprint.com/speed for details.
Threaded SMS Text Messaging
With threaded SMS text messaging, you see the full conversation for each contact in a chat-like interface. Never send a reply to the wrong person again. Organized conversations make it easy to go back and see the history of any conversation.
GPS Capable
Autonomous and simultaneous GPS using Sprint Navigation for turn by turn directions, and points of interest searches.
Instant Messaging
Chat from just about anywhere using Windows Live™ Messenger, Google Talk™, Yahoo® Messenger, AOL® Instant Messenger™.
TTY Compatible
Compatible with select TTY devices.
Hearing Aid Compatible (HAC)

This handset has been certified as Hearing Aid Compatible in accordance with applicable industry standards. This handset has a HAC rating of M3 for hearing aids operating in the acoustic mode. This handset has a HAC rating of T3 for hearing aids operating in the telecoil mode.
Specifications
2.59" (H) x 4.6" (W) x 0.51" (D)
Weight: 4.0 ounces
Battery Information: Standard Li-Ion Battery (1480 mAh)
Talk Time: Up to 6 hours of continuous talktime
Included accessories
Standard Lithium Ion Battery

Standard Battery Door
USB Sync Cable
SIM card
AC Charger
3.5mm Stereo Headset
Additional Stylus
Notes
Rev-A Capable

Cannot be used as a modem

Antenna Compatibility Unknown
Requires PDA/Smartphone data plan

Last Updated ( Friday, 06 November 2009 )