Review: MAXPower 802.11N USB WiFi Adapter
Friday, 09 October 2009
Review: MAXPower 802.11N USB WiFi Adapter
These days most new laptops and even some desktops come with built-in Wifi networking capabilities, but for folks with older computers or desktop PCs wanting to use a wireless router, they'll need a wireless adapter. There are several adapters on the market that allow users to add WiFi capabilities to their computer, but they are not all created equal - some don't work as well as others, some are overpriced, and many have compatibility issues. We have tested MANY WiFi adapters and have finally found what we feel is an ideal adapter for any computer: the Newer Tech MAXPower 802.11N USB Adapter. This compact and affordable adapter is effective and will allow just about any computer with a USB port to have wireless capabilities for connecting to WiFi networks.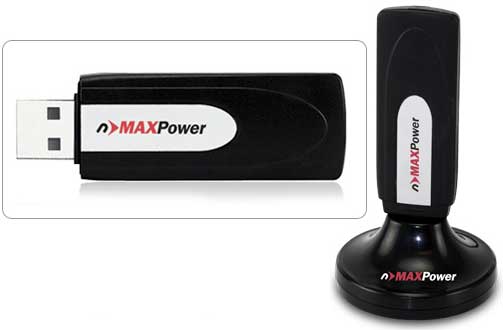 In the box is the USB adapter itself, a USB extension cradle, installation CD and user guide. The setup instructions are intuitive and easy to follow - getting set up is a breeze for even new computer users. Software is included on the CD for the Mac, as well as for Windows. Once you have installed the software from the CD - which is necessary; it will NOT work without the software - its as easy as plugging in the adapter and you'll have wireless connectivity. Important note for OSX users: The included software drivers are not compatible with Snow Leopard. In order to use the adapter with your Snow Leopard machine, you'll need to install some updated drivers - if you purchased your MAXPower WiFi Adapter from 3Gstore, email support@3gstore.com with your invoice number to get the necessary drivers.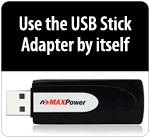 The USB extension cradle is a well thought-out addition to this adapter and sets the MAXPower unit apart from other WiFi adapters. It is a multifunctional tool that can be used in a number of different applications. The intended application is to place the WiFi adapter in a better spot than behind your computer tower, so that it can get better signal reception (meaning your computer can be further from the router you're connecting to). This also has the added bonus of taking up less room around your USB ports (the Wifi adapter is small and compact, but if you have a computer that has USB ports that are close together it can still end up blocking a port). The cable on the end of the cradle is just the right size so that nothing gets blocked. The cradle can also come in handy as a desktop USB port for plugging in flash drives, charging and syncing an iPod, or even to use with your USB Aircard.

The MAXPower adapter uses an 802.11N radio, which is the latest in WiFi technology to provide blazing fast connection speeds and increased range, and it is also backwards compatible with the older G and B protocols. In our tests the MAXPower adapter performed better than the built in Airport card in our test Apple laptop, picking up networks from further away that we hadn't seen before! It also provided better strength to our own WiFi network: when we tested it about 20ft away from the router, and through 2 walls, the signal strength was 3-4 bars for the built in airport and 4-5 bars using the MAXPower adapter. Our only complaint regarding the wifi capabilities is that the MAXPower adapter only operates on the 2.4Ghz frequency, which is what many household wireless devices use, and is subject to potential interference from cordless phone systems, the microwave and even some compact fluorescent light bulbs. Overall, the MAXPower adapter performs far better than comparable alternatives, managing to achieve 2-3 signal bars on networks that the competitors adapters couldn't even detect!

One of the most important features of any wireless device is what kind of security it has. People everywhere are trying to "piggyback" onto connections that they don't own for free internet. The MAXPower adapter is compatible with all of the latest types of Wifi encryption and security features such as WEP with 64 and 128 bit encryption, WPA and WPA2 to provide the most secure connection possible at all times.

The MAXPower is an effective tool to provide the convenient features of Wireless connectivity in a variety of situations. You can enable an older laptop without wifi (or with a slower 802.11b/g card) to connect wirelessly at blazing fast speeds or give your desktop computer access to the same WiFi network your laptops are enjoying without running a cable all the way to it. Additionally, the cradle is a great desk accessory to provide convenient access to a USB port.

Overall the MAXPower USB to Wifi adapter is a great performer, and can make connecting to the internet far more convenient for many users. Compatibility with the Cradlepoint line of routers is great, and we love the USB cradle that ships with the adapter. This adapter is a must-have for users whose computers do not have WiFi capability and is also great for users whose computers only have "G" adapters - if you are using an "N" router (like the MBR1000 or MBR1200) and want to take full advantage of the "N" WiFi radio, you'll want an "N" receiver, too!
The MAXPower USB WiFi adapter is available for $49.95 from 3Gstore.
Last Updated ( Friday, 11 December 2009 )