Sprint Samsung Instinct HD
Thursday, 15 October 2009
Sprint Instinct HD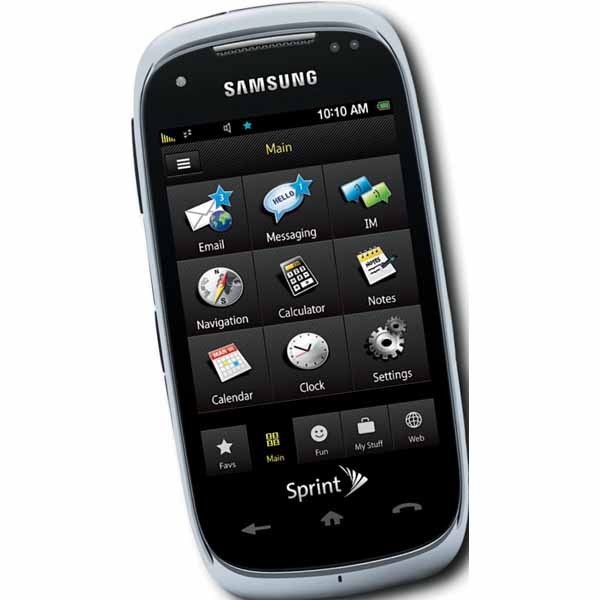 Features and Specs
Sprint High Speed Wireless Data Network
The Sprint Network gives you more choice and flexibility, so you can make the most of your wireless service. Enjoy the network that gives you the power to watch live TV, instantly download songs to your phone and play multiplayer games all at broadband-like speeds.
5.0 Megapixel Camera and Camcorder
Capture high-resolution images with the digital camera. Create your own video clips and easily share them with family and friends. Record video in up to 720p resolution and share it using the available HDMI accessory cable
Built-in WiFi Capability
High-speed data connection between the device and nearby Wi-Fi access points for the ultimate in mobile connectivity.
Opera Mobile 9.7 Web Browser
Enjoy a PC-like browsing experience wherever you go. You get many of the same functions available with your desktop browser including: faster page loading, zooming and panning, tabbed browsing, copying text, sending links as SMS or e-mail, saving pages for off-line viewing, history and bookmarks, and much more.
Sprint Picture Mail Enabled
Take a picture anytime and send it to family and friends instantly while on the Nationwide Sprint® Network.
Sprint Mobile Email
Sprint Mobile Email provides customers with simplified access to their favorite consumer email services including AOL, Yahoo!, Gmail, and MSN/Windows Live Hotmail. Additionally, customers can access many other email providers through the software's support of POP3 & IMAP.
Sprint Mobile Email Work
Sprint Mobile Email WORK allows customers to access their corporate email on many popular consumer phones (non PDA). Customers can receive email on Microsoft Exchange 2000, 2003, 2007 and Lotus Notes Domino versions 6.0, 6.5 and 7.0 via desktop redirector software. (includes Work Calendar also)
Sprint Music Store Enabled
Download stereo-quality, digital tracks instantly to your phone. Choose from hundreds of thousands of full-length songs from virtually every genre. Select songs directly from your wireless phone and listen to them wherever you go, even download them to your PC.
Sprint TV Enabled
Watch live TV and video-on-demand with full-motion video and vivid sound. Catch the latest news, sports, weather, entertainment and movie trailers on the go.
Bluetooth Enabled including Stereo BT Profile
Enjoy the convenience of hands-free communication by using headsets, car-kits and other Bluetooth-compatible devices. **Bluetooth wireless accessories are sold separately.
MicroSD Memory Card
Store data on the included 4GB removable memory card. Up to 32GB cards supported and available for purchase.
Visual Voicemail
Visual Voicemail gives you quick and easy access to just the messages you want to listen to by letting you go directly to a specific message, without needing to listen to or skip past previous messages.
Accelerometer & Proximity Sensor

The accelerometer automatically adjusts Web pages and photos to your perspective so you can view them in landscape or portrait mode. Plus, for a more enjoyable viewing experience you can watch videos in the wider landscape mode as well. The proximity sensor automatically disables the touchscreen and turns off the display whenever you put the phone up to your ear.
Web Browsing
An incredibly fast browser brings you full websites the way they were meant to be seen.
GPS Capable
Search for the closest coffee shop, or navigate to a specific address with a 3D map that moves with you. Asking for directions is a thing of the past.
Live Search by Microsoft
Live Search by Microsoft® lets you use device web and location capabilities together to find just what you want right now.
HDMI Video Out
Record, view and output HD videos and photos to an HD capable (720p) display
Mobile Sync
If your phone is ever lost, stolen, damaged or replaced, you can use Mobile Sync to restore your contact information quickly and easily. Additional charges apply.
TTY Compatible
This phone connects to a TTY device, allowing anyone who is visually- or hearing-impaired the ability to communicate.
911 Emergency Location Capable
Features an embedded Global Positioning System chip necessary for utilizing the E911 emergency location services where available.
Specifications
4.6" x 2.3" x 0.5"
Weight: 3.93 ounces
Battery Information: 1440mAh
Talk Time: Up to 5.8 hours continuous talktime
Included accessories
Standard Battery

AC Charger
MicroSD Memory Card (4GB)
Stereo Headset
Notes
Cannot be used as a modem

Antenna Compatibility Unknown
Requires Everything Data plan

Last Updated ( Thursday, 05 November 2009 )