Wilson C-Booster for Blackberry Curve In Stock at 3Gstore
Wednesday, 04 November 2009
Wilson C-Booster for Blackberry Curve now In Stock at 3Gstore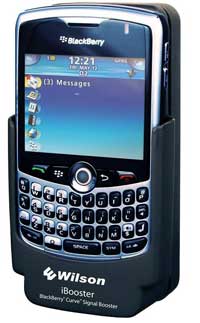 Following the success of the iBooster for iPhone, Wilson has released a similar all-in-one amplifier for the popular Blackberry Curve. The new C-Booster improves both voice and data performance for your Blackberry Curve (on any network in the US - AT&T, Verizon, Sprint, T-Mobile, Alltel) while on the road. With 20 times the power to the cell site of a cell phone alone, it features a built-in antenna, battery charger, and works with Cellular (800 MHz) and PCS (1900 MHz) frequencies.

How it works: The included Wilson magnetic mount antenna mounted on the outside of your vehicle communicates with the cell site, and the built-in C-Booster cradle amplifier communicates with your Blackberry Curve. The outside antenna collects weak cellular signals and sends them to the amplifier; the amplifier boosts those signals and transmits them through the cradle amplifier/booster, significantly improving the performance of your Curve.

Features:
Designed specifically for the Blackberry Curve (NOT compatible with other Blackberry models!)
Enhances both voice AND data signal
Dual-band - compatible with Blackberry Curves on Verizon, Sprint, AT&T, Alltel, T-Mobile
Increases driver safety
Supports any hands-free device, including ear-buds and Bluetooth products
Easy to install and simple to use.
Built-in battery charger
Extends battery life – Amplifier enables phone to work at reduced power
Installs in minutes
Package includes everything needed - plug-and-play!
Kit Includes
iBooster Cradle Amplifier/charger
301125 12" Wilson Magnetic Mount Rooftop Antenna
12 Volt Cigarette lighter power supply
Comprehensive detailed installation instructions
Please note that the C-Booster is ONLY compatible with the Blackberry Curve (8300 series) - it will NOT work with any other Blackberry model (Pearl, Storm, Bold, Tour, etc)!
Last Updated ( Friday, 11 June 2010 )