Monday, 02 November 2009
Sprint Palm Pixi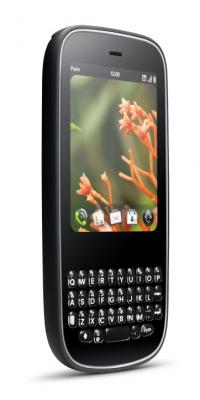 Features and Specs
SPECS
Dimensions: 2.17" x 4.37" x 0.43"
Weight: 3.26 ounces
Battery Information: 1150 mAh
Talk Time: Up to 5 hours of talk time
FEATURES
Full QWERTY Keypad
Access menus and other screens instantly. Compose messages and enter data on the familiar QWERTY Key board layout.
Touch Screen
The bright touch screen is sharp and clear. Perfect for viewing web sites, photos and videos.
Palm WebOS
The first mobile platform which brings your information from the many places it resides – on your phone, at your work or on the web – into one simple, integrated view.
Activity Cards
Palm's revolutionary webOS lets you manage multiple applications at a time, unlike any other mobile platform today. It lets you keep multiple activities open and instantly flip from one to another using card view.
Linked Contacts
With Palm Synergy™, you maintain a single view by linking your contacts from a variety of sources, so accessing them is easier than ever. For example, if you have the same contact listed in your Outlook, Google and Facebook accounts, Synergy recognizes that they're the same person and links the information together, presenting it to you as one listing.
Layered Calendars
With Palm Synergy, your calendars can be seen on their own or layered together in a single view, combining work, family, friends, sports teams, or other interests. You can toggle to look at one calendar at a time, or see them all at a glance.
Combined Messaging
See all your conversations with the same person in a chat-style view, even if it started in IM and you want to reply with a text message. You can also see who's active in a buddy list right from contacts, and start a new conversation with just one touch.
Combined Email
Check your Outlook email with Microsoft Direct Push Technology and HTML support. Get wireless email access to popular commercial POP3 and IMAP accounts like AOL, Gmail, and Yahoo! All your email accounts can be viewed together, or separately from one simple application. Synergy even lets you see IM presence directly from an email.
Universal Search
Simply start typing to begin searching your contacts, applications, Google, Google Maps, Wikipedia and Twitter. Universal search narrows down the possible results as you type, so it's easier to find what you need.
Unobtrusive Notifications
When important things come up or new updates arrive, you'll receive notifications at the bottom of your screen. You will know what is going on without being completely interrupted or losing your train of thought.
Web Browsing
An incredibly fast browser brings you full websites the way they were meant to be seen
EVDO Rev. A
Where coverage is available, experience broadband-like download speeds using EVDO technology.
GPS Capable
Search for the closest coffee shop, or navigate to a specific address with a 3D map that moves with you. Asking for directions is a thing of the past.
Quick Launch Bar
One touch access to the applications you use most.
Internal Storage and USB Mass Storage Mode
Store pictures, videos, music and other data on the 8GB of internal memory (7GB user available)**. Palm Pixi also works as a USB drive when plugged into a PC. You can simply drag and drop your PC media and documents onto the device. ** Estimate subject to change based on system software and application usage
2.0 Mega-Pixel Camera
Capture high-resolution images with the digital camera with a flash and extended depth of field technology.
Removable Battery
Removable and rechargeable battery
Amazon MP3
Download stereo-quality non-DRM protected tracks instantly to your wireless phone. Choose songs from thousands of artists in virtually every genre, and listen wherever you go.
Accelerometer and Proximity Sensor
Accelerometer automatically orients web pages and photos to your perspective so you can view them in landscape or portrait mode. Watch videos in landscape mode as well. Proximity sensor automatically disables the touch screen and turns off the display whenever you put the phone up to your ear.
Document Viewing
Easily view Word, Excel, PowerPoint and PDF on the go to maximize your productivity
Stereo Bluetooth
Enjoy the convenience of hands-free communication by using headsets, car-kits and other Bluetooth-compatible devices.* Stereo Bluetooth lets you listen to your music on the go or listen to your music using compatible accessories without wires. *Bluetooth wireless accessories are sold separately.
Ringer Switch
Easily silences the device with one touch
TTY (Teletypewriter) Compatible
This phone connects to a TTY device, allowing anyone who is hearing impaired the ability to communicate!
Hearing Aid Compatibility
This handset has been certified as Hearing Aid Compatible in accordance with applicable industry standards. This handset has a HAC rating of M4 for hearing aids operating in the acoustic mode. This handset has a HAC rating of T4 for hearing aids operating with a telecoil mode.
INCLUDED ACCESSORIES
Standard Battery
AC Travel Charger
USB Cable
NOTES
REV-A Capable
Tether-compatibility unknown
Antenna compatibility unknown
Router compatibility unknown
This phone REQUIRES a data plan
Last Updated ( Thursday, 12 November 2009 )