Purchase a Cradlepoint MBR1000 in December, Receive a FREE CTR350!
Wednesday, 02 December 2009
This promotion has ended. Stay tuned at EVDOinfo.com and 3Gstore.com for future promotions!
---
3Gstore/Cradlepoint Holiday Promotion: Purchase an MBR1000 (was $249.99 - NOW $189.99) AND receive a FREE CTR350!*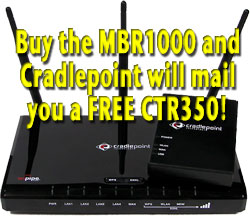 If you missed out on 3Gstore's Black Friday deals, we've got great news for you: Cradlepoint has extended their incredible MBR1000 promotion through the month of December! Customers who purchase the MBR1000 from 3Gstore between 12/02/09 and 12/31/09 can receive a FREE Cradlepoint CTR350 travel router from Cradlepoint! If that wasn't a great enough deal, 3Gstore also has the MBR1000 at one of our lowest prices ever - just $189.99 (MSRP is $249.99). And don't forget about the amazing technical support and exclusive support CD you'll also receive (for free!) when you purchase from 3Gstore!
How it works: Place your order for the MBR1000 online at 3Gstore.com or over the phone (866-3GSTORE) by 11:59pm CST on 12/31/2009. Once you receive your MBR1000, simply mail in the included rebate form and Cradlepoint will send you a FREE CTR350 - it's as simple as that! *Free CTR350 is provided by Cradlepoint (customer must send in rebate form by 1/15/10 after receiving MBR1000). click here for more details
Last Updated ( Tuesday, 16 March 2010 )