Sprint Blackberry Curve 8530
Monday, 14 December 2009
Sprint Blackberry Curve 8530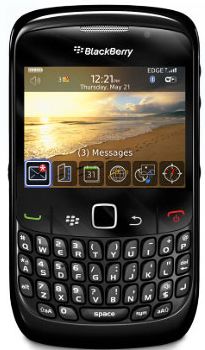 Available in Black and Purple
Features and Specs
SPECS
Dimensions: 4.3" x 2.4" x 0.5"
Weight: 3.9 ounces
Battery Information: 1150 mAh Standard
Talk Time: Up to 5.4 hours of continuous talk time
FEATURES
Blackberry World App
Discover a world of possibilities and find tons of great apps available for your BlackBerry® smartphone in one convenient place at the BlackBerry App World™ storefront. Personalize your BlackBerry smartphone with a wide selection of games, social networking, online shopping and personal productivity apps. Shop online from your desktop computer or directly from your smartphone.
Dedicated Media Keys

Quick and easy access to control the multimedia you're using. You can listen to music and easily skip to the next tune, pause a song to talk to a friend or play your favorite song over and over again.
Trackpad
Access the things that are important to you quickly and easily using the trackpad. Based on optical technology, the trackpad helps you easily scroll through the information you need, with an experience similar to the trackpad on a laptop computer. Simply glide your finger over the trackpad to scroll through websites, playlists and icons and click to select the item you want.
Full QWERTY Keyboard

QWERTY keyboard makes sending emails and editing documents quick and easy.
Blackberry Push Technology

Have e-mail and data automatically sent to your BlackBerry.
Mobile Email

Access your email from well-known providers like AOL, Windows Live including MSN and Hotmail, Gmail, Yahoo! and more.
Instant Messaging
Chat from just about anywhere using Windows Live™ Messenger, Google Talk™, Yahoo® Messenger, AOL® Instant Messenger™, or ICQ® apps built specifically for BlackBerry smartphones.
Blackberry Messenger
Chat, share files and stay in touch on-the-go with the easy-to-use messaging program designed for BlackBerry smartphone users. Personalize your display picture, create groups with family and friends to share pictures, videos and voice notes with multiple contacts at once or check out what your friends are listening to by viewing their song titles.
2.0 Megapixel Camera and Camcorder
Capture high-resolution images with the digital camera and zoom. Create your own video clips and easily share them with family and friends.
GPS Capable

Allows you to view your geographic location and works with BlackBerry maps as well as other location-based services.
External Memory

With a microSD card, you have the room you need for larger work files, presentation, reports, documents or fun files like ringtones and music. Purchase an optional memory card and increase memory by up to 32GB.
WiFi Enabled

Utilize nearby Wi-Fi access points for high-speed data connection and internet access.
Attachment Viewing and Editing

View and edit Microsoft® Office, Excel®, Word® Mobile documents and more.
Media Player

Features a media player with 3.5mm stereo headset jack, so you can play video and music files you've downloaded. Supports Bluetooth stereo headset.
Blackberry Media Sync

BlackBerry Media Sync let's you sync your desktop iTunes® with your BlackBerry smartphone.
NFL Mobile Live Access

NFL Mobile Live is your all-access pass to the NFL from DRAFT to Super Bowl. Stay on top of every game with real-time red zone alerts, game center scores, stats, and more. Manage your fantasy football team like a pro with up-to-the-minute insights, analysis, stats and alerts.

How to Access: This may already be pre-loaded on your phone. If not, text "NFL" to 7777* on your Sprint phone to download a full version of the application or download NFL Mobile Live from Sprint Digital LoungeSM. *Standard text messaging and data rates apply.
NASCAR Sprint Cup Mobile

With NASCAR Sprint Cup Mobile, instantly connect to the NASCAR information you want, when you want it. Follow NASCAR action from practice to race day with real-time leaderboard and alerts. Get exclusive access to your favorite NASCAR Sprint Cup Series driver with real-time driver stats, breaking news and more. Live in-car audio, race radio, NASCAR on SPEED and other audio/video only available on select phones. Visit sprint.com/speed for details.

How to Access: This may already be pre-loaded on your phone. If not, text "NASCAR" to 7777* on your Sprint phone or visit the Sprint Digital LoungeSM to download NASCAR Sprint Cup Mobile. *Standard text messaging and data rates apply.
Sprint TV Enabled

Watch live TV and video-on-demand with full-motion video and vivid sound. Catch the latest news, sports, weather, entertainment and movie trailers on the go.
Accelerometer and Proximity Sensor
Accelerometer automatically orients web pages and photos to your perspective so you can view them in landscape or portrait mode. Watch videos in landscape mode as well. Proximity sensor automatically disables the touch screen and turns off the display whenever you put the phone up to your ear.
Stereo Bluetooth
Enjoy the convenience of hands-free communication by using headsets, car-kits and other Bluetooth-compatible devices.*Stereo Bluetooth lets you listen to your music on the go or listen to your music using compatible accessories without wires. *Bluetooth wireless accessories are sold separately.
Voice-Activated Dialing

The built-in speaker independent voice command lets you use your voice to look up contacts, place phone calls and get key information from your device.
TTY (Teletypewriter) Compatible
Compatible with select TTY devices.
Hearing Aid Compatibility
This handset has been certified as Hearing Aid Compatible in accordance with applicable industry standards. This handset has a HAC rating of M4 for hearing aids operating in the acoustic mode. This handset has a HAC rating of T4 for hearing aids operating with a telecoil mode.
INCLUDED ACCESSORIES
Standard Lithium Ion Battery
AC Travel Charger
USB Cable
MicroSD Card - 2GB included
NOTES
Tether-capable (+$15/month and requires Blackberry Data pack, Business-liable customers only - click here to read more )
No antenna port

This phone REQUIRES a data plan
Last Updated ( Tuesday, 27 April 2010 )