Tuesday, 15 December 2009
Sprint LG Lotus Elite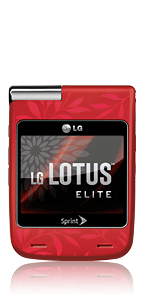 Features and Specs
Full QWERTY Keyboard
Access menus and other screens instantly. Compose messages and enter data on the familiar QWERTY keyboard layout.
Exterior touch screen
Exterior touch screen allowing you to view Sprint TV®, Sprint Music, Sprint Navigation, email, text messages and listen to voicemail without opening the phone.
Social Networking shortcut
The Social Networking shortcut is your gateway for keeping up with all your favorite social communities such as Twitter, MySpace®, Facebook® and more. Easily respond to friend requests, view and send messages, post comments and update your status or profiles, all from your phone. You can also use your phone's camera to take photos, then upload them straight to your networking sites without closing the application.
Sprint High Speed Wireless Date Network
The Sprint Network gives you more choice and flexibility, so you can make the most of your wireless service. Enjoy the network that gives you the power to watch live TV, instantly download songs to your phone and play multiplayer games all at broadband-like speeds.
Sprint Mobile Email
Get easy access to your favorite home email services including AOL, Yahoo!, Gmail, and MSN/Windows Live Hotmail and more...
Sprint One Click
Sprint One Click is a customizable home screen created to optimize your experience by giving you quick access to the things you use the most.
Picture sharing
Upload, share and store pictures with Photobucket, Facebook and more
Dual 2.4" QVGA screens
Enjoy the convenience of viewing a variety of information and applications from either the large external or internal display.
2.0 Megapixel Camera and Camcorder
Capture high-resolution images with the digital camera and zoom. Create your own video clips and easily share them with family and friends.
Web Browsing with Google search
Make Web browsing even faster with a dedicated Google Search bar that resides on your Web application page. You get quick access to news, local listings, maps, images, or whatever you're interested in. And because your most recent searched locations are stored, you'll find what you want even faster the next time you search.
MicroSD Memory Card Slot
Store data on the included 1GB removable memory card. Up to 32GB cards supported and available for purchase.
Sprint TV Enabled
Watch live TV and video-on-demand with full-motion video and vivid sound. Catch the latest news, sports, weather, entertainment and movie trailers on the go.
Sprint Navigation Enabled
Search for the closest coffee shop, or navigate to a specific address with a 3D map that moves with you. Asking for directions is a thing of the past.
Full Messaging Capabilities
Instant Messaging and SMS Text Messaging.
NFL Mobile Live Access
Listen to live audio broadcasts of every regular season game and watch the live broadcasts of all NFL Network games. Get real-time red zone alerts, scores, stats, live NFL Network 24/7 and more. Manage your fantasy football team like a pro with up-to-the-minute insights, analysis, stats and alerts. How to Access: Text "NFL" to 7777* on your Sprint phone to download a full version of the application or download NFL Mobile Live from Sprint Digital LoungeSM. *Standard text messaging and data rates apply.
NASCAR Sprint Cub Mobile
With NASCAR Sprint Cup Mobile, instantly connect to the NASCAR information you want, when you want it. Follow NASCAR action from practice to race day with real-time leaderboard and alerts. Get exclusive access to your favorite NASCAR Sprint Cup Series driver with real-time driver stats, breaking news and more. Live in-car audio, race radio, NASCAR on SPEED and other audio/video only available on select phones. Visit sprint.com/speed for details. How to Access: Text "NASCAR" to 7777* on your Sprint phone or visit the Sprint Digital LoungeSM to download NASCAR Sprint Cup Mobile. *Standard text messaging and data rates apply.
Sprint Music Store Enabled

Download stereo-quality tracks instantly to your wireless phone or PC. Choose from thousands of artists in virtually every genre, and listen wherever you go.
Speakerphone
Enjoy easy, hands free communication with a speakerphone that lets you hear callers loud and clear.
Bluetoothe Enabled

Enjoy the convenience of hands-free communication by using headsets, car-kits and other Bluetooth-compatible devices.
Wireless Backup

If your phone is ever lost, stolen, damaged or replaced, you can use Wireless Backup to restore your contact information quickly and easily. Additional charges apply.
TTY Compatible

Compatible with select TTY devices.
Hearing Aid Compatibility (HAC)

This handset has been certified as Hearing Aid Compatible in accordance with applicable industry standards. This handset has a HAC rating of M4 for hearing aids operating in the acoustic mode. This handset has a HAC rating of T4 for hearing aids operating with a telecoil mode.
Specifications
3.66" x 1.9" x 0.63"
Weight: 3.32 ounces
Battery Information: Standard Li-ion Battery (1000 mAh)
Talk Time: 5.9 hours of continuous talk time
Included accessories
Standard Lithium Ion Battery

Standard Battery Door
Micro USB CAble and Charger
Fashion hand strap

1GB microSD™ and adapter
Notes
Tether-capable (+$15/month and requires Sprint Power Vision Data pack, Business-liable customers only - click here to read more )
Antenna Compatibility Unknown
Router compatibility unknown
Last Updated ( Tuesday, 27 April 2010 )