Product Spotlight: Blackberry Curve 8530 for Sprint
Tuesday, 12 January 2010
Product Spotlight: Blackberry Curve 8530 for Sprint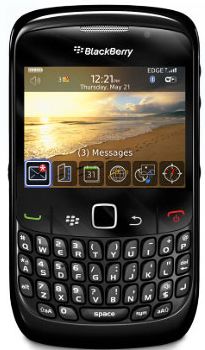 The Blackberry Curve 8530 is the latest addition to RIM's lineup, and it is the successor to the very popular Curve 8330 (which has now been discontinued). The 8530 shares a similar body style as its predecessor and many familiar features, but not everything is the same! Features new to the 8530 include:
WiFi Connectivity - Unlike the 8330, the Curve 8530 supports 802.11b/g WiFi networks, allowing you to access the web and use all of your Blackberry web-enabled apps via WiFi. This can come in handy if you're in an area where you don't have a strong Sprint signal; you can just connect your 8530 to any WiFi network and get access to the information that you need!
Optical Trackpad - In the past, many Blackberry users have complained about the trackball on Blackberry devices such as the 8330. RIM has listened, and now their latest devices including the Curve 8530 are using an optical trackpad. Unlike the traditional trackball, the optical trackpad doesn't have any moving parts and is less likly to break with heavy use. Users are reporting that it provides a much smoother navigation experience, especially when browsing large web pages.
Dedicated Media Keys - There are three dedicated media keys on the top of the 8530: Back, Play/Pause, and Forward. These dedicated controls easily allow you to pause your music or move on to the next song in your playlist, making the 8530 a bit more media-friendly than older models.
More Flash Memory - The 8530 has 256MB of on-board flash memory for you to install apps, save pictures, and music, etc, which is more than double what the 8330 offered (96MB). Blackberry/Sprint are also INCLUDING a 2GB microSD card with each phone (see photo below) If you really want to download a lot of apps & music, the 8530's microSD slot that supports cards up to 32GB.


These new features will enhance the experience that Blackberry users are acustomed to, but one can still expect to see many familiar features shared by other Blackberry models:
Full QWERTY Keyboard
Blackberry Apps
Superior Email Compatiblity
Phone-as-Modem (Tethering) Capability
Corporate Data Access
Password Protection
Device Encryption

---
Size comparisons:

Blackberry 8530 (bottom) compared to Blackberry 8330 (top)
---
Blackberry 8530 (bottom) compared to Blackberry 9630 (top)
---
Blackberry 8530 (bottom) compared to iPhone 3GS (top)
---
The Blackberry 8530 for Sprint is now available from 3Gstore for just $19.99 after rebate with a new 2-year contract (upgrading an existing Sprint line? Contact us to see what pricing you're eligible for); it is also available without a contract for just $309.99.
---
Related links:





Last Updated ( Wednesday, 13 January 2010 )