Product Spotlight: Sierra 3G/4G Overdrive Portable Hotspot for Sprint
Tuesday, 26 January 2010
Product Spotlight: Sierra 3G/4G Overdrive Portable Hotspot for Sprint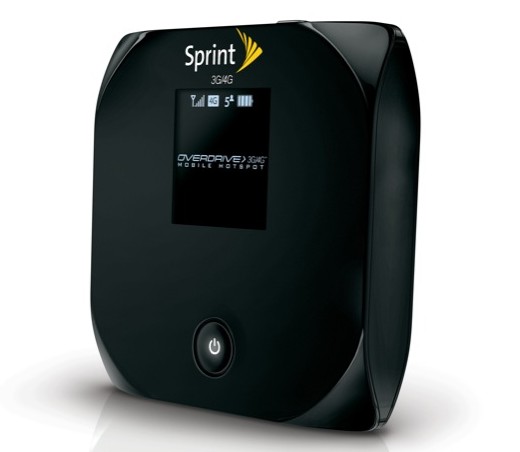 ---
2/26/2010 Update - EVDOinfo.com's Full Review of Sprint Overdrive

---
As a follow-up product to the success of their first mobile hotspot -- the MiFi 2200 -- Sprint has launched a game-changing product called the Sprint OverDrive. The Sprint OverDrive (aka Sierra Wireless W801) is a mobile hotspot that allows high speed connections to Sprint's nationwide 3G network as well as their faster 4G WiMAX network, for as many as five wireless devices.

At 3.2" x 3.2" x 0.63" the OverDrive is bit larger than the MiFi and features some significant hardware differences besides the ability to connect to faster 4G networks. The OverDrive has an LCD screen that provides useful information without the need to log in to a web page; provides audio cues to alert to certain activities like low or critical battery level (thankfully, the audio can be muted); and has a microSD slot that supports cards up to 16GB that can be used as shared storage for all connected users or locked to admin use only.

The LCD screen has icons that indicate:
whether it is connected to the 3G or 4G network
signal strength to the tower (using bars)

if its is roaming (when on 3G network)
GPS status
number of connected wireless users
battery charge level/charging status
presence of alerts
wireless station ID (SSID)
wireless access password
uptime and data usage

The OverDrive's LCD also provides a way to communicate with the users with messages like "Connect your computer to Wi-Fi network", followed by the network name (SSID) and password. Screen messages make the OverDrive a lot easier to get up and running quickly. For those wanting maximum battery runtime, admin settings allow for LCD timeout, or even turning off the LCD screen altogether.

WiFi range is significantly better than the MiFi, providing as much as 150ft of usable wireless range to/from the Overdrive. Once connected to the OverDrive via WiFi, opening any bookmarked webpage brings you to the "Welcome to your Overdrive" portal that offers you links to simply start surfing the internet, or to admin settings that allow you to change security and other options.

Speaking of wifi security, the OverDrive is set to use WPA encryption but it can also many variations of WEP and WPA2 encryption, or even operate as a wide-open hotspot.

Of course for maximum security, owners of an Overdrive can disable WiFi altogether and use the included USB cable to tether to a computer. The OverDrive includes onboard software/drivers needed for Windows XP/Vista/7 and Mac OS X 10.4 and up. (note: Sierra Wireless acknowledges an issue with certain Windows XP laptops experiencing reduced wifi throughput and are working on a permanent fix.)

The OverDrive is set up to connect to the fastest network with adequate signal, but users can change settings to give 3G or 4G higher preference, as needed.

The built-in rechargeable 1800mAh battery provides up to four hours of standard use and will recharge in 1.5 hours via a/c charger or 3.6 hours via computer's USB port. Admin settings allow for extending battery runtime by reducing WiFi range, or maximum WiFi range but reduced battery runtime.

The OverDrive provides for a much more visual interface for web admin that allows users to quickly assess many details. In fact, a virtual representation of the OverDrive's LCD screen is made available via web admin and a smaller "mini window" can be left open in a browser popup window.

We'll cover more of the admin options in a full hands on review, but one very interesting set of details includes the ability to set up and track cumulative bandwidth usage by billing cycle date... very useful for those OverDrive units that operate in mostly 3G network that could result in overage charges.

The Sprint OverDrive is available from 3Gstore.com right now for $49.99 after rebate with a new 2-year contract. 3G/4G service is available for just $59.99/mo; this plan provides unlimited 4G data use and 5GB of data use on 3G network with overage charge of $0.05/mb. Since the 3G/4G data plan for the OverDrive is the same price as Sprint's 3G-only service, users thinking about 3G service may want to look at the OverDrive as an option, even if they aren't in 4G coverage. You'll be able to use 3G now, and when you travel to a 4G area or when Sprint launches 4G in your area, you'll be set!

---
Related links:
Last Updated ( Wednesday, 07 April 2010 )