3Gstore IP Switch Review: Connection Monitoring, Power Cycling, and More
Wednesday, 10 February 2010
The 3Gstore IP Switch: Monitor and Remotely Power Cycle Your Internet Connection!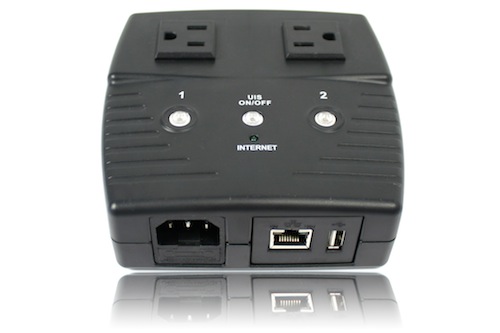 3Gstore is now selling the updated version of the IP Switch (above) - same functionality, new look!
The 3Gstore IP Switch's is a simple, easy-to-use piece of a equipment that monitors your internet connection for you and automatically resets it when necessary - without any need for action by you! The IP Switch has an ethernet port which connects to your router to monitor the status of your internet connection; if you lose internet connectivity, the 3Gstore IP Switch will automatically reset power to any devices that are connected to it. This can be a very useful device if you have internet connectivity at multiple locations, and you can't always be there to reset devices if internet connectivity is lost. For example, if you have your modem and router's power cables connected into the 3Gstore IP Switch, then the 3Gstore IP Switch is able to detect when the internet connection is down, and it automatically power-cycles the modem and router, which will force your connection to restart, and re-gain connectivity! No need to have an IT guy around every time you need to reset your router - the 3Gstore IP Power Switch will do this for you automatically, which will save you a lot of frustration, time, and money!
Who and what is the IP Switch useful for?
Home users who have to manually power-cycle their router to re-gain internet connectivity
IT Professionals who need to automatically or remotely reset devices
Having devices on an automatic power schedule [Ex: Turn on at 9am & turn off at 5pm]
Preventing your connection from timing out or going dormant
In addition to the remote power cycling functionality, another useful feature of the 3Gstore IP Switch is that it is always pinging five different websites, which means that it is always keeping your connection active. This feature can be very useful for folks whose aircards tend to go "dormant" after a certain period of time. Some carriers (like Alltel) appear to have programming in place that limits the maximum length of time a modem can stay connected with their network, and when they trigger the disconnection from "their end", the router might not cause the modem to reconnect. The 3Gswitch solves this problem by immediately detecting that the modem has disconnected and then power cycling the router, forcing the aircard will automatically re-connect to the cellular network with NO action needed by you! With the 3Gstore IP Switch keeping your connection active, you don't have to worry about your connection going dormant!
For those of you who have 5GB monthly allowances for your mobile broadband connection, you may be wondering how much of your monthly allowance would be used by the IP Switch if you used it for monitoring your connection. Using the default settings, the unit only pings a site once every 3 seconds, which means the unit is only using 32bytes of data every 3 seconds, or 27.6MB per month. This is only 27MB of the 5,000MB monthly allowance - a very small price to pay to ensure that your connection is always active!
For our more technical audience, this device makes a great addition to Cradlepoint routers that are taking advantage of the failover mode. The 3Gstore IP Switch can increase your network's up-time, as you can configure it to reboot only after both your WAN connection and EVDO/HSPA connection have failed. Additionally, if your WAN connection drops out, you'll be able to remotley access the IP Switch and reboot the DSL/Cable/WAN modem since the IP Switch still has conectivity via mobile broadbane backup!
IP Switch Design:
The IP Power Switch is compact (just 4.25" x 4.5" x 2") and utilizes a very simple design. It features one ethernet port and two controllable power outlets that can be programmed/controlled separately. There is also a third power outlet on the top of the unit that is used only as an expansion outlet - equipment plugged into that outlet can't be controlled, it is just for power.
The design of the IP Switch also provides some additional benefits. The two controllable power connectors on the unit swivel, so they can either be on the top or on the side of the unit. This is VERY useful for customers who are using devices with large power supplies that normally would be too big to have two side-by-side:
Advanced features:
While the connection managing and power cycling functions will likely be the most popular uses of the IP switch, there are also additional features that can be configured by using the web administrative interface that you can access via web browser. These features include:

MSN Messenger Notifications & Commands - With MSN Messenger, you can be notified when the internet connection is lost and the power was reset to your devices. You can issue commands to the 3Gstore IP Switch that will turn power off/on to a specific power outlet on the switch. You can also check the current status and WAN/LAN IP addresses for the 3Gstore IP Switch. If you have MSN Messenger on your mobile device, you can power-cycle your devices from anywhere! Note: AIM & Yahoo Instant messenger support will be available soon via future firmware update!
Power Scheduling - You can create up to 20 different power schedule which allow you to schedule to turn power on or off at specific dates and times. This is a really neat feature if you want to save on your electricity bill by automatically having your office equipment turn on at 9:00am and power off at 5:00pm. This could also be used to schedule a power-cycle at a specific date & time, for example: if you wanted to reboot your router every night at 3:00am.
Remote Access & Dynamic DNS Support - Right out of the box the 3Gstore IP Switch supports Dynamic DNS, which will allow you to easily access your router remotely using a free Dynamic DNS domain. The 3Gstore IP Switch will update the DynDNS.com servers with its latest public IP address, giving you a free easy to remember web address to access the routers administration page from any computer.
Event Logs - The event log keeps a record of when the 3Gstore IP Switch loses internet connectivity, and resets power to all of the connected devices. It also keeps a record of when you manually turn off/on or reset power to any of the electrical outlets via the administration page or MSN Messenger. Below is an example of the event log, as you can see after all five websites timed out, the 3Gstore IP Switch reset power to both power outlets:
| | |
| --- | --- |
| 2010/01/14 13:51:45 | Outlet2 On |
| 2010/01/14 13:51:34 | Outlet1 On |
| 2010/01/14 13:51:33 | Outlet2 Off |
| 2010/01/14 13:51:33 | Outlet1 Off |
| 2010/01/14 13:51:32 | Connect www.google.com time out |
| 2010/01/14 13:51:32 | Connect www.yahoo.com time out |
| 2010/01/14 13:51:32 | Connect www.youtube.com time out |
| 2010/01/14 13:51:32 | Connect www.skype.com time out |
| 2010/01/14 13:51:28 | Connect www.facebook.com time out |
If you are interested in the more advanced features this device offers, check out our 3Gstore IP Switch Advanced Features Review!

Whether you only need the IP Switch for simple power cycling or plan to take advantage of its advanced features, the IP Switch is easy to set up and use. Check out the video review below which demonstrates just how easy it is to setup this device with your network equipment!
The 3Gstore IP Switch is available for an introductory price of $99.99 (MSRP $119.99)
---
Related links:





Last Updated ( Friday, 21 October 2011 )