New CLEAR 4G WiMAX Devices and Plan Changes
Monday, 01 February 2010
New CLEAR 4G WiMAX Devices and Plan Changes

CLEAR is kicking off the month of February with some very exciting changes to their lineup of 4G modems and service plans!
New CLEAR Devices: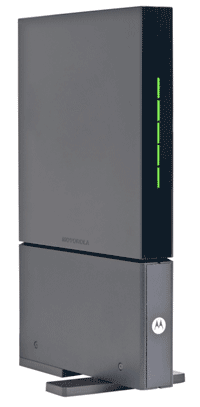 CLEAR "Series M" Home Modem (left): The new "Series M" modem is the successor to the original Home Modem and features an enhanced internal antenna for improved reception. The "Series M" modem is available for $79.99 or it can be leased for $4.99/mo if you select a 2-year contract.
The "Series M" modem is only available to customers in Portland, Atlanta, Milledgeville, Salem, Chicago, Bellingham, All Texas Markets, Boise, Honolulu, Maui, Kitsap, Seattle, Snohomish, Tacoma, and Houston - customers in other markets should consider the original home modem.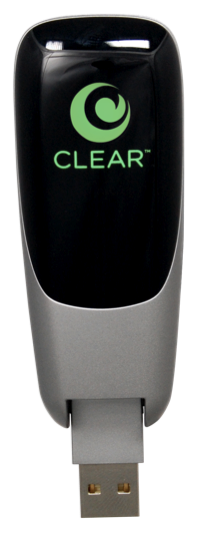 CLEAR 4G Mobile USB Modem (PXU1900) (right): This is the successor to the CLEAR USB modem, and offers some nice benefits over the original. Its internal antenna has been improved for better reception, and it consumes much less power (very important if you're using it in your laptop and your laptop is not plugged in). It also has a hinged/swivel design, meaning you can flip it up instead of having it stick straight out of your laptop. The most exciting aspect of the PXU1900, though, is that it can be used with the optional USB Performance Dock, which also debuted today, for better signal (see more below)!
Like the original CLEAR USB modem, the PXU1900 is compatible with both Macs and PCs. As far as routers go, st launch it is only compatible with the PHS300 and MBR1000, but we anticipate that it will be compatible with other Cradlepoint modems in the near future.
The PXU1900 is available for $59.99 or it can be leased for $4.99/mo if you select a 2-year contract.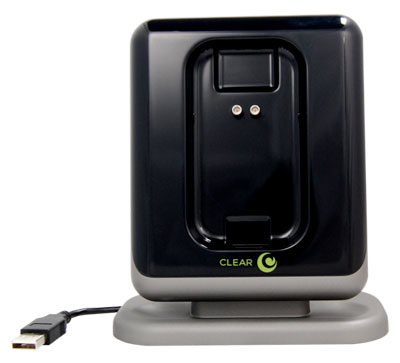 CLEAR USB Performance Dock (left): This is a great accessory for the new PXU1900 USB modem, and the first of its kind for WiMAX! The Performance Dock provides increased signal and performance to the PXU1900, and is super portable and easy to use. Instead of connecting the modem directly to your computer, you simply place it in the Performance Dock and then connect the Dock to your computer via USB. Best of all, the USB Performance Dock is a bargain at just $9.99!
IMPORTANT: the Performance Dock is ONLY compatible with the new Mobile USB WiMAX Modem; it is NOT compatible with the original CLEAR USB modem or the 4G+ (U300) modem.
CLEAR Plan Changes:
CLEAR has responded to Sprint's new 3G/4G pricing by lowering their price for 3G/4G service, too: CLEAR users can now get unlimited 4G access and 5GB of 3G access for just $55/mo (the price was previously $70/mo)!
CLEAR has also added a new promo just for customers in the Portland/Salem market - these lucky folks can get the "Pick 2" service plan (service for either two USB devices or home modem and one USB modem) for just $45/month (regular price is $65/month)!
Last Updated ( Monday, 01 February 2010 )