New AT&T HSUPA Glitch Affecting iPhone 4 & 3G Aircard Users
Wednesday, 07 July 2010
New AT&T HSUPA Glitch Affecting iPhone 4 & 3G Aircard Users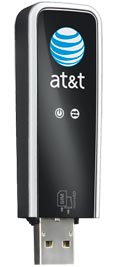 It seems as though AT&T can't win when it comes to providing a usable problem free network for their customers. They fix one network issue then another problem seems to present itself. This time around it's a glitch that slows down users from transmitting outgoing data (sending files, emails, MMS) to 384 kilobits per second, while the potential maximum is 5.67Mbps! This glitch doesn't effect users' download speeds, but will present problems from users hoping to upload and share files and pictures on their new iPhone 4 or while using their 3G aircard (like the Mercury [left], Lightning, etc).

iPhone 4 users may not do much uploading, but this upload limitation could be a big deal for folks who use dedicated 3G HSUPA-capable aircards (such as the popular USBConnect Mercury & Lightning) for their main internet connection. People are more inclined to do the majority of their work on the computer and having a limited upload speed really impacts users trying to send files. AT&T continues to boast that they have the fastest "3G" network out there, yet they have glitches in their system which prohibit you from accessing this supposedly "Faster network".

Equipment maker Alcatel Lucent is aware of the glitch and they are currently working on a fix. AT&T claims this glitch is only affecting less than 2 percent of its wireless customer base as the iPhone 4 is the only smartphone that runs on the network technology in question, but they fail to mention if they're including their HSUPA capable aircards into that "less than 2 percent" figure.

As Sprint's 4G WiMAX network continues to expand and Verizon's 4G LTE network nears release, it really makes us wonder how much more people can take before the iPhone loses it's luster and users expect a network that works without these repeated glitches and problems. The HTC EVO, which works on Sprint's 3G and 4G networks and can even be shared with up to 8 devices as a mobile hotspot, has already been dubbed a potential "iPhone killer"; with AT&T's continued problems it seems inevitable that phones like these that work on Sprint's and Verizon's network will eventually become more popular.
---
Related Links:
Last Updated ( Wednesday, 07 July 2010 )