Monday, 14 June 2010
Sprint Samsung Intercep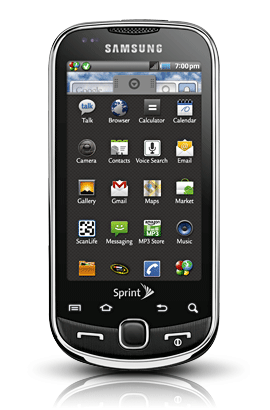 Available in Gray and Pink
Features and Specs
SPECS
Dimensions: 2.2" x 4.4" x 0.6"
Weight: 4.8 ounces
Battery Information: 1440 mAh Standard
Talk Time: Up to 6.4 hours of continuous talk time
FEATURES
Premium Touch Screen - Brilliant 3.2" HVGA AMOLED display
This screen is significantly brighter with more definition and uses less battery consumption. The Home screen is not a static page; it scrolls right to left so you have more space to organize your widgets and applications. To navigate, glide your finger across the screen or up and down, or use the optical joystick for fluid motion. Touch the tab at the bottom of the screen to open the Widget Bar.
Optical Joystick

Enjoy easy menu and display navigation with a highly responsive optical joystick that virtually zips from item to item so you can get to what you want quickly. Simply place your finger on the joystick and move the cursor around the screen, similar to how you use a mouse.
Android Market

Android Market provides direct access to thousands of useful applications and fun games which you can download and install on your phone.
Google App Synchronization

Your phone's Google Apps, such as Gmail™, Calendar and Contacts, give you access to the same personal information (email, events, and contacts) that you add, view, and edit on your computer using Gmail or Calendar. Synchronize the Google Apps you want to keep information up-to-date.
3.2 Megapixel Camera and Camcorder

Capture high-resolution images with the digital camera and zoom. Create your own video clips and easily share them with family and friends.
MicroSD Memory Card Slot

Store photos, voice memos and music for instant access anytime. *Supports up to a 32GB card.
WiFi Enables - 802.11 b/g

Utilize nearby Wi-Fi access points for high-speed data connection and internet access.

Sprint Navigation Enabled

Search for the closest coffee shop, or navigate to a specific address with a 3D map that moves with you. Asking for directions is a thing of the past.
Document Viewing

Easily view Word, Excel, PowerPoint and PDF on the go to maximize your productivity.
Amazon MP3 Store and Media Player

Download stereo-quality non-DRM protected tracks instantly to your wireless phone. Choose songs from thousands of artists in virtually every genre, and listen wherever you go.
NASCAR Sprint Cup Mobile

With NASCAR Sprint Cup Mobile, instantly connect to the NASCAR information you want, when you want it. Follow NASCAR action from practice to race day with real-time leaderboard and alerts. Get exclusive access to your favorite NASCAR Sprint Cup Series driver with real-time driver stats, breaking news and more. Live in-car audio, race radio, NASCAR on SPEED and other audio/video only available on select phones. Visit sprint.com/speed for details. How to Access: Text "NASCAR" to 7777* on your Sprint phone or visit the Sprint Digital LoungeSM to download NASCAR Sprint Cup Mobile. *Standard text messaging and data rates apply.
Sprint TV Enabled

Watch live TV and video-on-demand with full-motion video and vivid sound. Catch the latest news, sports, weather, entertainment and movie trailers on the go.
Bluetooth Enabled including Stereo BT profile

Enjoy the convenience of hands-free communication by using headsets, car-kits and other Bluetooth-compatible devices. **Bluetooth wireless accessories are sold separately.

Visual Voicemail

Visual Voicemail allows you to quickly and easily decide which voicemails you choose to listen to. You can also send out your own visual voicemail messages to select recipients
TTY Compatible

This phone connects to a TTY device, allowing anyone who is visually- or hearing-impaired the ability to communicate.
Hearing Aid Compatibility (HAC)

This handset has been certified as Hearing Aid Compatible in accordance with applicable industry standards. This handset has a HAC rating of M4 for hearing aids operating in the acoustic mode. This handset has a HAC rating of T3 for hearing aids operating in the telecoil mode.

INCLUDED ACCESSORIES
Standard Lithium Ion Battery
AC Phone Charger

Stereo Headset

NOTES
Cannot be used as a modem
Antenna Compatibility Unknown
This phone REQUIRES a data plan
Last Updated ( Wednesday, 14 July 2010 )