3Gstore MiFi 2200 Extended Life Battery Review - 3X Battery
Friday, 20 August 2010
MiFi 2200 Extended Life Battery Review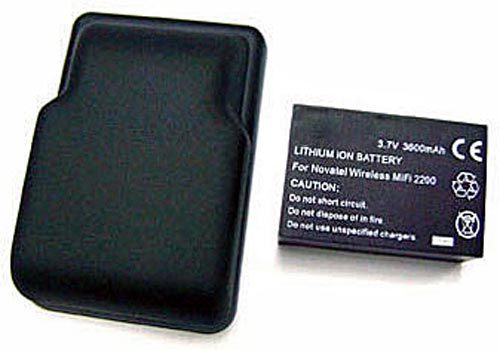 The extended battery includes a custom battery door to accomodate the larger size
The extended battery for the MiFi 2200 is NOW SHIPPING! Special Introductory price of $89.99 (MSRP $109.99)! Plus, save an additional $20 when purchased with the Verizon MiFi w/ Service!
3Gstore is introducing a 3600mAh extended life battery for the MiFi 2200 that provides THREE TIMES the battery life than the standard battery that comes with the MiFi 2200! Our extended life battery provides a 3600 mAh capacity, whereas the stock battery only provides 1150 mAh capacity. This is the longest-lasting replacement battery available for the MiFi 2200!
This extended life battery is larger than the stock battery, and requires a larger battery door (included). While this does make the MiFi slightly bulkier, the size difference is not dramatic, especially since the MiFi is already ultra portable. Even with the larger battery, the MiFi still fits in large pockets and of course in any purse, backpack, laptop bag, etc. The vastly improved battery life far outweighs the slight increase in size! See the size difference below:
MiFi 2200 with extended life battery size comparison

MiFi 2200 with extended battery (bottom) compared to MiFi with standard batter (top)

The 3600 mAh extended life battery works with the Sprint & Verizon versions of the MiFi 2200, as well as pre-paid MiFi 2200's. Note: This battery is NOT compatible with the GSM versions of the MiFi for AT&T and T-Mobile.
Verizon MiFi 2200 with extended battery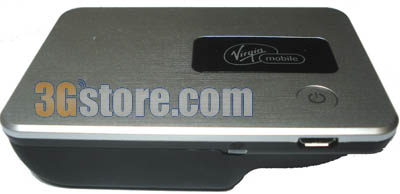 The Extended Life Battery is also compatible with the Virgin Mobile MiFi 2200!

Novatel indicates that you should get 3-4 hours of battery life with the stock 1150 mAh battery. With the 3600 mAh battery, you can easily get up to 12 hours of battery life, even while constantly downloading data.

We put the stock battery & extended life battery through a vigorous testing process to ensure that the extended battery life would provide three times the battery life when using the most power consuming applications.

Testing Conditions:

For our test we used two MiFis, one with the stock battery and a second with the extended life battery. Both MiFi's were constantly streaming a USTREAM.TV video feed to ensure that there was always data being transferred to see just how quickly we could get each battery to drain.

Here are the results from our testing:

Stock Battery: 3 hours, 23 minutes

Extended Battery: 12 hours, 3 minutes

As you can see, the extended life battery lasted almost 9 hours longer than the stock battery while constantly transferring data. The MiFi 2200 lasted just over 12 hours with the extended battery while constantly transferring data via WiFi and over the cellular network. Users who are just browsing occasional web pages will get even longer battery life since the MiFi won't consume as much power as it does when its transferring data constantly.

The below video demonstrates the size difference between the standard and extended MiFi 2200 batteries:








---
The extended battery for the MiFi 2200 is now shipping
---
Related Links:
Last Updated ( Tuesday, 02 November 2010 )