Sprint Sanyo Innuendo by Kyocera
Friday, 13 August 2010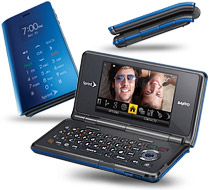 Specs:
Dimensions: 4.1" x 2.2" x 0.6"
Weight: 3.88 oz.
Battery Information:820  mAh standard Li-Ion
Talk Time: Up to 4.5 hours of continuous talk time.
Unique flip QWERTY keyboard

Phone opens from the side and displays a full QWERTY keyboard with dedicated text, camera and an emoticon shortcut keys.
Sleek and stealthy s-curve design
This phone stands out with its sleek and stealthy s-curve design and unique "concealed" external dial pad that glows through the phone's luxurious mirrored finish and then disappears when not in use.
Sprint One Click

Sprint® One Click lets you customize your phone giving you instant access to Facebook, MySpace, Yahoo! & Twitter apps.
Sprint Zone

Your one-stop source to access your wireless account, phone tips, news, a list of top apps and more. Access Sprint TV®, NASCAR Sprint Cup MobileSM and Sprint Music Plus (available on 9/20).

Sleek glow-thru key pad with vibration feedback
The unique external key pad glows through the mirrored-finish, completely disappearing when not in use. Touch the keys and feel the vibration under your fingers that confirms your action. Touch feedback helps reduce extra or accidental taps.
Proximity sensor

The device automatically senses when it is placed to your ear and disables the touch screen and display
Sprint Music Plus

COMING SOON! Sprint Music+ is an easy way to discover new music and tones and manage all of your music content in one convenient place. Love a new song and want the music track, ringtone, and ringback tone? Save money and buy the bundle! SM+ is also a full-featured music & tone manager– you can create music & ringback tone playlists, assign ringback tones to play for different callers and times of day, and get recommendations based on your musical tastes.
Sprint Mobile Email

Access to your email from well-known providers like AOL, Windows Live including MSN and Hotmail, Gmail, Yahoo! and more.
• Compose, read and manage up to three different email accounts
• Look up online contacts and address books
• Get instant notifications delivered to your hand set when new email arrives
Sprint Mobile Email Work Calendar

Have instant access to your work calendar almost anywhere. The Sprint Mobile Email Work Calendar tool lets you sync directly with your work calendar in Microsoft Exchange or Lotus Notes. Enjoy one-click access to your calendar, plus the ability to add new events and get reminders when they come up. The best way to stay connected virtually wherever you go.
Sprint Mobile Email Work

Sprint Mobile Email WORK allows customers to access their corporate email on many popular consumer phones (non PDA). Customers can receive email on Microsoft Exchange 2000, 2003, 2007 and Lotus Notes Domino versions 6.0, 6.5 and 7.0 via desktop redirector software. (includes Work Calendar also)
Web browsing with Google Search
The built-in Web access provides real time access to check sports scores, news, weather, stocks and market indexes, as well as to shop on-line.
3.2 Megapixel Camera and Camcorder

Capture high-resolution images with the digital camera and zoom. Create your own video clips and easily share them with family and friends.
Bluetooth Enabled

Enjoy the convenience of hands-free communication by using headsets, car-kits and other Bluetooth-compatible devices.

Threaded SMS Text Messaging

With threaded SMS text messaging, you see the full conversation for each contact in a chat-like interface. Never send a reply to the wrong person again. Organized conversations make it easy to go back and see the history of any conversation.
MicroSD Memory Card Slot

Store data on the included 1GB removable memory card. Up to 32GB cards supported and available for purchase.
Sprint Navigation Enabled

Search for the closest coffee shop, or navigate to a specific address with a 3D map that moves with you. Asking for directions is a thing of the past.
TTY Compatible

Compatible with select TTY devices.
Hearing Aid Compatible (HAC)

This handset has been certified as Hearing Aid Compatible in accordance with applicable industry standards. This handset has a HAC rating of M4 for hearing aids operating in the acoustic mode. This handset has a HAC rating of T4 for hearing aids operating with a telecoil mode.
Included Accessories:
820 mAh Standard Battery
Standard Battery Door
Standard AC Adapter
MicroSD card adapter

MicroSD Memory Card (1GB)
Notes:
Cannot be used as a modem
Antenna compatibility unknown
---
Related Links:
Last Updated ( Tuesday, 14 September 2010 )