I Love My Wilson Sleek SignalBooster
Monday, 20 September 2010

In the "I Love My..." series, actual users of mobile broadband products, services, and accessories share their experience and explain why they LOVE their equipment! If you'd like to share YOUR mobile broadband love story, send a submission to sales "at" 3Gstore.com with "I Love My..." as the subject line - if yours is chosen to be published on EVDOinfo.com, you'll receive a coupon code for 15% off your next 3Gstore purchase!
I Love My Wilson Sleek SignalBooster
Today's submission comes directly from 3Gstore's sales manager, Maureen (see instructions at the end of this article to submit YOUR story!).
Working at 3Gstore, obviously I've had the chance to test and use a wide variety of mobile broadband equipment! Over the years there have been a number of items that I've been especially excited to try (the first Cradlepoint router, the MiFi, Tekkeon battery packs...), but the product that has made the biggest impact on my day-to-day life is the Wilson Sleek. Of all the 3Gstore equipment crowding my office (routers, modems, amplifiers, oh my!), the Sleek is the one I'd be most displeased to have to share with a fellow employee. I use it every day and it makes a WORLD of difference for both my iPhone and my MiFi.
If you're not familiar with the Sleek, you should be! What makes it so great? Here are just a few reasons I love it:
Ease of use: it includes everything you need to boost the signal to just about any phone (or the MiFi!), and setting it up is no more difficult than using an antenna. Plus, it's very compact - it doesn't clutter my car or desk. I've used a LOT of wireless repeater set ups, and NONE are as easy to install or as compact as the Sleek.

Versatility: It works with just about any phone from any North American carrier (except Nextel/iDen); I haven't found a phone yet that doesn't fit in the Sleek, thanks to the adjustable arms. It also travels well - it's easy to take it from my car to my office (the optional home/office kit makes using it indoors easier)
Price: The Sleek is far cheaper than any other wireless signal boosting option available (it's on sale at 3Gstore.com right now for just $109.95!)
Performance: The Sleek works WONDERFULLY. The AT&T signal in my home office is terrible - without the Sleek, I can barely hold a call on my iPhone. With the Sleek, I get a solid 4 bars!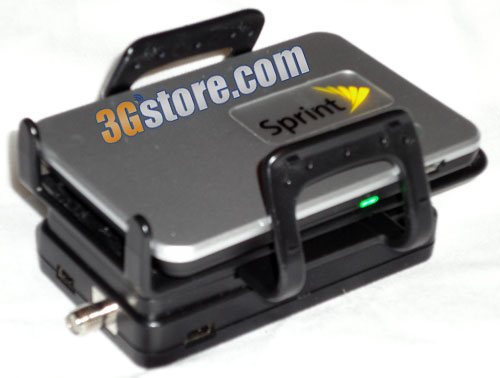 As a user of both the iPhone and the MiFi - neither of which have antenna ports - I've used a lot of different repeaters to wirelessly improve cellular signal at home and on the road. While there are certainly a LOT of effective options available, nothing is as easy to use or as affordable as the Sleek. I've recommended the Sleek to countless friends, family members, and of course customers. Anyone looking for an affordable way to boost the signal to a single phone or MiFi should consider the Sleek!
Just don't take mine away from me.
---
Want to share YOUR experience with a mobile broadband product you love? Send your submission to sales "at" 3Gstore.com with "I Love My..." in the subject line; if yours is chosen for publication on EVDOinfo.com, you'll receive a 15% off coupon for your next 3Gstore purchase! We reserve the right to edit submissions for clarity or length before posting.
---
Related Links:
Last Updated ( Tuesday, 21 September 2010 )