Wilson Sleek Earns Highest Customer Ratings at 3Gstore.com
Friday, 20 May 2011
Wilson Sleek (815226) Earns Highest Customer Ratings at 3Gstore.com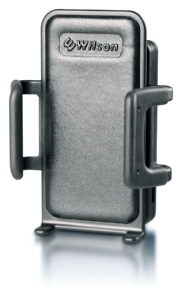 The Wilson Sleek signal booster has been one of the most popular signal boosting solutions since it became available last Spring, and it's no surprise: it's includes everything you need to boost the signal to just about every phone or 3G hotspot (like the MiFi), is ideal for vehicle use but can also be used in a home or office thanks to the available accessory kit, is EXTREMELY effective, and is the most affordable option for boosting the signal to a phone or hotspot that doesn't have an antenna port (which is just about all of them these days!).
Over at 3Gstore.com, we recently implemented a new "customer reviews" system where our customers can easily leave their comments about products they've purchased, which is invaluable to folks who are trying to decide what to buy (you can view customer reviews for any product on our website by clicking on the "product reviews" tab on any product page). Since we enabled our customer reviews feature, the Wilson Sleek has been one of the best-reviewed products on our entire site, continually receiving 5 star ratings and rave reviews. Check out a few customer raves for the Wilson Sleek below:
"Very good product. Use with Verizon MiFi 2000. Antenna on window. RSSI went from mid -90's to low -80's. Download speed went from 200-300 kbs to average of 1.0 mps. Sometimes as high as 1.6 mps."

"We travel full time in our motorhome and needed something that was portable enough to move between the motorhome and the car as necessary. We have gone from no service to three bars on two different cell phones. I would recommend it."


"I live in a rural area right on the outer edge of the closest cell tower range. Before I purchased the Sleek I was getting 0-1 bars of reception (my MIFI doesn't display dB signal strength like most do) and that was getting worse as the leaves starting coming on, disturbing the signal even more. After using the Sleek, my signal strength jumped to 3 bars all the time with 4 and 5 bars frequently."


"In my car it drastically reduced the dead spots I was experiencing on my drive through the boonies to work."

"My iPhone oscillated getting between 0 (no signal) and 2 bars making it essentially impossible to use for voice, data or tethering. With the Sleek I am getting a solid 5 bars and and my download speeds (measured at speedtest.net)are well over 1.5 Mbps making tethering usable again. I am really really pleased about this - I'm not stuck in the city when I have weekend work to do."
You can read more rave reviews for the Sleek by clicking the "product reviews" tab at 3Gstore.com/sleek!
Last Updated ( Friday, 20 May 2011 )