Cellphone-Mate 9.5" Full Band 3G/4G Outdoor Omni Antenna: First Impressions
Monday, 20 June 2011
Cellphone-Mate 9.5" Full Band 3G/4G Outdoor Omni Antenna: First Impressions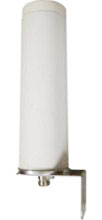 Back in March we announced that we'd be getting a 4G Omni Antenna to test that offered increased reception on the usual (800/1900Mhz) 3G frequencies as well as the 700Mhz 4G LTE band. There have been limited options available to LTE customers in need of a signal boost; until this antenna became available there was just one omni directional antenna available that operated on the 700mhz frequency, and since it is a magnetic mount antenna (meaning it MUST be connected to something magnetic in order to function), it's not convenient for many users (it also has relatively low gain compared to other antennas). This new 9.5" Full Band Outdoor Omni Antenna from Cellphone Mate is omni directional (meaning it doesn't need to be aimed at the tower to be effective), doesn't require a magnetic ground plane, and in our tests proved to be more effective than the magnetic mount antenna!
This antenna was engineered specifically for the 700Mhz 4G LTE frequency and 800/1900Mhz 3G frequencies. If you're looking for a mobile solution to increase either 3G or 4G LTE reception, this is the most powerful omnidirectional solution available at this time. This antenna is great for fixed locations, but it's also ideal for mobile users such as an RV customer or bus applications where you're always on the move and a directional antenna isn't practical.
Over the past several weeks we've conducted extensive tests with this new antenna to see how well it works to improve signal for 4G LTE, and we were quite pleased with the results - you can view our test results below.

With NO ANTENNA we received a -65db LTE signal with a UML290 USB Modem. Our download speed was 11.77Mbps, with 9.63Mbps upload. After connecting the 9.5" antenna we saw download speeds of 23.99Mbps with an upload of 9.71Mbps. It appears the tower didn't have anything else to give for upload, but a simple antenna installation dramatically improved our download on Verizon LTE.












Last Updated ( Monday, 23 March 2015 )