Google Docs Down - 8/26/2011
Thursday, 26 August 2010
Google Docs Down - 8/17/2011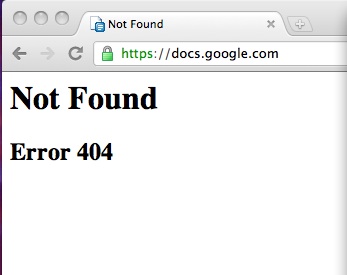 At 3Gstore.com, we a big users of Google Docs (or gDocs) which is part of Google Apps.  All our our employees are able to share spreadsheets, word processing documents, PDFs, presentations and more.  Starting a few hours ago on August 26, 2011, we noticed we were getting an error that said "Not Found - Error 404" when we tried to access our GoogleDocs.  We have confirmed that others are seeing this as well.  Let us know in the comments below, if you are having a Google Docs Outage.
1:23pm CST 8/26/2011 Update From Google

We're investigating reports of an issue with Google Docs List. We will provide more information shortly.
Affected users receive a 404 message when accessing the Docs home page, but are able to open documents directly.
Last Updated ( Friday, 26 August 2011 )