Cellphone-Mate CM700V and Wilson 801865 LTE 700mhz Amplifiers Now in Stock at 3Gstore
Monday, 26 September 2011
Cellphone-Mate CM700V and Wilson 801865 LTE 700mhz Amplifiers Now in Stock at 3Gstore

3Gstore now has TWO amplifiers in stock for 700mhz LTE service: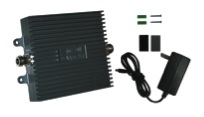 Cellphone-Mate SureCall CM700V 70dB LTE Amplifier (left) - MSRP $499.95, 3Gstore introductory price just $349.95 for a limited time (30% off)!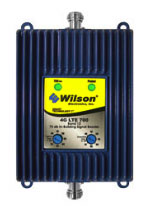 Wilson 801865 70db In-Building Wireless LTE Signal Booster (right) - MSRP $359.95, 3Gstore introductory price just $299.95 for a limited time (17% off)!

Both of these amps are for use with an external and internal antenna to create a wireless repeater setup, which will allow you to boost the signal wirelessly to multiple LTE devices within a large home/office/warehouse (2,000 to 30,000 sq feet). The product pages on 3Gstore.com will guide you to select the appropriate antennas and cabling for your application. It is important to note that these amplifiers will ONLY improve 4G LTE (700mhz) signal - neither will effect voice, 2G, 3G, or other 4G (e.g. WiMAX) signals.
We will be running comprehensive tests this week to compare the two models and see how their performance ranks. We will update this article as soon as testing is complete!
These amplifiers are not appropriate for all users. If you are only needing to improve signal to one LTE device and it has an antenna port (like the Pantech UML290, LG VL600, Novatel USB551L, or MiFi 4510L), you can use an antenna to connect directly to your modem - view all LTE antennas at 3Gstore.com/lteantennas.

Before purchasing any signal boosting equipment, we strongly recommend doing a "site survey" so that you can determine that an antenna or amplifier will help you. Visit 3Gstore.com/signal and do the "site survey" described there to get started!