CradlePoint MBR1400 WiFi Bridge Mode
Friday, 23 December 2011
CradlePoint MBR1400 WiFi Bridge Mode

You may have heard of the feature WiFi as WAN that Cradlepoint's new model of routers come with (as well as the Pepwave Surf models), but with this setup information is only able to travel one way.

The Cradlepoint MBR1400, when updated with firmware version 3.4.1, can now allow the router to act as a WiFi bridge, allowing traffic to flow both ways. By joining the multiple LANs on your network, all your devices will be able to communicate with each other.

Home or Offices that have multiple Ethernet devices, and don't want to run a long Ethernet cable between the two areas, will find this new feature most useful.

Say you want to be able to print something to your employee's work station, but your printers are not WiFi capable. With the MBR1400's WiFi Bridge Mode, all the printers in your office can be added to the same network, making them accessible at all locations. This not only works with your printers, but your Ethernet connected phones, as well as computers (WiFi or Ethernet connected). WiFi Bridge Mode even allows you to screen share with the other computers on your network for easy transferring of files, communicating with co-workers, training purposes, or access from remote locations.

Here is how we use it at 3Gstore.com.  We just moved into a warehouse that is double our previous size.  We didn't want to run a 200 foot Ethernet cable to the remote area where we do shipping.  We could have used a Pepwave Surf Mini OR any WiFi as WAN router, BUT that wouldn't work because we need both sides of the network to access not only the local printer but also the printer on 'the other side".  This is only possible with WiFi Bridging.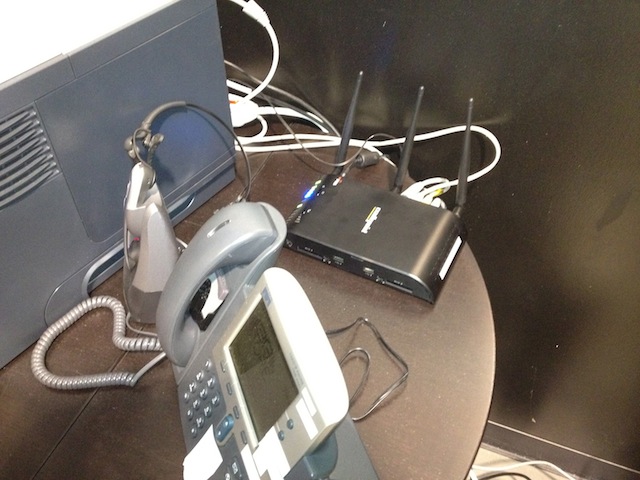 MBR1400 above with an HP Printer, Cisco PBX Phone shared in WiFi Bridge Mode


Maybe this is something you are looking to do at your home or office, but you're not sure how to set everything up. No need to worry! When you purchase the Cradlepoint MBR1400 with 3Gstore.com, we'll provide you with a Support CD and Tip Sheets that include instructions on different configurations. However, we won't stop there, our experienced Technical Support team will be available for you, at no extra charge, for the 1st year you own the router.
*** Update ***   Starting Decembe 28, 2011, we will include a 3Gstore Tip Sheet that steps you through how to enable WiFi Bridge Mode.  For those that already purchased their MBR1400 from 3Gstore, just contact support and request the PDF.

Last Updated ( Saturday, 24 December 2011 )