Verizon LTE and AT&T LTE: Both 700mhz, But Not Identical!
Friday, 02 March 2012
Verizon LTE and AT&T LTE: Both 700mhz, But Not Identical!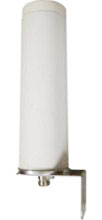 Verizon and AT&T both use the 700mhz frequency for their respective 4G LTE networks, but they actually uses different portions of the 700mhz band. While all of the antennas that we sell that cover the 700mhz band (like the Full-Band Outdoor Omni, right) will work for either AT&T or Verizon LTE, the LTE amplifiers are more specific and WILL NOT work for both.
Below is a list of the currently-available LTE amplifiers and their compatibility details:
AT&T's LTE service is very new and currently available in just a couple of cities in the US, so this does not apply to many users. AT&T's naming conventions for their networks are confusing and a bit sneaky - most users who are connecting to what AT&T calls "4G" are actually not using LTE at all, but rather AT&T's HSPA+ network, which is simply an upgrade to their 3G network. If you're using HSPA+, you don't need to purchase a 4G amplifier - any of the dual-band 3G amplifiers (like the popular Wilson Sleek or Cellphone-Mate SOHO repeater) will work just fine. If you're not sure whether you're using AT&T's true 4G LTE network or the HSPA+ "4G" network, you can look in the connection manager (or on the display if you're using the Elevate hotspot); if it says "LTE" then you know you're using LTE, if it just says "4G" then AT&T is referring to their HSPA+ upgraded 3G network.