Cellphone-Mate Announces Five Band CM5000 Force-5 Wireless Amp for 3G and 4G Networks
Monday, 30 April 2012
Cellphone-Mate Announces Five Band CM5000 Force-5 Wireless Amp for 3G and 4G Networks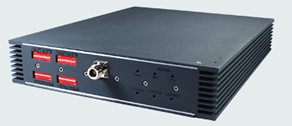 Cellphone-Mate has announced the release of a product that has been long-anticipated by users wanting to boost the signal to multiple networks at the same time. The SureCall® Force-5 CM5000 Wireless Amplifier supports virtually every 2G, 3G, and 4G frequency (except Nextel/iDen and Sprint/CLEAR 4G WiMAX), and it's an 80db gain system, meaning it can cover extremely large buildings, up to 80,000 square feet! The amplifier supports 700/800/1900/2100mhz networks, which are used by most 2G, 3G, and 4G networks in the USA (including Sprint 2G/3G, Verizon 2G/3G/4G, AT&T 2G/3G/4G, T-Mobile 3G/4G, Alltel 2G/3G, Datajack, Virgin Mobile, and more). This is the first and ONLY amplifier currently available that supports ALL of those frequencies.
The Force-5 is not cheap: it retails for $2990.00. However, it is by far the most cost effective solution available for providing boosted signal for all of those networks to such a large area (without this product, users would need multiple amplifiers and a complex installation to provide boosted signal for an application like this). Antennas and cabling are sold separately; the product page at 3Gstore.com/force5 will guide you to select the appropriate gear.
The Force-5 is available now at 3Gstore!
Below is an excerpt from Cellphone-Mate's press release announcing the Force-5:
FREMONT, Calif., April 30, 2012 /PRNewswire/ -- Cellphone-Mate, (www.surecall.com), a leading provider of cell phone amplifiers and accessories, today announced the introduction of the SureCall Force-5. This amplifier is the first self-contained, 5-band cellular amplifier on the market offering cell amplification bands for Verizon and AT&T LTE, T-Mobile AWS, and dual-band for 2G/3G/4G, and provides the highest-integrated cellular amplifier ever introduced. Combining emergent technology with lowered costs, the patent-pending Force-5 is the culmination of Cellphone-Mate's first-to-market, economic innovations of LTE and HSPA+ amplifiers for each carrier, excluding Nextel and WiMax, and their recent linear 80dB amplifier introduction for enterprise solutions.
"With the introduction of the SureCall® Force-5, Cellphone-Mate continues its commitment to providing innovative, cost-effective solutions in cellular amplification," stated Hongtao Zhan, President and CEO of Cellphone-Mate. "While there are other solutions on the market that offer more in terms of customization, the associated costs are often far beyond the budgetary scope of most large and small size businesses. We are the first to offer wireless system integrators, installers and their customers with a cost-effective, enterprise-grade solution that delivers improved, uninterrupted voice and data coverage from 2G through 4G at one fifth the cost of comparable models."
The SureCall® Force-5 is scheduled to be FCC approved and is designed to meet the needs of mid-to-large size organizations between 20,000-100,000 square feet requiring an improved and consistent cellular connection for 2G/3G/4G voice and data. The Force-5 is a carrier-neutral solution with one box universally supporting all major carriers on a variety of standards, except IDEN and WiMax for Sprint.