Cradlepoint MBR1200B: First Look
Monday, 07 May 2012
Cradlepoint MBR1200B: First Look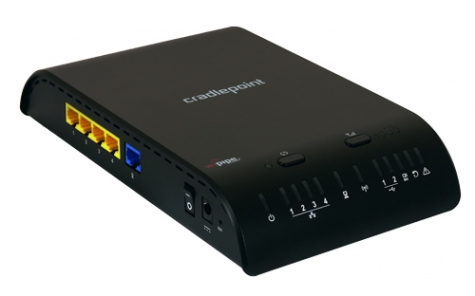 The MBR1200B is the latest addition to Cradlepoint's lineup of 3G/4G wireless routers. In keeping with their plan of phasing out the older models and replacing them with replacements that offer more features and operate on the sleek new NetBSD platform, the MBR1200B replaces the recently discontinued MBR1200, which had been popular with the small office crowd for several years.
Physically and aesthetically speaking, the MBR1200B is quite similar to the MBR1200:
left: MBR1200; right: MBR1200B

There are a couple significant hardware differences between the MBR1200B and the older MBR1200, though. The MBR1200 was the last router to include a PCMCIA card slot, and Cradlepoint decided not to include that on the MBR1200B (very few mobile broadband users own PCMCIA cards anymore, but if you have one and want to use a router, you'll need to upgrade to a USB or expresscard modem since there aren't any routers that support PCMCIA anymore!). The MBR1200B is also lacking one other feature the MBR1200 offered: the ability to add external WiFi antennas. The internal WiFi antennas on the MBR1200B are much improved versus those built into the MBR1200, but the MBR1200B doesn't give you the option of adding antennas for improved range (if you're looking for this feature, go with the MBR1400).
top: side view of MBR1200 (with PCMCIA slot); bottom: MBR1200B
top: opposite side view of MBR1200 (with WiFi antenna ports); bottom: MBR1200B
While the MBR1200B is lacking those two features, it offers everything else the MBR1200 offered, and quite a bit more. Below are the key features the MBR1200B provides:
Improved VPN, remote management and troubleshooting (versus MBR1200)

Data usage management and alerts
Improved internal WiFi (versus MBR1200)
Dual WiFi SSIDs (private and guest)

Site to Site VPN (two tunnels)

Completely redesigned interface for usability with status widgets and summary console
2 USB ports, 1 ExpressCard slot
Works with the Business Grade Modem Caps
Load balancing support

5 10/100 ethernet ports (configurable for up to 2 WAN or up to 5 LAN)
In terms of both features and price, the MBR1200B fits right between Cradlepoint's MBR95 model, which is best-suited to home users, and the more robust MBR1400. The MBR1200B is sure to be popular amongst users looking for a bit more than the MBR95 offers (like Site to Site VPN support or load balancing) but don't need the full enterprise functionality of the more expensive MBR1400.
---
Related links:








Last Updated ( Monday, 07 May 2012 )