Cradlepoint Firmware 4.3.0 Fixes Bugs & Adds Features
Wednesday, 15 May 2013
Cradlepoint Firmware 4.3.0 for CBR400/CBR450/MBR95/MBR1200B/MBR1400/IBR600/IBR650 Fixes Bugs & Adds Features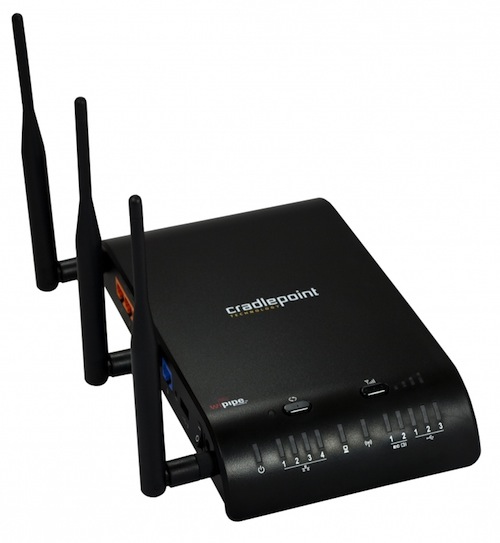 CradlePoint has released Firmware Version 4.3.0 for the CBR400, CBR450, MBR95, MBR1200B, MBR1400 (left), IBR600, and IBR650 routers. This latest firmware release doesn't add support for new modems or add any new features, but it does add some new features as well as fix a variety of bugs that some users were experiencing.
Added features and usability/UI changes:
The Portsmith USB and Expresscard analog modem adapters are now supported.

Feature Licensing has been added (MBR1400v2/IBR600/IBR650) to enable features that require a specific license from CradlePoint.
NEMO (network mobility) support has been added (MBR1400v2/IBR600/IBR650).
802.1x Ethernet securtiy has been added (MBR1400v2/IBR600/IBR650), allowing configuration of an authentication server that will accept authentication requests from Ethernet-connected devices.
VPN tunnels now allow a secondary remote gateway in a single tunnel.
The IBR600 now supports up to 64 WiFi users (previously 32).
IE 10 compatibility view support added.
Subnet selection option added to the IP Passthrough Setup Wizard (MBR1400v2/IBR600/IBR650/CBR400/CBR450).

Dynamic Modem Mode now displays the actual modes a modem supports.
Added additional modem diagnostics: home carrier, registered carrier, roaming status.
Added connection mode selection for Sierra Wireless 330U modem.

Bugs/defects fixed:
Improve WiFi reliability with iOS devices and other devices that use a BroadCom chip for it's wireless client.

Fixed the incorrect status display some LTE modem users were seeing.
The web admin/UI can now be viewed in Internet Explorer 10 in compatibility mode.

The Manual Firmware Upgrade tool has been fixed.

Fixed the issue where remote admin was failing with multiple WANs.
Fixed an issue with WAN Failure Check (active ping) where the WAN connection was coming back up with a different IP address that the router as not recognizing.
NOTE: A defect was found in 4.2.0 and fixed in 4.2.1 that affects future upgrades. Using the Manual Firmware Upload for future firmware uploads will appear to work but default configuration settings for new features will not be set correctly. This issue does not exist with Automatic (Internet) updates or updates using Wipipe Central. Please upgrade to 4.2.1 before upgrading to a later version if you wish to use Manual Firmware Upload.
3Gstore's tech team will be testing this latest firmware release extensively in the coming days. Share your experience or follow ours in the EVDO Forums: Cradlepoint Firmware 4.3.0 Success/Failure
---
Related Links
Last Updated ( Wednesday, 15 May 2013 )