Pepwave Surf SOHO Hands-On Review
Friday, 17 May 2013
Pepwave Surf SOHO 3G/4G Router Hands-On Review

 

 

Pepwave/Peplink's Balance and Max series of routers have become enormously popular with enterprise users and networking gurus thanks to their unrivaled feature set, but their price puts them out of reach for some users, and not everyone needs all of the advanced features these routers offer. Enter the Surf SOHO, Pepwave's new 3G/4G WiFi router aimed at the home and small office market. The Surf SOHO offers a number of the most-used features offered by Pepwave's higher-end enterprise routers, including 3G/4G USB modem support, failover, WiFi as WAN, QoS optimization, bandwidth monitoring, and advanced VPN functionality ("PepVPN"), but its affordable price tag and easy-to-use interface make it perfect for home and office users looking for a quality networking solution without breaking the bank.

Design and Exterior:

The first impression of the Surf SOHO is it's just a plain black box, but the beauty of Pepwave/Peplink's routers is their simplistic design. The Surf SOHO measures in at 9.5" x 4.5" x 1.5" — similar in size to other consumer routers like the Cradlepoint MBR95 — making it easy to fit into any environment, and integrating the Surf SOHO into an existing network won't be a burden on any other equipment due to its straight lines and flat sides.

Front View of the Surf SOHO
The front of the router features just two LED indicators for WiFi and connection status. Unlike other Pepwave routers, the SOHO moves all of the ports and connectors to the back of the router, a nice design decision that makes cable management easier:
left to right: WiFi antenna connector, power input, USB port, LAN and WAN ports, WiFi indicators, reset button, second WiFi antenna connector
One thing that sets the Surf SOHO apart from most other consumer-level routers is the inclusion of exterior WiFi antenna connectors. The SOHO features an embedded 2.4ghz/5.0ghz WiFi antenna that delivers approximately 150-200' of WiFi range, but for applications where more range is needed, users can purchase external WiFi antennas (the connectors are the standard RP-SMA used by a wide variety of WiFi antennas) to use instead. It is important to note that if you opt to use external antennas instead of the embedded WiFi antenna, you must use TWO antennas — connecting just one external antenna would not result in an improvement in WiFi range over the internal antenna. We sell a
pair of WiFi antennas
for just $29.98 that in our tests increased the WiFi range by over 50%, making the range almost as good as the high-end Cradlepoint MBR1400 at less than half the cost!
Surf SOHO with optional WiFi antennas installed (sold separately)

The SOHO also features mounting holes in the bottom for wall mounting as well as a Kensington lock security slot to keep the router secure.


Setup / GUI:

The Surf SOHO uses the sleek, time-tested GUI used by other Pepwave/Peplink routers. Anybody from an average home user to an IT professional will appreciate the ease of setup: clearly labeled tabs, simple drop-down menus, and "help" buttons next to the more advanced features take the guesswork out of configuring this router.


Surf SOHO user interface

The web admin features a "Dashboard" where you can quickly see the status of your internet connection and other general info. Features like bandwidth monitoring, failover, and more can also easily be configured within the web admin.

Features:

3G/4G USB Modem Support: The Surf SOHO has a single USB port for 3G/4G modems and over 150 modems from providers worldwide are supported (see the full compatibility list). For home or business users who rely on a cellular connection, the SOHO can perform a variety of "Health Checks" to ensure that the connection stays active.


WiFi as WAN: The Surf SOHO has the ability to pick up external WiFi networks (like campground WiFi or a hotspot/Jetpack — virtually any WiFi network that is open or for which you have the password) and create a new private network from it that you can access securely through the router. Even if you have your own internet connection, the ability to use the Surf SOHO for WAW can come in VERY handy. WAW is great in the event of an unexpected internet outage — if your primary connection goes down and there is an open WiFi network in range, or if you have a smartphone that can be used as a WiFi hotspot (like the iPhone and many others), the Surf SOHO can be configured to quickly connect to WiFi and your network will be back online in moments.

5.0ghz WiFi support: The Surf SOHO supports both the standard 2.4ghz as well as the 5.0ghz WiFi frequencies — with one quick setting change in the web admin you can easily toggle back and forth between the two modes.


Failover/Failback: For home or business users that can't afford to be offline, the Surf SOHO can prioritize internet connections with a simple drag and drop interface. If the primary connection fails, the router will detect it and automatically connect to the next prioritized connection. The SOHO will also continue to check the status of the primary connection and will reconnect to it when it comes back online. Failover happens quickly (within about 20 seconds on average) and without user intervention meaning the transition between connections is completely seamless. View a demo of Pepwave/Peplink's speedy failover

Bandwidth Monitoring: These controls allow you to monitor how much data is being used by the computers/devices on your network. Whether you have a limited data allowance from your provider (like Verizon's 5GB or 10GB monthly allowance) or simply want to be able to manage and monitor your usage, these controls are extremely valuable and competing routers in this price range do NOT offer anything like it! Usage can be viewed in monthly, daily, or hourly reports to give you an overview of when and by which device/user the data is being consumed, and you can even view usage in real-time. These monitoring options can be very helpful if you notice a spike in data usage from a specific IP address — it can help you identify a computer that may have data-sucking malware installed on it, for example, or it can simply help you keep an eye on the productivity of all users on the network.


Bandwidth monitoring, shown monthly by IP address
Watch a demo of the Surf SOHO's bandwidth monitoring features:
Security: WEP, WPA, WPA2, and AES WiFi encryption as well as the ability to hide the WiFi SSID, plus Radius Authentication, make the SOHO capable of preventing any unauthorized access to the network. The SOHO ships with WPA/WPA2 - Personal encryption enabled. The password defaults to the last 8 digits of the LAN MAC address, which is printed on the underside of the Surf SOHO. This "out of the box" security ensures that your network is secure even if you don't set up your own custom security settings.
WiFi settings
PepVPN: The Surf SOHO introduces a new feature called PepVPN, which allows users to easily network Surf SOHO units to other PepVPN-enabled devices. For example, rather than having to deploy expensive hardware at each location to build a reliable network, a business could utilize a Balance router at the primary location and install Surf SOHOs out in the field; each SOHO can then connect to the primary network with very little setup. PepVPN can also be used to connect a Surf SOHO to a Peplink Balance that's utilizing the SpeedFusion bonding technology. When connecting to a SpeedFusion-capable router (Balance 210 or above), PepVPN builds multiple tunnels back to the router to provide Dynamic Wan Failover without interrupting the connection. With a single click in the GUI all traffic can be routed over the VPN. There is no other setup required, and no complicated outbound policies to configure. 
PepVPN settings
Watch a video demonstrating PepVPN:
InControl Management (coming soon!): InControl is a free tool that allows users of Pepwave/Peplink devices to manage all of their equipment in one centralized system. Administrators can generate reports, gather statistics, control guest access, and even configure the network remotely. This powerful service is incredibly useful and nothing like it is available for other competing routers. View a demo of InControl
PPTP Server: Unlike any competing consumer-level 3G/4G router, the Surf SOHO has a built in PPTP server, making it easy to securely connect to the SOHO from the LAN or a remote location such as a home or office; it also allows the SOHO to be used as a central hub for a network without additional hardware costs. By setting up a simple VPN between devices on different networks, the devices can act as if they were on the same LAN (Local Area Network). One popular use for the PPTP server is for secure internet use while away from the home network — if you're using a less secure network elsewhere (like Starbucks public WiFi, for example), you can set up your computer/iPad/etc to connect to your Surf SOHO back at home via VPN; all of your traffic is then routed securely through the Surf SOHO's internet connection instead of over the vulnerable public connection. Other users of the public WiFi network will be unable to intercept your activity (where they could capture confidential passwords and banking information) since all the traffic is encrypted and securely sent to your Surf SOHO.
Watch a demo of the PPTP Server:
Dynamic DNS Support: With a dynamic DNS account set up, Surf SOHO users can connect to their router from any internet connection using a custom URL (e.g. homesurfsoho.dyndns.org). This opens up one more way for users to remotely manage their network and its resources without the need for a costly static IP address.

Pepwave Router Utility Application: With the Router Utility Application for iOS and Android, network monitoring has never been easier. View device status, bandwidth usage, events, and more. Push notifications give you up to the minute updates on any major changes or performance issues, preventing small issues from becoming big problems.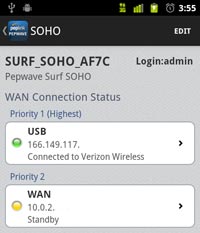 Router Utility App

Final Thoughts:
What we love:
Simple and clean user interface
3G/4G USB modem support with 150+ compatible devices (view compatibility chart)
Option to use external WiFi antennas for more WiFi range
2.4ghz and 5.0ghz WiFi support
PepVPN
WiFi as WAN capable
Business-class features with consumer-level ease of use and pricing
Reliability (In the 30 days leading up to this review we experienced zero downtime while using it 24/7!)
USB extension cable included (recommended for use with 3G and 4G modems to minimize interference with the WiFi radio)
Create up to 3 separate wireless SSIDs, with the ability to isolate wireless clients from directly communicating with each other, creating a secure guest network.
Affordable!
The Surf SOHO is a very impressive home or small business router. The home user will appreciate its simple interface and easy setup, and the business user will undoubtedly love the configuration options and reliability of the SOHO, as well as the ability to easily integrate it seamlessly with other Peplink or Pepwave devices. The Surf SOHO has easily become the new industry benchmark for both consumer and business routers in this price range.
---
Related Links:





Last Updated ( Tuesday, 22 November 2016 )