Pepwave Max On The Go Full Review
Friday, 07 June 2013
Pepwave Max On The Go Full Review
The new Pepwave Max On The Go unit is a versatile box that has offers some unique upgrade abilities that aren't found on other competing routers on the market today. In addition to a clear upgrade path the Max OTG units also accept USB modems keeping the cost down when compared to more powerful embedded solutions. The decrease in costs means users can now get specific features that until now were only available on units that costed over $2,000! Within the review we'll take a full look at the features available within the Max OTG units and break down the difference between all the models.
Which model Max OTG should I be looking at?
At first glance it may be somewhat confusing when you see the same picture and three different price points on the Max OTG units. However, the more expensive units offer advanced features like Load Balancing and SpeedFusion that are looking at this model for various business uses. What makes the Max OTG unique is you can buy the baseline version and if you decide you want the more advanced features and functionality you can purchase a software unlock without buying another unit! Think of the Max OTG models like Windows OS versions, all the software is on the same disc, but different license keys unlock additional features.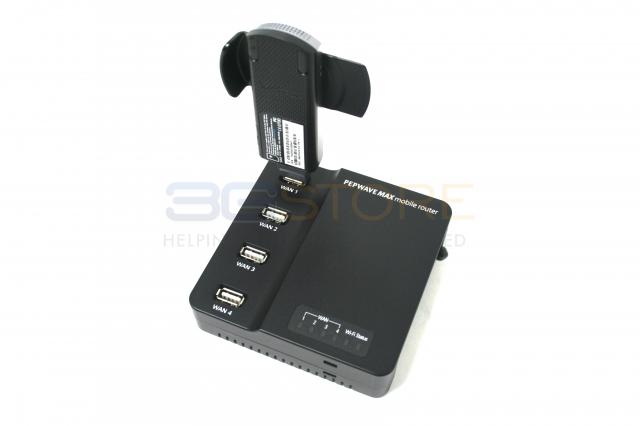 The baseline Pepwave Max On The Go unit comes in at a very attractive $149.99 price point and is specifically geared for home users, travelers and small businesses that don't need features only found on the higher end models. The baseline Max OTG unit will only support 1 USB modem and can only failover from WAN to USB. For example, if you tried to insert two USB modems into the baseline unit it would only recognize and use one USB port.
Next up is the Pepwave Max On The Go w/Load Balancing support. As the name implies this unit will support load balancing with up to 4 USB modems. The load balance edition comes in at an attractive price point of $399.99 and is the only router that offers support for this many simultaneous connections without spending thousands. You'll have access to seven load balance algorithms to prioritize and customize how each connection is used on your network. This unit will be best suited for remote construction sites, tradeshow events or remote office locations that need to incorporate multiple USB connections and want to failover between USB modems, or from Cable/DSL to multiple USB links.
Finally there's the Pepwave Max On The Go w/SpeedFusion support available at $599.99. This unit is essentially a scaled down version of the Pepwave Max 700 and is targeted for small business or enthusiasts looking to bond multiple data cards but don't want to spend thousands to do it. In addition to standard load balancing this version allows you to take advantage of SpeedFusion, which allows you to actually aggregate traffic for increased throughput across multiple USB modems. This unit is ultimately designed as a cost effective solution for remote video streaming live sporting events or anything else you want to share in real time with friends or family and need enhanced upload or download performance.
What does the upgrade path look like?
If you're unsure if you'll need load balancing or failover the baseline edition can be upgraded to the Max OTG w/Load Balancing or to the full edition with SpeedFusion capability. Likewise the Max OTG w/Load Balancing can be upgraded to the full edition with SpeedFusion if you decide you want to take advantage of bonding down the road. The models aren't backwards compatible, which means you can't take a load balance version and turn it into a baseline model. The really nice thing is there isn't a premium fee attached with an upgrade, so you'll just pay the difference to the model you want to upgrade to. Upon your upgrade order you'll receive a serial that needs to be input in the router to unlock the additional features!
Design of the unit: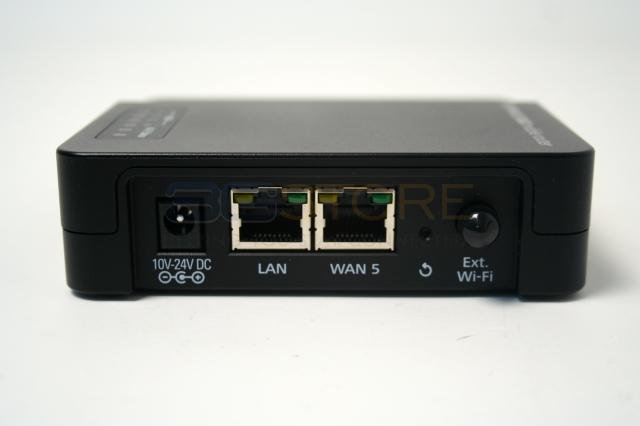 The Max OTG units are the smallest router currently available that support multiple USB modems offering both a single LAN and WAN connection for local and wide area networks. The actual size of the unit is only 4.3" x 4.3" x 1.2" making it easily portable into a laptop case, mounted nearby a camera system or placed in a vehicle. The unit also comes with an internal WiFi radio to provide WiFi to nearby devices, or you can easily add any RP-SMA WiFi antenna to increase the range of the WiFi. On the top of the unit users will also find status indicator lights for WAN and WiFi status to see what connections are up or currently unavailable.
Unit features:
3G/4G USB Modem Support: The Max OTG units has four USB ports for 3G/4G modems (only one active on baseline version) and over 150 modems from providers worldwide are supported (see the full compatibility list). For home or business users who rely on a cellular connection, the Max OTG can perform a variety of "Health Checks" to ensure that the connection stays active.
WiFi as WAN: The Max OTG has the ability to pick up external WiFi networks (like campground WiFi or a hotspot/Jetpack — virtually any WiFi network that is open or for which you have the password). Even if you have your own internet connection, the ability to use the Max OTG for WAW can come in VERY handy. WAW is great in the event of an unexpected internet outage — if your primary connection goes down and there is an open WiFi network in range, or if you have a smartphone that can be used as a WiFi hotspot (like the iPhone and many others), the Max OTG can be configured to quickly connect to WiFi and your network will be back online in moments.
Failover/Failback: For home or business users that can't afford to be offline, the Max OTG can prioritize internet connections with a simple drag and drop interface. If the primary connection fails, the router will detect it and automatically connect to the next prioritized connection (Baseline Max OTG unit can only failover from WAN to USB). The Max OTG will also continue to check the status of the primary connection and will reconnect to it when it comes back online. Failover happens quickly (within about 20 seconds on average) and without user intervention meaning the transition between connections is completely seamless. View a demo of Pepwave/Peplink's speedy failover
Bandwidth Monitoring: These controls allow you to monitor how much data is being used by the computers/devices on your network. Whether you have a limited data allowance from your provider (like Verizon's 5GB or 10GB monthly allowance) or simply want to be able to manage and monitor your usage, these controls are extremely valuable and competing routers in this price range do NOT offer anything like it! Usage can be viewed in monthly, daily, or hourly reports to give you an overview of when and by which device/user the data is being consumed, and you can even view usage in real-time. These monitoring options can be very helpful if you notice a spike in data usage from a specific IP address — it can help you identify a computer that may have data-sucking malware installed on it, for example, or it can simply help you keep an eye on the productivity of all users on the network.
PepVPN: The baseline and load balance Max On The Go have PepVPN support, which allows users to easily network Max OTG units to other PepVPN-enabled devices. For example, rather than having to deploy expensive hardware at each location to build a reliable network, a business could utilize a Balance router at the primary location and install Max OTG units out in the field; each Max oTG can then connect to the primary network with very little setup. PepVPN can also be used to connect a Max OTG to a Peplink Balance that's utilizing the SpeedFusion bonding technology. When connecting to a SpeedFusion-capable router (Balance 210 or above), PepVPN builds multiple tunnels back to the router to provide Dynamic Wan Failover without interrupting the connection. With a single click in the GUI all traffic can be routed over the VPN. There is no other setup required, and no complicated outbound policies to configure. 
Dynamic DNS Support: With a dynamic DNS account set up, Max OTG users can connect to their router from any internet connection using a custom URL (e.g. homesurfsoho.dyndns.org). This opens up one more way for users to remotely manage their network and its resources without the need for a costly static IP address.
InControl Management (coming soon!): InControl is a free tool that allows users of Pepwave/Peplink devices to manage all of their equipment in one centralized system. Administrators can generate reports, gather statistics, control guest access, and even configure the network remotely. This powerful service is incredibly useful and nothing like it is available for other competing routers. View a demo of InControl
Pepwave Router Utility Application: With the Router Utility Application for iOS and Android, network monitoring has never been easier. View device status, bandwidth usage, events, and more. Push notifications give you up to the minute updates on any major changes or performance issues, preventing small issues from becoming big problems.
(Router Utility App)
Conclusion:
The Pepwave Max On The Go is a very flexible box that can cover home users all the way up to enthusiasts that want to bond and aggregate multiple data links together. Having three different models allows the Max OTG units to target multiple uses and offers an easy upgrade path, which means if your needs change down the road you don't have to buy additional hardware. The Load Balance and SpeedFusion versions are substantially less expensive than other devices like the Pepwave Max 700 that can support up to 4 USB modems. Between the three models the SpeedFusion version is going to be a great low cost option for anybody that needs to bond multiple data links with other comparable solutions selling for 5 times the cost as an entry point! The Max On The Go units are in stock available for immediate same day shipment until 3PM Cst from 3Gstore.com now!
---
Last Updated ( Friday, 07 June 2013 )