Embedded vs. USB Cellular Routers
Monday, 24 June 2013
Embedded vs. USB Cellular Routers
When 3G service started to take off for a lot of rural customers and businesses that can't get DSL/Cable, or simply want backup in case their main link goes down there were a variety of USB routers. These routers had a basic feature set that had the unique ability to insert a popular USB modem or smartphone and tether it to give Internet access to several devices instead of just one. Over the last two years you may have noticed several embedded products pop up offering some new features that can benefit both consumers and business users. Instead of worrying about a USB modem all you need for service is the ESN (Electronic serial number) of the device, or an active SIM card. Below we'll break down both types of solutions to help you identify if you should consider embedded solutions, or if a USB based router is going to meet your needs.
Form factor: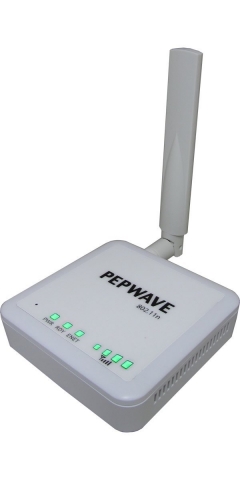 First off we'll take a look at the smallest form factor USB based cellular router that you can currently purchase. The Pepwave Surf On The Go measures in at 3.5" x 3.5" x 1.0". This does not include the actual USB modem which can add a little bit to the width especially if you're using 4G LTE modems because they're substantially larger than 3G only devices.
Moving on to embedded solutions the Cradlepoint COR IBR series measures in at 3.3" x 4" x 0.9", the Option CloudGate measures in at 4.5" x 4.1" x 1.77" and the Pepwave Max BR1 series measures in at 5.8" x 5.0" x 1.6". When comparing the specs it's important to add in the dimension of the USB modem when comparing the various form factors available. In most cases the newer LTE modems are substantially larger than 3G devices and can add space that needs to be factored into your enclosures, where an embedded solution won't have a modem sticking out of it.
Temperature ratings:
Depending on your deployment location it's very possible that temperature could come into play with equipment. Harsh environments exposed to extreme cold or heat could kill your router pretty easy where specific models have larger temperature thresholds making them ideal for extreme deployments. Below is a rating of stand alone routers and embedded routers so you can compare temperature ratings to figure out what could be suitable for your deployment:
Please note - On USB based solutions it's important to double check the temperature thresholds of the USB modems that you're inserting too. Just because the router is rated at the temp needed does not mean the USB modem is too!
External Antenna Support:
(USB pigtail adapter vs SMA screw on connector)

Sometimes there's confusion regarding antenna support because on routers that use USB modems the antennas will actually connect to the USB modem, not the router. As shown in the picture above you'll notice that only embedded routers have the option to attach antennas directly to the unit, while going the USB route you'll need to make sure that your model has external antenna support.
USB modems that support external antennas will use a TS9 pigtail adapter that is okay for most home/office applications. Depending on the modem you may have to be careful inserting or removing the cable because you could snap the internal connector and break the USB modem. If you plan to connect/disconnect the antenna quite often or are using in a mobile application embedded solutions offer a more robust SMA connector. The SMA connector is threaded so you don't have to worry about it popping out or breaking equipment.
(Max HD4, high quality SMA connectors)

In addition to cellular connectivity GPS is becoming a big factor for a lot of companies too. Embedded cellular routers like the Max BR1, Option CloudGate, Sierra Wireless and Cradlepoint "PWD" series offer a powered GPS port too. The GPS connection also uses SMA connectors and allows you to attach a GPS antenna for location monitoring, speeds and more! In fact, our compact M2M antennas come with dual connectors for both cellular and GPS without buying two separate antennas.
Reliability:
Probably the biggest factor when deciding on a router is how reliable is it going to be? If you're deploying in remote locations where they won't be easily accessible it's crucial to select a device that you can depend on. When you go with an embedded solution you get a unit that is designed for 24/7 use in office applications or rugged environments. This is made possible by the internal chipsets that were designed specifically for the unit you're using. When you opt to use a USB modem plus a router you introduce more variables into the equation that can decrease the reliability of the equipment in mission critical settings.
The biggest variable when using a USB based device or MiFi is the carriers and any updates they may do. Router manufacturer's code in firmware based on the USB devices in order for them to work and when carriers release modem updates it can sometimes create disconnect issues or stop a modem from working entirely. When this occurs it can take manufactures anywhere from one to three months to release firmware updates to fix problems carriers introduce with updates. To combat random disconnect issues with some USB modems many of our customers opt to pick up a Remote IP Switch to automatically power cycle equipment if a router locks up on you. Read more about all Remote Power IP Switches here , wih video demonstration and comparison chart.
Cloud Management Options:
Virtually all routers offer some type of cloud management service and only exclude consumer devices like the Cradlepoint MBR95. If you have a large rollout planned Cloud Managment services can offer a central location where you can push various configurations or firmware updates to your devices. Instead of remoting into 100 different devices simply log into your account through the cloud and apply that configuration to all 100 units at once! Service costs and supported hardware are dependent on the model you select. Learn more about Cradlepoint ECM and Peplink InControl2.
Cost:
There's no denying that a USB based router is going to be cheaper than a fully embedded solution. However, depending on the location and device being used you could be sacrificing both performance and reliability over a fully embedded solution. When you go with a fully embedded solution you get an all in one unit complete with high gain antennas that typically outperform USB based routers by as much as 20%. With a standard USB based router you have to factor in the USB costs, external antenna support and any other add-on options like the Remote IP Switch. When you add in the additional costs you may face with traditional USB based solutions you'll quickly find that it could be cheaper to get a more robust embedded solution.
Available now the Pepwave MAX BR1 Mini is a gamechanger! This device starts at just $299 and absolutely blows any USB + Rotuer or MiFi out of any competition! Read our article for more information!
---
Related Links:
Last Updated ( Tuesday, 03 January 2017 )