Taoglas 8" Indoor/Portable Full-Band 3G/4G Antenna - Hands On Review
Monday, 25 November 2013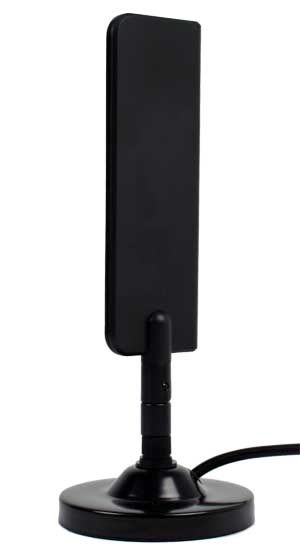 3Gstore is thrilled to announce the Taoglas 8" Indoor/Portable Full-Band 3G/4G Antenna (left), the newest addition to our lineup of 3G and 4G cellular antennas. Perfect for travelers, business trips, or for those who need an antenna but don't have the option to permanently mount one, this sturdy and versatile antenna can be adapted to a number of situations.
This new antenna replaces a previous long-standing 3Gstore customer favorite, the 6" Booster Antenna, which went "end of life" earlier this year. The Taoglas 8" Indoor/Portable Full-Band 3G/4G Antenna does everything the Booster Antenna did, but has several additional advantages, including a longer cable (8 feet vs 3 feet), slightly higher gain, a sturdier design, and a hinged connector for both horizontal and vertical mounting options.
About the antenna: The 8" Indoor/Portable Antenna is called a "full-band" antenna because it covers virtually every frequency used by voice, 3G, and 4G cellular networks worldwide (many other antennas are tuned to 3G frequencies but miss the 4G bands or work well for US providers but not for those in Canada, Europe, etc). No matter who your provider is for your USB modem, hotspot/Jetpack, or embedded router, the 8" Indoor/Portable Full-Band 3G/4G Antenna is almost certain to be compatible! And since 3Gstore carries a huge variety of adapter cables to pair up with hundreds of devices worldwide, as long as your device features a port to accept an external antenna, you'll simply need to add the appropriate adapter and the Taoglas Indoor/Portable antenna will be ready to connect to your device.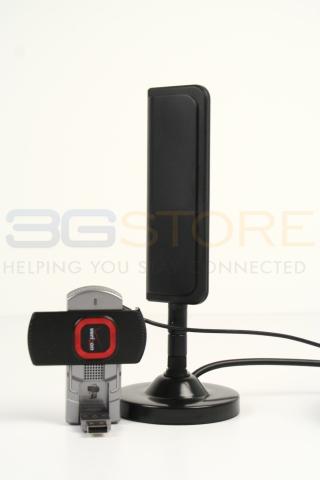 Connected to the Verizon UML290 USB Modem via an adapter cable (sold separately)
Unlike most other antennas, the Taoglas 8" Indoor/Portable Antenna comes in two parts (the two components are bundled together when you shop at 3Gstore). The first part is a sturdy round base with 8' of pre-attached NFC200 cable connected to it, which is terminated with an industry standard FME Female connector (making it easy to pair up with adapter cables and connectors). The underside of the base is magnetic and lined with a soft felt padding to prevent any scratches to the surface its sitting on. The magnetic base also gives you the option of mounting the antenna on a magnetic surface if you desire, but unlike other mag-mount antennas, a magnetic surface is NOT required - this antenna has a built in ground plane, so you can use it on any surface.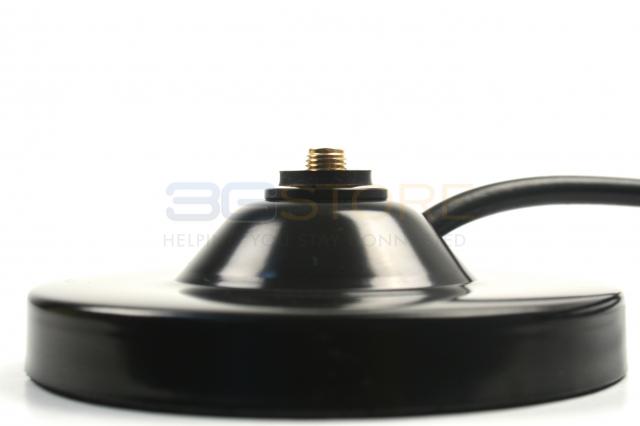 Magnetic base
The second part of the Indoor/Portable antenna is, of course, the antenna itself. The antenna is an omnidirectional paddle style, so there is no need to worry about aiming it towards a cell tower, and it simply screws right onto the base for easy installation. The antenna has a hinged connector, so if you opt to mount the base horizontally on a wall, you can flip the antenna so it is still oriented vertically: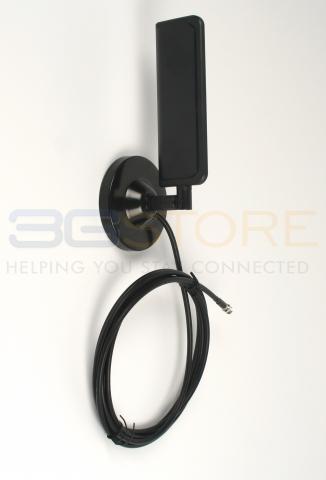 mounted vertically using its magnetic base

How well does it work? The 8" Indoor/Portable antenna has a gain rating of 1.5-3.4db depending on the frequency, which is typical of a small indoor antenna like this. In our testing, the 8" Indoor/Portable Antenna performed very well across multiple carriers and frequencies. Our first test was with a Verizon MiFi 4620LE on 4G LTE, and our starting RSSI was -98dBm. With the antenna hooked up we saw an increase to -91dBm. With an AT&T Beam USB modem, our LTE signal went from -95dBm to -89dBm with the antenna. These results are excellent for an indoor antenna! Remember, there are a LOT of factors that influence cellular signal and there is no guarantee of an exact percentage or number of db increase you'll see with any antenna. You can read more about testing your signal strength here: Will an Antenna Help Me?


What situations are the 8" Indoor/Portable Antenna good for? This antenna can be used pretty much anywhere! Because of its compact size, it can easily fit into a bag, briefcase, or purse and can be used anywhere with its minimal footprint. Keep in mind, though, that it is not weatherproof and is not intended for outdoor use. Below are a few popular applications for the Taoglas 8" Indoor/Portable Antenna:
Apartment-dwellers or renters who don't have permission to mount an antenna outside
RV-ers who prefer not to drill holes through their rig
Travellers who want something they can take anywhere and not worry about mounting requirements
Home or office users who don't need the power of a higher-gain external antenna - keep installation simple by using this antenna instead
Users of routers with embedded modems - replace your stock antenna with the 8" Indoor/Portable antenna since the 8' cable will allow you to place the antenna higher up or near a window where signal is better (and with its all black design and sturdy construction, it won't compromise the professional appearance of an indoor kiosk, POS terminal, digital signage setup, etc):

Connected to a Cradlepoint COR IBR600 for M2M use
Check out our video review of the 8" Indoor/Portable Full-Band Antenna:
Specifications:
Frequency range: 700-800 / 824-960 / 1710-1880 / 1850-1990 / 1710-2170 / 2400-2800 mhz
Impedance: 50 Ohms
Antenna gain: 2.1db / 3.2db / 2db / 1.5db / 1.6db / 3.4db
Cable length: 8' NFC200 attached to the included base
Height: 8.75" with base
Connector: FME female
Mount: Desktop stand
Polarization: Vertical

---
Related Links:
Last Updated ( Monday, 25 November 2013 )