A New Use for CellPhone-Mate Surecall Diplexers
Friday, 03 January 2014
A New Use for CellPhone-Mate Surecall Diplexers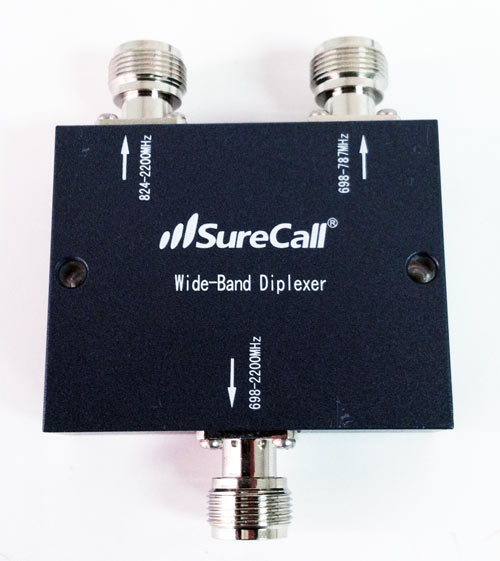 Here at 3Gstore, we work together as a team to make sure we stay up to date on anything and everything mobile broadband related. We also like to play around with the products we carry and find new ways of utilizing them. Of course, a lot of of customers like to tinker as much as we do, so we have to give some credit to you as well for helping us to be innovative in this growing industry.
After speaking to one of our customers yesterday, an idea for using the CellPhone-Mate Surecall diplexers presented itself. First, a little background on the application: User needs Internet via a Verizon 4510L Jetpack hotspot for travel use. Their main concern is keeping a good 4G signal when in LTE coverage areas, but they also need to have 3G available if necessary. Right now, they are using a CellPhone-Mate Surecall CM700V-32 amplifier with an external antenna directly connected to the single antenna port on the 4510L. Since using the CM700V-32 amp limits the connection to 4G only, the customer was looking for an inexpensive way to still get 3G to his Jetpack while the 4G amp is still plugged in.
The customer's thought was this: Use a diplexer (just 1) and instead of adding a 3G amplifier to the setup (click here for details on that), he adds another antenna. The setup would look like this:
Outdoor Antenna -> cable -> amp -> 2ft cable to 1 port on diplexer (698-787MHz) -> antenna w/ cable to 2nd port on diplexer (824-2200MHz) -> attach included 6ft cable (w/ amp) to the other single-port end of diplexer -> adapter cable -> 4510L
In theory it sounded like this could work, but since we couldn't be certain, we decided to test it out. Here's what we came up with (reference the photo below): The diplexer has two inputs, one is for 698-787MHz, so that is where the 4G antenna and CM700V-32 amplifier will connect. The other end of the diplexer is 824-2200MHz, so that will be where the 3G antenna connects. For our test, we used a Jetpack 4620LE, and locked it into both 3G and LTE modes - this gave us confirmation that the system still picked up the signals like there was no diplexer at all!
For more details on how you can acheive this setup yourself, contact us at 3Gstore.com!
Not sure if an antenna or amplifier may help you at your location? Check out our site survey instructions to determine!
Last Updated ( Friday, 03 January 2014 )