Cel-Fi PRO Signal Booster for AT&T - 3G, 4G & 4G LTE Review
Thursday, 14 April 2016
Cel-Fi PRO Signal Booster for AT&T - 3G, 4G & 4G LTE Review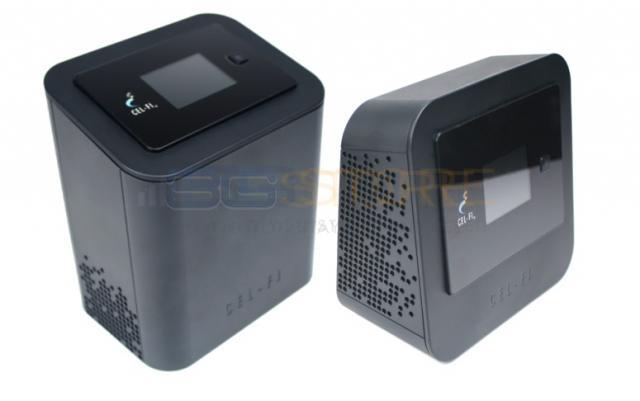 If you have a weak cell signal in a home or office, there are a few potential fixes available. One option is to use a microcell from your cellular carrier. These devices use your existing high speed internet connection and tend to have limited coverage, provide slow speeds, and are only as reliable as your ISP. If you don't have a high speed connection, this isn't an option at all. The most common way to boost cell signal inside a home or office is with a wireless repeater kit. This consists of an antenna mounted on the roof, cable running inside to an amplifier, and then another cable going to one or more inside antennas at various locations where the signal is needed. Cellular repeater kits have the advantage of working with an existing cellular signal and amplifying it for multiple devices at once, but often times the complexity and cost of installation prevent this from being a viable solution. Repeater kits also suffer from limited range when attempting to boost a weak signal. An amplifier that is capable of covering 5,000 Sq. Ft. under optimal conditions may only improve signal to one or two rooms when the starting signal is less than perfect.
(Contents of kit)
Enter the Cel-Fi PRO Signal Booster for AT&T. The Cel-Fi does away with all the complicated setup, issues, and installation costs of typical signal boosters. No mounting antennas to the roof, running cables through walls and ceilings, and no unsightly panel or dome antennas on the walls and ceilings. Instead the Cel-Fi PRO has just two pieces of hardware, a Network Unit (NU) and a Coverage Unit (CU). Installation is as simple as placing the NU in a window where the AT&T signal is the strongest and connecting it to power. The CU is then placed elsewhere in the home or office and connected to power. The NU picks up and amplifies the AT&T signal, wirelessly sends the signal to the CU, and the CU pushes out an amplified cellular signal for any devices in range. It is that simple!
(Coverage Unit, CU)
The Cel-Fi PRO for AT&T boosts the cellular signal up to 13,000 Sq. Ft on 3G, 4G HSPA+, and 4G LTE with just one NU and one CU. A repeating amplifier capable of that coverage area on the other hand would be significantly more expensive, require multiple rebroadcasting antennas, and in most cases need professional installation. How can the Cel-Fi boost the signal to such a large area with such a small device? The Cel-Fi can operate at up to 100dB of system gain on each band simultaneously. That is 30dB more gain than any other wireless repeater kit available from any other manufacturer. By working with only a single carrier, in this case AT&T, the Cel-Fi doesn't fall under the FCC Safe Harbor requirements which limits gain to 70dB on other booster products. For every 6dB of power, the coverage distance from the CU doubles making the Cel-Fi solution a significantly more powerful option.
(Network Unit, NU)
What if you have a larger area to cover? Because the NU and CU communicate wirelessly in the 5Ghz frequency range, multiple Cel-Fi systems can be installed without the concern for interference. Try that with a standard repeater kit and you've got a recipe for serious oscillation (feedback between antennas) which will result in a lower output power or cause the amplifier to shut down completely.
With the Nextivity Wave mobile application on iOS and Android devices, registering your device is easy. Before the Cel-Fi pro begins boosting the signal, you'll connect to the CU with a phone by Bluetooth. When you launch the Wave app you'll be able to quickly pair to the system and register. Alternatively you can do this from a PC by attaching a USB cable to the CU. Per the FCC, all signal boosters need to be registered with the mobile carrier before use and the Cel-Fi PRO simplifies this with a quick 5 minutes process.
3Gstore has been extensively testing the Cel-Fi PRO in our warehouse over the last 30 days. We already have a standard cellular repeater kit installed in the building with multiple internal antennas to rebroadcast the boosted signal. There is a dome antenna in the hallway to cover the front offices, a dome in the conference room, a dome in our server room to provide coverage for our LTE backup, and a panel antenna to push the signal into our warehouse space. This kit was professionally installed over the course of two days, and provides us coverage for the majority of our location. To test the Cel-Fi, we disconnected our traditional amplifier and ran the NU in the front window of our building. We took the CU and placed it in our warehouse space about 75' away through 4 walls. After a quick automatic pairing process, the CU indicated it was boosting the AT&T signal. At this point we would usually take a hand held signal meter to various offices to ensure the signal was being boosted where needed, but the effect was immediately obvious just looking at the signal bars on our phones and hotspots. The exact same areas we cover with our roof mounted antenna, amplifier, and 4 internal antennas, were covered in less than 5 minutes by simply plugging the Cel-Fi PRO NU and CU into power.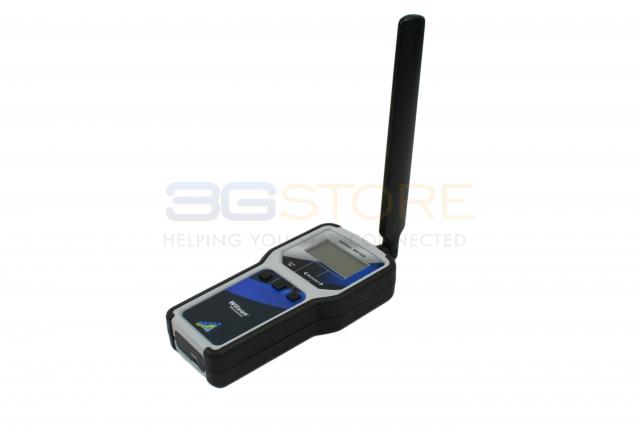 We of course broke out the signal meter to do some real testing as well. The AT&T signal strength at the CU location, with it powered off,  would fluctuate from -100 to -105dBm. On most phones that is the equivalent of a 1 bar signal. With the Cel-Fi powered on we jumped to -60dBm, which is a 5 bar signal! At longer distances within the warehouse, the signal strength slowly decreased just like it does when you move away from a cell tower, but even at the farthest distance from the CU, through multiple office walls, we still had a -90dBm signal. This is a stronger signal at longer distances than our existing amplifier and antennas are capable of, and getting that boost with a simple 5 minute install of a Cel-Fi PRO is like nothing we have ever seen before.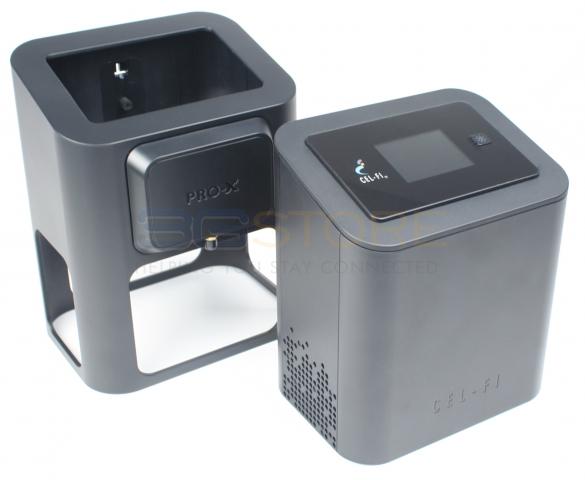 (PRO-X and CU)
There are of course locations where wirelessly pairing a NU and CU just isn't possible. Because the units communicate with each other in the 5Ghz range, major obstacles like concrete walls and ceilings could block communication completely. The Cel-Fi PRO-X is an add on to the Cel-Fi PRO that includes 130' of ultra low loss cable to connect the two units.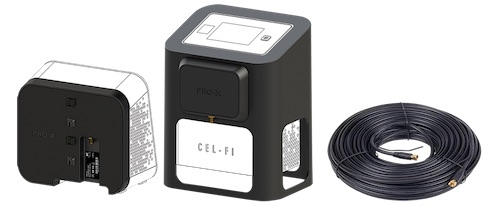 (includes NU and CU attachment, 130' cable)
You still have all the benefits of the Cel-Fi system including that unheard of 100dB of gain providing that massive coverage area and no requirement to route any external antennas. The cable is especially easy to install in offices or warehouse spaces with drop ceilings or open spaces.
The minimum requirement for using the Cel-Fi PRO for AT&T is just one bar of signal for the Network Unit to work with (-120dBm RSRP signal minimum). If you are looking for an effective signal booster for your home or office, and would rather not go through the potential headache and hassle of installing a traditional repeater kit, or just want something easy to set up and use, the Cel-Fi PRO is the device for you. The best part? It is just $699. If the goal of the Cel-Fi was to shake up the signal boosting industry, it certainly has done exactly that.
Last Updated ( Thursday, 14 April 2016 )