Pepwave MAX BR1 Mini Hands On Review
Thursday, 03 November 2016
Pepwave MAX BR1 Mini Hands On Review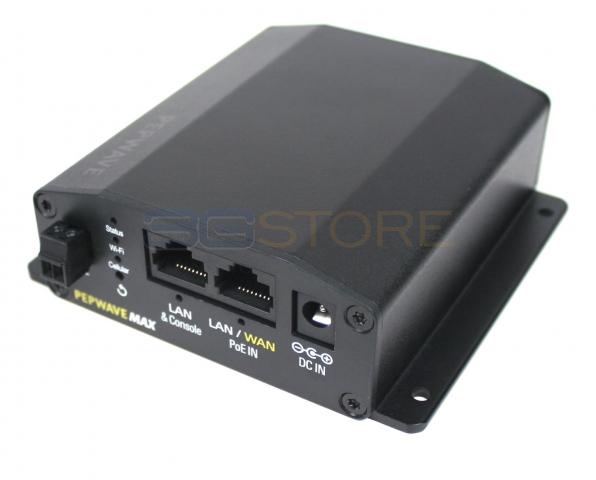 The Pepwave MAX BR1 Mini is the latest industrial-grade, 4G LTE router from Peplink. This capable router is heavy on features while keeping a lightweight, small footprint, suitable for installation just about anywhere. Whether the BR1 Mini is installed in a vehicle, used in M2M deployments, or will provide cellular backup or Out of Band Management to a home or office, its top tier performance will not disappoint.
The Pepwave MAX BR1 Mini weighs in at just over half a pound, and is 4.1 x 4.3 x 1.2 inches in size. The device has an all metal enclosure, perfect for industrial applications, use in ATM machines or digital signage, or locations without climate control. The BR1 Mini has an operating temperature of -40 to 149F for 4G LTE connectivity almost anywhere .There are mounting holes on the sides of the router for easy installation, and high quality screw on antenna connectors mean that even in the most demanding environments you'll have reliable connectivity. If larger external antennas are required the industry standard SMA connectors make adding a new antenna or cellular amplifier a breeze. The front of the BR1 Mini has an AC power input, DC terminal block for redundant or primary power, status lights, a factory reset button, and two ethernet ports.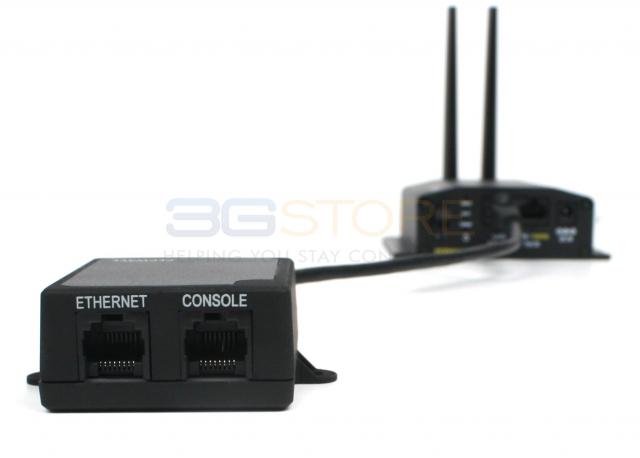 (BR1 Mini with Optional Port Adapter for Out of Band Management)
The first ethernet port is labeled as LAN & Console. The LAN is where you would connect a network switch or a device that needs a hardwired connection to the BR1 Mini. This is listed as a console port as well since with an optional Port Adapter, the BR1 Mini will perform Out Of Band Management (OOBM). The port adapter splits the LAN into two ethernet cables, one for a connected device or router, and the second to connect to the console port of that router. Utilizing the BR1 you can remotely open up a terminal window to your Cisco, SonicWall, or similar device. No more analog phone lines for OOBM. Now you have a single, low cost device doing double duty as your cellular backup and OOBM to your existing network, saving you time and money and ensuring you have maximum uptime in your business without the high costs of sending a technician out to the site.
The second ethernet port on the BR1 Mini is labeled LAN/WAN and PoE In. Out of the box the BR1 is only able to establish an internet connection via its embedded cellular modem. For most users, this is exactly what the BR1 needs to do. If used as a cellular router for industrial or M2M environments or as a cellular backup to an existing router or firewall, the WAN port is not needed. However if you want to use the MAX BR1 as a low cost, yet capable failover router, an optional license is available to activate the WAN port and failover features. This license also activates WiFi WAN letting you use an existing WiFi network or hotspot as a source of connectivity. You can read more about WiFi WAN here. The PoE In stands for Power over Ethernet (the Mini uses Passive PoE). This lets you place the MAX BR1 Mini in a location where it can best obtain a cellular signal, but there may not be power. PoE lets you run a single ethernet cable to allow network connectivity as well as provide power to the device.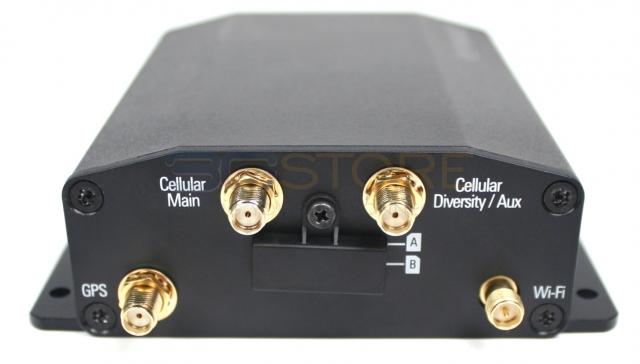 (Back of BR1 Mini - Antenna Ports and SIM Slots)
The BR1 Mini has a removable SIM card cover revealing two SIM card slots. Although the BR1 Mini has a single embedded cellular modem, you can insert two SIM cards at once which provides a few options. You can have two SIM cards from a single carrier and in the settings of the BR1, set the amount of data you have per month and your billing cycle start date. When the BR1 uses the data amount you define, it can switch to a second SIM card preventing costly overage fees. The second SIM card can also be a different carrier than the first. You can once again have the BR1 automatically change to the second SIM card when the first has used its data allowance, or automatically change to the second SIM card and carrier if the first is not available. You can also manually tell the BR1 which SIM card you would like to connect on if you know one carrier works better than another in any given location. A final option for the second SIM card would be to install a blank, unactivated SIM card as a backup. For example, you have a large deployment of BR1 Minis providing cellular connectivity for ATM machines, and you insert an activated Verizon SIM in slot A. You could install an unactivated T-Mobile SIM card in slot B to give you options to change carriers in the future. You can then remotely activate the second SIM with T-Mobile and via InControl 2, Peplinks cloud based management platform, push a configuration to all your devices at once and have them change to the second SIM. More on InControl 2 later.
(Easy to Use Web Interface)

Configuration of the BR1 Mini is very simple thanks to Peplinks intuitive graphical interface. No need to have specialized skills or training or understand complicated command line prompts. The dashboard page of the BR1 Mini shows you your current WAN connection status, WiFi status (if enabled) and device details. WAN priority is a simple drag and drop interface, and clicking the details tab opens up information and settings for that specific connection. The interface has helpful ? icons for features that need it and less used features are neatly tucked away in these extra menus making configuration as easy as possible. The interface also provides a client list as well as powerful data usage tools. You can view data usage on the BR1 Mini in real time, or break down by month, day, or hour, with each device's data usage detailed separately. This makes identifying sources of high data usage quick and easy to ensure you don't have any overages on your cellular connection.
While the BR1 can be configured locally, it's the Peplink InControl 2 cloud based management platform that makes monitoring and managing devices easy. InControl 2 provides a single login screen for managing all of your Peplink hardware in the field. You can create device groups and make changes to all of those devices with just a few clicks in the cloud. InControl will let you push new WiFi settings, update configuration files, schedule firmware upgrades, and monitor and manage data usage with ease. Since the BR1 Mini includes GPS capability, InControl 2 becomes a powerful fleet management tool. Device location is updated in real time and historical locations tell you where it has been. InControl 2 is free for the first year with every Peplink/Pepwave device, and then just $29 per year per device after that. InControl 2 comes in at a lower cost, with more features, than many competing platforms. Consider the value of what InControl 2 can do and then do the math on the first year free. On a 1000 unit deployment, that is $29,000 saved! Plus, InControl 2 is LESS expensive that many other cloud based management platforms while providing MORE features, and with the cost of the BR1 Mini coming in under the competition, it is easy to choose the MAX BR1 Mini.
The MAX BR1 Mini is no slouch when it comes to performance and capability of its onboard WiFi AP either. With support for up to 60 simultaneous users, the BR1 makes a perfect public transportation router. The BR1 is right at home in a taxi or on a bus, and its captive portal functionality and multiple networks means you only need one piece of hardware to provide connectivity to staff and guests alike. Create a custom landing page with terms and conditions, redirect users to a site of your choice after logging in, and set bandwidth allowances and access durations. This is configured via InControl 2, so updating an entire fleet of hundreds of devices takes just seconds instead of days, and all happens from the cloud.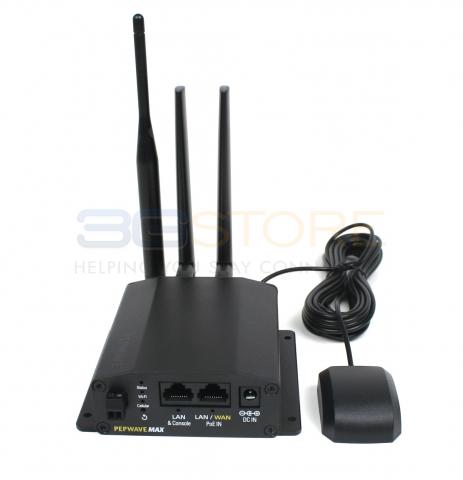 (MAX BR1 Mini with Included WiFi, Cellular, and GPS Antennas)
The MAX BR1 Mini supports LTE bands 2, 4, 5, 13, 17, and 25, and 3G bands 1, 2, 4, 5, and EVDO Rev A. This means there is support for all US carriers on LTE and 3G (Verizon, AT&T, T-Mobile, and Sprint). No need for specialized carrier hardware and with the dual SIM slots and InControl, changing one or multiple devices is simple and doesn't cost thousands in redeployment costs and truck rolls.
3Gstore thoroughly tests all new hardware before launch, and the BR1 Mini is no exception. We have had a MAX BR1 Mini connected in our warehouse for the last few months as our backup internet connection. On multiple occasions, we ran a 'fire drill' where we purposely disconnected our primary internet connection and ran our warehouse on the BR1 Mini with Verizon LTE only. We were pleased with how reliable the Minis connection was, and at no point did the router ever disconnect or drop in performance, even when under heavy load with VoIP phones, sales, and shipping staff actively using the connection. The connected Port adapter gives us console access to our primary router, a Balance 380, via the cellular connection. If we need to remotely administer or reboot the Balance for any reason, the BR1 Mini makes this possible while still acting as our backup.
The MAX BR1 Mini provides all of this functionality for just $299! The failover license to activate the wired WAN and WiFi WAN is $100, but if this is not needed the extra cash in your pocket is great to have and keeps deployment costs low. The Port Adapter for simultaneous LTE backup and OOBM is just $19. Overall, the Pepwave MAX BR1 Mini has more features, top notch performance, and comes in at less than half the price of the competition. For more information or to find out if the MAX BR1 Mini is right for you, contact the experts at 3Gstore. Looking to sell the MAX BR1 Mini or other products from 3Gstore? Become a 3Gstore reseller!
UPDATE 12/16
Now available at 3Gstore, the MAX BR1 Mini with LTE-A! This new MAX BR1 Mini supports additional carrier frequencies in areas that support it. T-Mobile Band 12 is one of the major additions to this new version. In areas where Band 12 is available, end users typically experience faster speeds and greater signal strength. Since Band 12 is in the 700Mhz range, it also has much better building penetration than the standard T-Mobile LTE frequencies. Sprint Band 41 is also supported.
The BR1 Mini with LTE-A supports LTE Bands 1, 2, 3, 4, 5, 7, 8, 12, 13, 20,  25, 26, 40, and 41, and 3G bands 1, 2, 3, 4, 5, and 8. The BR1 mini is certified for use on AT&T, T-Mobile, and Sprint certification is coming soon. The BR1 Mini with LTE-A is NOT certified for use on Verizon and neither 3Gstore nor Peplink will provide any support for Verizon. Verizon users should look to the standard MAX BR1 Mini instead.
Last Updated ( Wednesday, 21 December 2016 )