The New Pepwave Surf SOHO MK3 Has Arrived - Hands on Review!
Tuesday, 22 November 2016
The New Pepwave Surf SOHO MK3 Has Arrived - Hands on Review!
(11/22/16 - The New SOHO Has Arrived!)
The Pepwave Surf SOHO originally launched in May of 2013 (see original Surf SOHO Review), and quickly became one of the most demanded routers for RVers, homeowners, and small business owners alike. The SOHO represented an exceptional value with business grade features and performance while coming in at a lower cost than similarly spec'd routers. RV blogger Jack Mayer wrote an exceptional in depth review while 3Gstore customers have rated the SOHO at 4.5/5 stars over its lifetime. The Surf SOHO went through a hardware refresh about 1 year ago adding gigabit ethernet ports, making local file transfers much quicker. Now after much anticipation hardware version 3 (aka Surf SOHO MK3) of the Surf SOHO is here!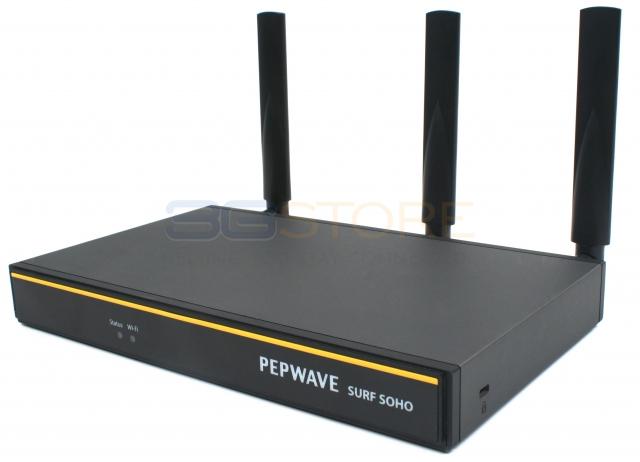 On the outside the SOHO has been completely redesigned to match higher end Peplink routers like the Balance One. Gone are the curved edges and in is a design that looks much more professional and won't be out of place in a business amongst other network equipment. There are still two basic status lights on the front of the unit for power and WiFi. The back side of the SOHO has 4 LAN ports, 1 WAN port, 1 USB port, a factory reset button, power input, and 3 WiFi antenna connectors. The WiFi signal bars of the original SOHO are gone since they weren't particularly useful to begin with, and a Kensington lock security slot has been added to the side of the router. Rubber feet on the bottom of the router keep the SOHO neatly in place on a desktop or shelf, while mounting holes let you place this just about anywhere connectivity is needed.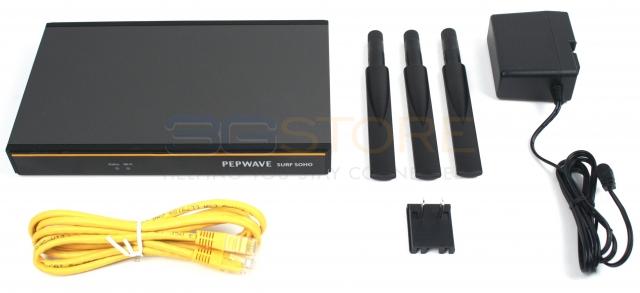 One of the major changes to the new Surf SOHO is the addition of 802.11ac support for the WiFi radio. The 3x3 MiMo WiFi radio offers speeds up to 450Mbps on the 2.4Ghz frequency, or 1300Mbps for 5Ghz. In our testing the SOHO will broadcast its WiFi signal 250-300' through walls before losing the signal, and this range is much greater when unobstructed (variable depending on interference from other electronics and physical interference such as walls and ceilings). This significantly improved WiFi radio makes it possible to simultaneously stream multiple HD videos across the local network, with plenty of throughput leftover for file transfers, backups, and general web browsing. Wireless AC also means that you can achieve higher speeds farther from the router where a single band device would drop off much faster.
Features:
3G/4G USB Modem Support: The Surf SOHO has a single USB port for 3G/4G modems and over 250 modems from providers worldwide are supported. For home or business users who rely on a cellular connection, the SOHO can perform a variety of "Health Checks" to ensure that the connection stays active. The cellular connection can be a primary connection or set up as an automatically connected backup if the primary connection fails. The SOHO also works via USB tether with most hotspots and many Android phones for flexible connectivity options.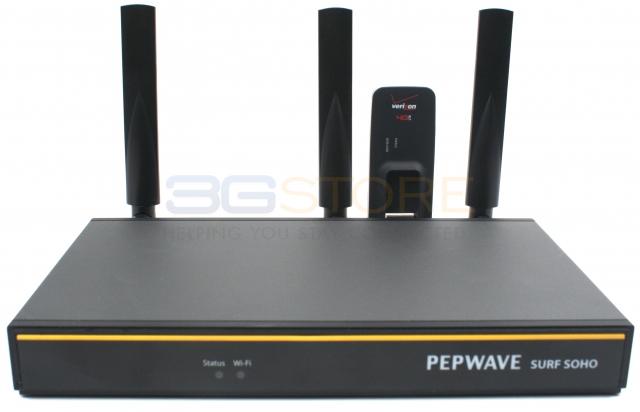 WiFi as WAN: The Surf SOHO has the ability to pick up external WiFi networks (like campground WiFi or a hotspot/Jetpack — virtually any WiFi network that is open or for which you have the password) and create a new private network from it that you can access securely through the router. Even if you have your own internet connection, the ability to use the Surf SOHO for WAW can come in VERY handy. WAW is great in the event of an unexpected internet outage — if your primary connection goes down and there is an open WiFi network in range, or if you have a smartphone that can be used as a WiFi hotspot (like the iPhone and many others), the Surf SOHO can be configured to quickly connect to WiFi and your network will be back online in moments.
Failover/Failback: For home or business users that can't afford to be offline, the Surf SOHO can prioritize internet connections with a simple drag and drop interface. If the primary connection fails, the router will detect it and automatically connect to the next prioritized connection. The SOHO will also continue to check the status of the primary connection and will reconnect to it when it comes back online. Failover happens quickly and without user intervention meaning internet outages will no longer be a burden.
Bandwidth Monitoring: These tools allow you to monitor how much data is being used by the computers/devices on your network. Whether you have a limited data allowance from your provider (like Verizon's 5GB or 10GB monthly allowance) or simply want to be able to manage and monitor your usage, these controls are extremely valuable and competing routers in this price range do NOT offer anything like it! Usage can be viewed in monthly, daily, or hourly reports to give you an overview of when and by which device/user the data is being consumed, and you can even view usage in real-time. These monitoring options can be very helpful if you notice a spike in data usage from a specific IP address — it can help you identify a computer that may have data-sucking malware installed on it, for example, or it can simply help you keep an eye on the productivity of all users on the network.
Security: WEP, WPA, WPA2, and AES WiFi encryption as well as the ability to hide the WiFi SSID, plus Radius Authentication, make the SOHO capable of preventing any unauthorized access to the network. The SOHO ships with WPA/WPA2 - Personal encryption enabled. The password defaults to the last 8 digits of the LAN MAC address, which is printed on the underside of the Surf SOHO. From the moment you power on the SOHO you will be utilizing a secured network.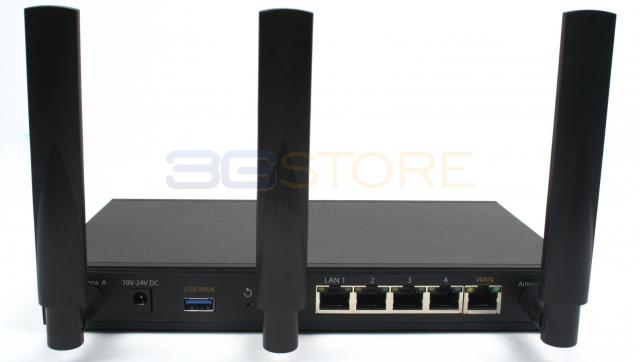 Guest Networking: The Surf SOHO supports up to 3 unique WiFi networks for flexibility in the home or office. Guest traffic can be isolated and put on its own VLAN. Content blocking lets you block certain types of traffic on the network, and web filtering blacklists can block specific types of websites. WiFi Scheduling helps you determine who can access what networks, and during which days and times. Have a full time network for employees, and then a guest network that is only available during business hours. Create a guest network for your kids that blocks access to unapproved sites and goes offline when its past bed time.
PepVPN: The Surf SOHO introduced a new feature at launch called PepVPN, which allows users to easily network Surf SOHO units to other PepVPN or SpeedFusion enabled Peplink/Pepwave devices. For example, rather than having to deploy expensive hardware at each location to build a reliable network, a business could utilize a Balance router at the primary location and install Surf SOHOs out in the field; each SOHO can then connect to the primary network with very little setup. PepVPN offers 256 bit AES encryption for any data moving over the VPN tunnel and is quicker and easier to set up than IPsec. PepVPN has quickly become the fastest, most cost effective way to establish connectivity between multiple offices.
InControl 2 Management: InControl 2 is a powerful tool that allows users of Pepwave/Peplink devices to manage all of their equipment in one centralized system. Administrators can generate reports, gather statistics, control guest access, and even configure a network remotely. Business owners will be able to deploy multiple devices and have them automatically configured via InControl 2 by simply adding them to a group and assigning a configuration file. With the remote web admin tool you can log into the local interface of a connected router regardless of its internet connection, with NO extra setup required. InControl 2 is INCLUDED for one year with every Peplink/Pepwave device, and is just $29 per year per SOHO after that. This is an incredibly powerful cloud management tool, and no other device comes close to offering the same functionality at the same price as InControl 2.
PPTP/L2TP Server: Unlike any similarly priced 3G/4G router, the Surf SOHO has a built in PPTP/L2TP server, making it easy to securely connect to the SOHO from a remote location. It also allows the SOHO to be used as a central hub for remote employees without additional hardware costs. By setting up a simple VPN with a device on a different network, that devices can act as if it was on the same LAN (Local Area Network) as the SOHO. This means a file server or printer at the office can be accessed from anywhere in the world where you have internet access. One popular use for the PPTP/L2TP server is for secure internet use while away from the main network — if you're using a less secure network elsewhere (like free public WiFi, for example), you can set up your computer/iPad/etc to connect to your Surf SOHO back at home via PPTP/L2TP; all of your traffic is then routed securely through the Surf SOHO's internet connection instead of over the vulnerable public connection. Other users of the public WiFi network will be unable to intercept your activity (where they could capture confidential passwords and banking information otherwise) since all the traffic is encrypted and securely sent to your Surf SOHO first.
Dynamic DNS Support: With a dynamic DNS account set up, Surf SOHO users can connect to their router from any internet connection using a custom URL (e.g. homesurfsoho.dyndns.org). This opens up one more way for users to remotely manage their network and its resources without the need for a costly static IP address. Cellular users will still need a static IP address for remote access to the network (unless you are connected by PepVPN or using remote web admin via IC2) as these connections are NOT publically routable and DDNS can not get around this limitation imposed by cellular providers.
Pepwave Router Utility Application: With the Router Utility Application for iOS and Android, network monitoring has never been easier. View device status, bandwidth usage, events, and more. Push notifications give you up to the minute updates on any major changes or performance issues, preventing small issues from becoming big problems.
Final Thoughts:
What we love: 
Simple and clean user interface
3G/4G LTE USB modem support for 250+ devices
3x3 802.11ac WiFi for fast local networking
PepVPN
WiFi as WAN
Bussiness-class features with consumer-level ease of use
Reliability. 3Gstore has tested the new Surf SOHO for more than a month leading up to this review, and we experienced ZERO downtime!
Create up to 3 wireless networks, with unique passwords and client isolation, for true guest networking
InControl2 is included for a year!
Affordable!

In the last 3.5 years, the Surf SOHO has proved itself time and time again to be a feature rich, reliable, and powerful router for thousands of happy customers. The passing of the torch from the old to the new Surf SOHO is complete and once again the SOHO has raised the bar to become the new benchmark for consumer and business routers.
Last Updated ( Thursday, 12 January 2017 )